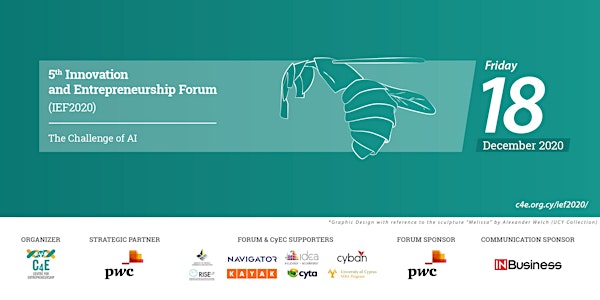 5th Innovation and Entrepreneurship Forum (IEF2020) - The Challenge of AI
IEF 2020 aims to develop an interdisciplinary dialogue on the challenges and perspectives that emerge from recent developments in AI
About this event
The Centre for Entrepreneurship (C4E) of the University of Cyprus with the support of PwC Cyprus, presents the 5th Innovation & Entrepreneurship Forum: "The Challenge of AI" – IEF2020
*The event will broadcast on the IEF2020 website , CyEC Website, C4E Facebook C4E Youtube and IDEA Innovation Center Facebook
A link will be sent to all registrants
The 2020 Forum will bring together AI experts, researchers and professionals, decision-makers, entrepreneurs and game-changers to discuss the Challenge of Artificial Intelligence and address the most defying questions around the future of AI and its impact on society, economy and politics.
PwC Distinguished Lecture :
"Navigating Data and AI Opportunities and Risks: New Challenges for Business and Regulators"
Keynote speaker professor Theodoros Evgeniou from INSEAD
IEF 2020 aims to develop an interdisciplinary dialogue on the challenges, implications and perspectives that emerge from recent developments in the field of Artificial Intelligence. Prospects and data concerning society, economy, the State and innovative start-ups.
Featuring in IEF2020:
(1)Panel Discussion: The Challenges of AI for Business and Policy Making. Facilitator: Evgenios C Evgeniou, CEO, PwC Cyprus
(2) The Cyprus Entrepreneurship Competition (CyEC 2020) award ceremony and the presentation of the 9 finalists of the CyEC business acceleration program
(3) The 5th Forum's Innovation Capacity Track that aspires to showcase existing capacities in Cyprus regarding research activities, industrial expertise, and training initiatives in Artificial Intelligence.