Sales Have Ended
Ticket sales have ended
Thank you for your interest in attending the Inspirational Woman Awards. Online ticket sale has now ended. Tickets are available at the door. Cash payment only. Prices remain the same. Kindly arrive at 5pm for registration. The dress code is Smart Casual. Parking available in nearby Morrisons, maximum stay is 2 hours. Alternatively you can park at Westfield or the Stratford Shopping Centre car park and walk down or hop on the Bus 25 or 86 from Stratford Station. 3 bus stops, alight at the University of East London Bus Stop at Water Later. Any queries, please call us on 07985 282251 We look forward to see welcome you. Regards IWA
Sales Have Ended
Ticket sales have ended
Thank you for your interest in attending the Inspirational Woman Awards. Online ticket sale has now ended. Tickets are available at the door. Cash payment only. Prices remain the same. Kindly arrive at 5pm for registration. The dress code is Smart Casual. Parking available in nearby Morrisons, maximum stay is 2 hours. Alternatively you can park at Westfield or the Stratford Shopping Centre car park and walk down or hop on the Bus 25 or 86 from Stratford Station. 3 bus stops, alight at the University of East London Bus Stop at Water Later. Any queries, please call us on 07985 282251 We look forward to see welcome you. Regards IWA
Description
If you listen to your fears, you will die never knowing what a great person you might have been Robert Schuller
Most people see what is, but never see what can be Albert Einstein
We all have the extraordinary coded within us waiting to be released Jean Houston
Courage doesn't always roar. Sometimes courage is the still voice at the end of the day saying , ''I will try again tomorrow.'' Mary Ann Radmacher
Don't limit your challenges, challenge your limits.
Everyone you will ever meet, knows something you don't Bill Nye
It is never too late to be what you might have been George Eliot
Welcome to #Fearless 2017.
An evening to inspire and be inspired.
At the Inspirational Woman Awards this Saturday, you will be inspired by stories of women (and men) who have achieved amazing things, demonstrated courage despite their circumstance, who refused to quit against the odds, women who have stepped out, achieved success and tremendous change in their #Career, #Business, #Life and #Passion.
Register now to be a part of this amazing evening to discover what else you can be, to do the impossible, to try again, learn something new, challenge your limits and be the extraordinary person the world is waiting for.
It is time to be fearless!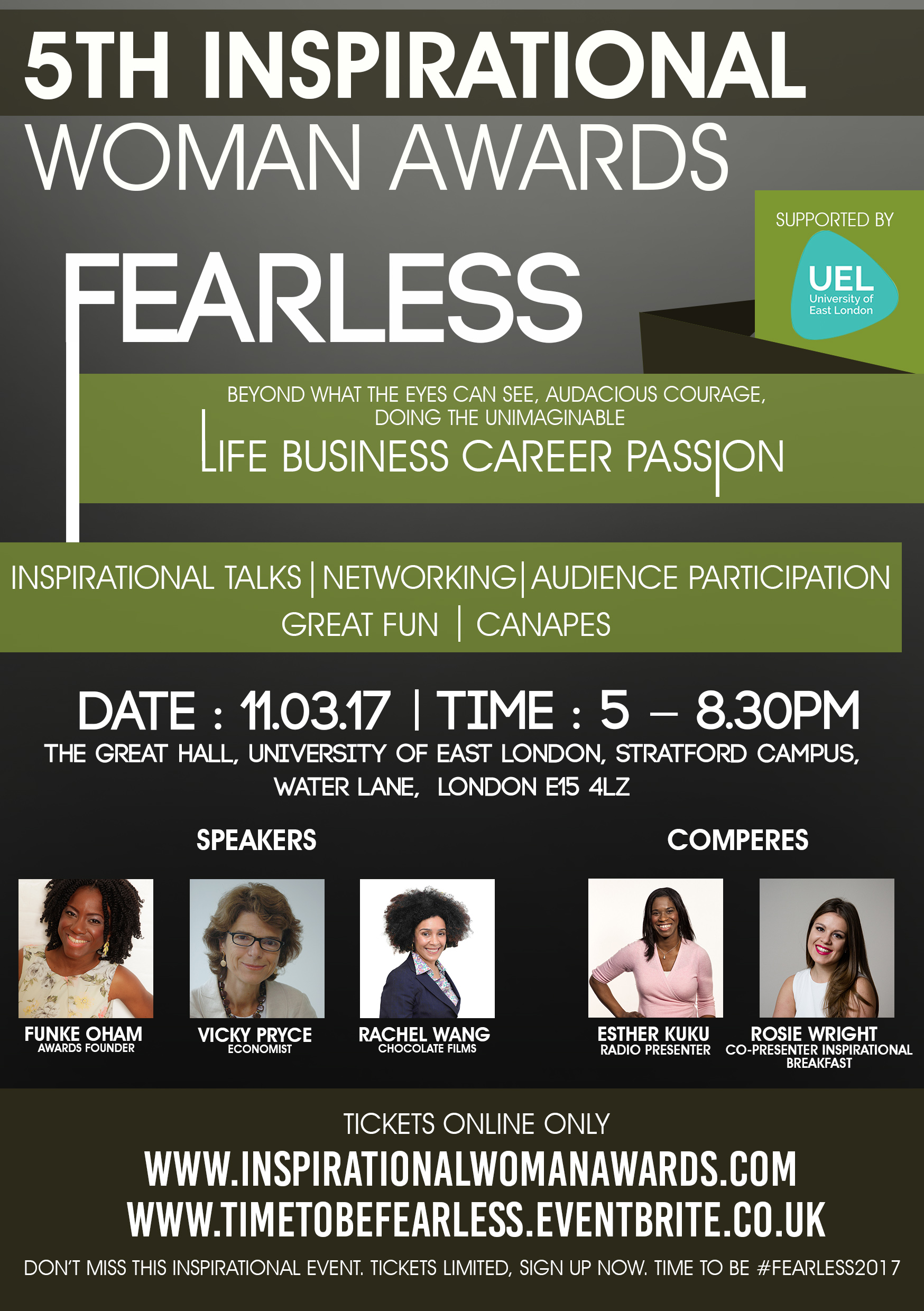 This event is especially for women but open to young girls 11+ and men.
We are delighted to have Rachel Wang (Black British filmmaker, producer and award winning Entrepreneur), Vicky Pryce (Economist, academic and commentator) and Funke Oham (our Awards Founder) share their stories and tips to living a fearless life. Plus inspirational nuggets from a host of inspirational individuals including Vanessa Vallely (We are the City), Simona Barbieri (Hub Dot) and our inspirational audience.
Esther Kuku (radio presenter and communications professional) and Rosie Wright (broadcast journalist and co- presenter Inspirational Breakfast) will ensure this will be a memorable event for you.
What past attendees thought about the Inspirational Woman Awards
Inspirational woman awards last Saturday was awesome! I felt more inspired! Event was well put together, thank you!

This is my first event and I thoroughly enjoyed it. I feel inspired to go out and live my dream and help to inspire someone else.


An excellent and inspirational event. It was a well packaged program. Amazing to hear so many women share their experiences and journey of success.

Well organised and welcoming.

It was a fabulous event and well coordinated. The branding talk was ace.
Register now to be a part of this amazing event!
Do come along with a friend(s) to this fantastic event.
#Fearless2017