Actions and Detail Panel
5TH KITENGE FESTIVAL UK
Sat 12 August 2017, 12:00 – 18:00 BST
Description
ONE COMMUINITY, CELEBRATING AFRICA!
This event will feature great live performances, live bands, dance, competitions, awards program, networking, product sampling, African cuisine/ food stalls, fashion & market stalls, drum, poetry, fashion shows and traditional craft displays, story telling.
If you'd also like to hold a stall showcasing your products including Photographs, Clothing, Jewellery, Accessories, Arts, Natural skincare and beauty, Homeware, Books and samples of food etc. please e-mail: theafricanmarket@openthegate.org.uk or info@honaafrica.com
The festival is FREE to the public. Benefitting our charitable initiative Hope Alive Mission in aid of Domestic Violence Charities in UK and Africa.
GRAB A TICKET BEFORE THEY GO!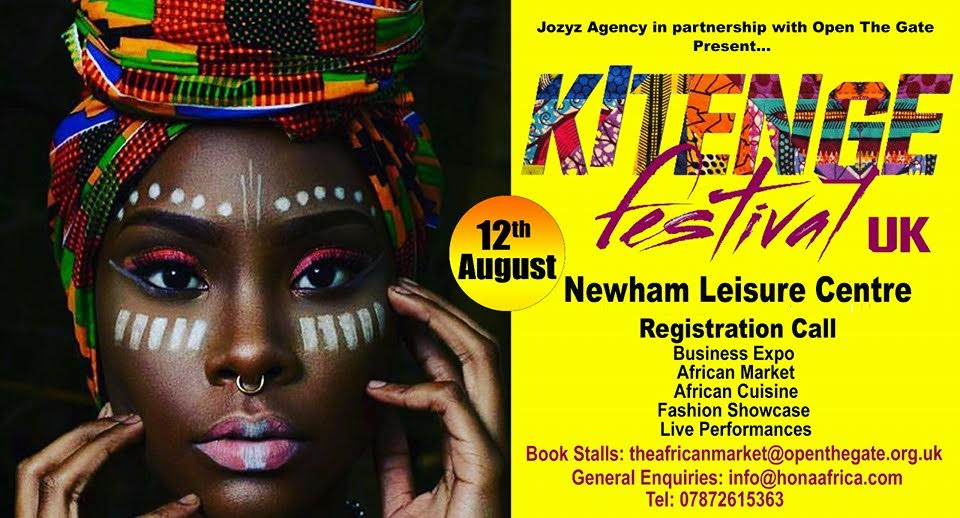 Thanking our Supporting Partners: Hona Africa, Active Newham, Pauline Long Show, Open the Gate, African Dazzle.
FAQS
How to book your stall for our 12th August event:
Contact theafricanmarket@openthegate.org.uk and request for a registration form.

Once form is completed and payment received you will receive an email with confirmation.

Promote it!



How to enquire about the workshops and participating in Kitenge Festival on the 12th August:
Contact info@honaaftrica.com to enquire and leave your contact details.

You will receive a call back to discuss your participation.

Once arrangements are agreed you will receive an email with confirmation.

Promote it!
Early Bird Prices
Enquire about Early Bird prices for stalls and the fashion showcase with theafricanmarket@openthegate.org.uk
What to expect
African market, Street Food, Fashion Shows, Awards, Live band, Dj Sets, Dress Competiotions, BBQ and much more.
Dress Code
Strictly Kitenge/African Print
Age Limited
People of all ages welcome! There's something for everyone.
Parking
Event Parking is available at the venue on a first come first serve basis.
Kids
We are very family friendly. We have pulled together a fun program for the children on the agenda.
Photography
With the event being held in a public place, you are welcome to take videos and photos of the day. When uploading to social media, make sure to use the hashtag #kitengefestivaluk.
Program
Pick up a copy at the Kitenge Fest Registration desk on the day.
Lost People/ Property
In the event of a person or property becoming lost, they should be taken to the Kitenge Fest Registration desk.