Join us for 5 classes in person at the iconic Black-e in Liverpool. Each class is suitable for beginners or experienced dancers!
About this event
During this 5x5Rhythms Series of classes we'll celebrate the healing potential and power of love! This will be an ongoing group and to get the most out of this you could join for the whole series or tickets can also be for individual classes if you have other plans. The series will be a great way to start, continue or return your 5Rhythms practice!
In the past we've been sold out to capacity each week because of physical distancing. If you want to be absolutely guaranteed to have a place each week, it could make sense to invest from the start in a pass for the whole series. Each week, we will hold back a number of tickets for sale including some at slightly reduced prices for low-income on a first come first serve basis, to allow people unable to attend for the whole series to come. If you choose a pass for the series you can transfer to another dancer up to 24 hours before a class if you can't make a particular Friday.
If for some reason the series has to be postponed due to the Government-announced dates changing, or if some other covid-19 restrictions affect your locality at the time of the events that prevent you from attending, you'll get a full and no-quibble refund.
IF YOU INTEND TO COME IN PERSON TO THE BLACK-E PLEASE READ BEFORE BOOKING!
I'm looking forward to welcoming you to Liverpool's Black-e! At the time of writing we need to remain with some or all of the list below, to continue to comply with health and safety regulations and risk assessments completed by both myself and the Black-e, and considering 5Rhythms as an exercise class according to the Government guidelines. In that case we will need dancers to cooperate with us in following the requirements (listed below). Please only book if you're able to agree to respect and adhere to all of the 20 points below, with the possibility that some of these are dropped if we move out of lockdown before the series begins or during the series.
1) Please don't come if you have any symptoms of Covid-19 or if you're supposed to be self-isolating or in quarantine. Cancel your ticket in these circumstances and you will be refunded.
2) Turn up ready to move by the official start time. You can arrive up to 20 minutes before the start time and warmup music should be playing (i.e. from 710pm with class starting at 730pm).
3) It's not required to wear a mask to dance, but at time of writing the Black-e do require that a mask be worn whilst entering and leaving the class. Please respect this.
4) Please follow the safety signs put in place by the Black-e and avoid congregating in communal areas, also leaving 2m distance whilst queuing to enter the building
5) Staff from the Black-e reserve the right to take your temperature at the door
6) Staff from the Black-e reserve the right to take your name and phone number for Test and Trace on the door
7) We will not allow new dancers to join any later than 10 minutes after start time (i.e. 745pm). Please be on time.
8) If possible, arrive in the clothes you will dance in.
9) Bring enough water for yourself, we won't have access to the kitchen
10) Hand sanitisers will be available
11) Most of the time we will be maintaining 3m physical proximity between dancers in the dance space (and 2m when moving around the dancefloor), please respect that other dancers might not want you closer than this this.
12) Please keep your eyes open whilst dancing
13) Belongings can be brought into the space and safely left away from public entrances at the side of the dance space. Leave physical space between your belongings and those of other people.
14) Class will be finished at 9.15pm. Please be out of the building by 925pm and after class don't congregate with other attendees inside or near the Black-e.
15) If you have symptoms or test positive for Covid 19 within 7 days of the class please inform the NHS immediately.
16) These guidelines can be changed or adjusted if circumstances demand it and without warning in advance of or during the class
17) Please respect that whilst new additional requirements might appear on the night to deal with situations that unfold, the first 16 will not be relaxed. Please help me and help you and your fellow dancers to be able to continue to offer 5Rhythms in the weeks ahead in Liverpool by adhering to them!
Wow, that's alot! At this time, it's what we need to do to be able to make this happen...
I look forward to meeting you on the dancefloor on Friday!
Mark
FAQs
Is this class suitable for beginners?
Yes, beginners and experienced 5Rhythms dancers are welcome. If you're completely new to 5Rhythms it could be useful to come a few minutes earlier for a short intro before the class starts.
Are there ID or minimum age requirements to enter the event?
This class is restricted to over 18s
What are my transport/parking options for getting to and from the event?
Parking can be difficult near the Black-e, so please allow yourself enough time to arrive. Directions from the Black-e are here.
https://theblack-e.co.uk/content/location
What can I/can't I bring into the event?
Please bring water and your own bottle to drink whilst you're dancing. Water will not be provided. Please do not bring alcohol (or drugs!). These should also not have been consumed prior to the class.  
How can I contact the organiser with any questions?
Email is best: markaustin5rhythms@gmail.com
What's the refund policy?
If you've bought a pass for the whole series you can request a refund via eventbrite up to 30 days before the class. Tickets bought on the week of the class are non-refundable. The only exception will be refunds if you are exhibiting symptoms of covid-19 or have been exposed to someone who has. This refund will be available with notice up to 2 hours before the event. Refunds will not include the Eventbrite booking fee which is unfortunately non-refundable, and in the case of a pass the refund will only be a proportional refund for the night in question, not for the whole series.
Is it ok if the name on my ticket or registration doesn't match the person who attends?
Tickets are transferable at no extra cost if the name and email address of the other dancer is sent at least 24 hours before class to markaustin5rhythms@gmail.com.
Exchange of tickets at the door or on the day of class is not permitted, sorry, as this causes confusion and disturbance those arriving.
Am I allowed to talk or take photos during the class?
Chitchat with other dancers is discouraged, as it's distracting for dancers and the teacher. Photos and video recording are not allowed.
For more information please contact markaustin5rhythms@gmail.com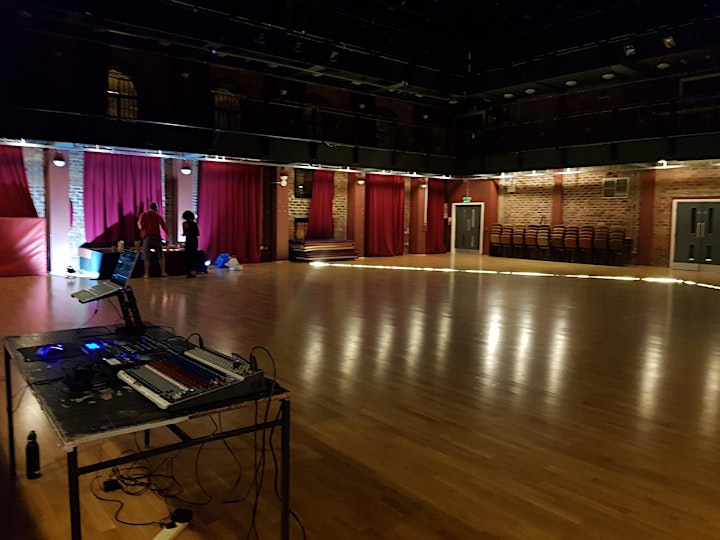 Organiser of 5x5Rhythms: LOVE WILL series @The Black-e in Liverpool