About this Event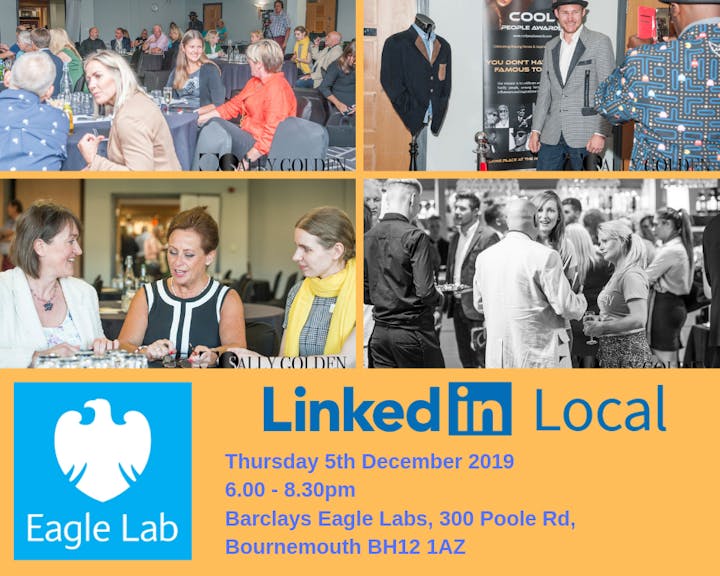 #LinkedInLocal #6 is set to be a sold out fantastic event. We now have over 620 followers and can only offer 150 tickets at the most. Come and join us at this social off media, not for profit event and meet the people behind the profiles.
We look forward to meeting you again at this end of year Christmas event.
Everyone loves LinkedIn Local Bournemouth and Poole and this is set to be a superb event. Meeting people away from their business profiles and finding shared interests and arranging to meet up after the event. We offer you some food and drinks and we have fantastic working collaborative groups forming.
So what will be happening throughout the evening.
Welcome drinks and canapes followed by open discussion, meeting existing and new contacts in an informal networking area. There will be tables available if you wish to sit and talk and also the opportunity to speak to the showcase companies about their business services. This is all free of charge! If you would like to showcase please contact Beverley Poole via messenger on LinkedIn
We will then take a more structured approach for about 30 minutes and have two speakers at this event:
PAUL MOSS from Intergage will be informing us about the fantastic new Marketing programme they are developing and how this will streamline CRM.
ALSO:
SHARON JONES and her team at Makerspace at Eagle Labs will be able to inform you about the incredible new facilities available onsite.
We have a list of LinkedIn contacts who would like to speak but will bring these to you at our new year event.
We will also hear from our charity about their great work too.
Our charities for this event will be:
Diverse Abilities. Dorset's disability charity supporting children and adults with profound physical and learning disabilities across the county since 1955 .
and
Dorset Cancer Care Foundation who offer non repayable grants to those facing hardship during their cancer treatments.
I hope you agree that the charities and initiatives we support are worthwhile and the support we can give to them is so vital.
I will update you as we go but look forward to seeing you all for a fun and entertaining evening at the Barclays Eagle Labs newly refurbished events suite.
This #6 event will be supporting the UN Sustainability Goals as follows:
1: No Poverty
3: Good Health and Wellbeing
4: Quality Education
5: Gender Equality
9: Industry, Innovation and Infrastructure
10: Reduced Inequalities
If you would like help in understanding these great Corporate Social Responsibility and Sustainability Goals, please do ask Beverley who will be delighted to support you to implement them into your business.
SEE YOU ALL ON THE 5th December - do bring a business colleague and lets have a bumper evening for our charity. Tickets are capped at 150.