Description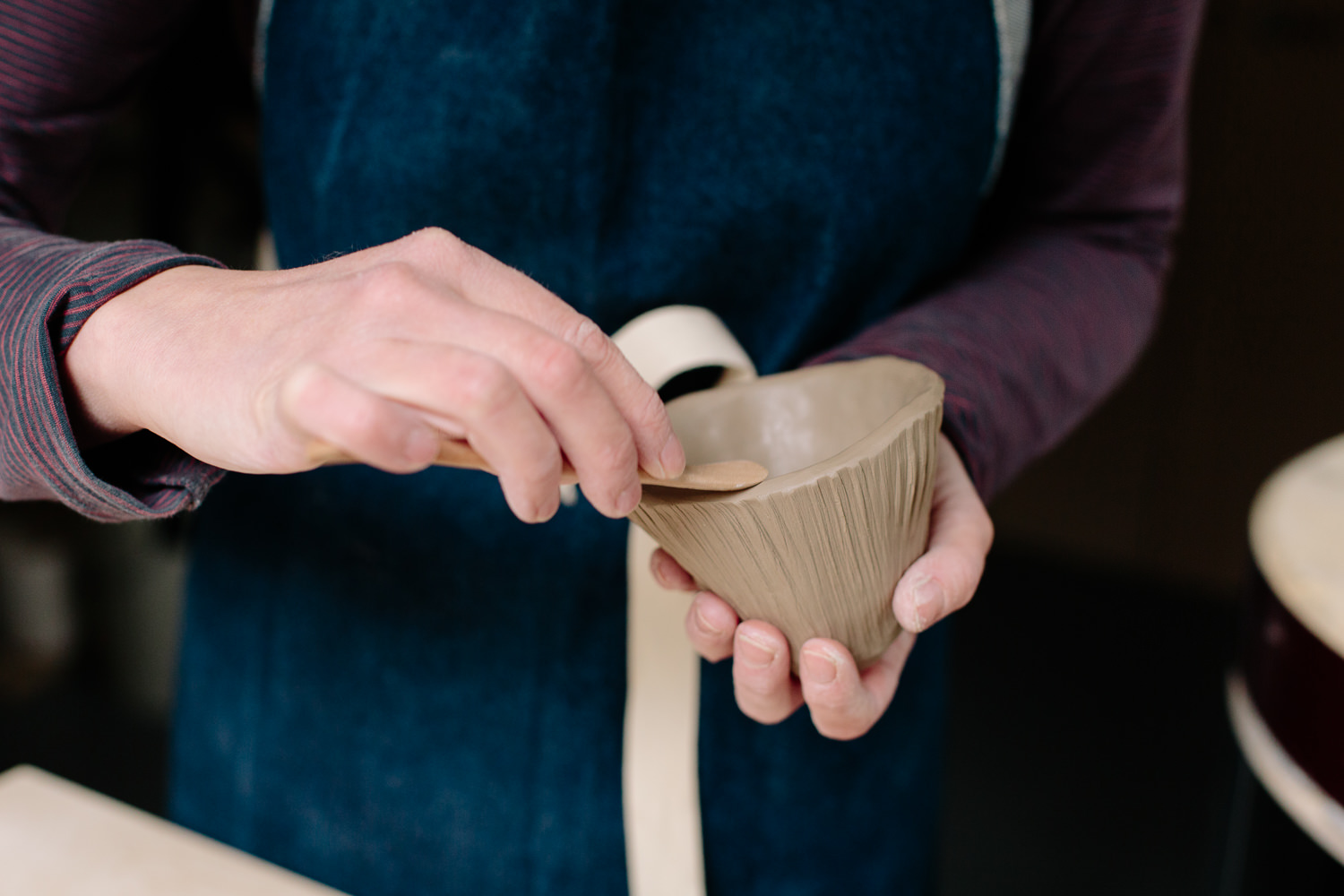 We're always up to something – come and join-in. We run Mini Tasters, Taster Days and Short Courses(Bundles) from our ceramics workshop in Leeds. We also showcase our activities at markets and pop-ups around Leeds and regionally - check our Tasters, Courses and Events pages for full details. We also have a downloadable menu Dig-In: Ceramics Tasters 2017.
At Sunken Studio we specialise in handbuilding and focus each package around a family of techniques. We cover the basics but also introduce more advanced methods of making to help introduce good practice and refine crafting sensibilities. You will start and finish pots in each session. We'll then glaze your work and contact you when it is ready to collect - this bit usually takes two weeks but we ask that you allow 28 days before chasing us up. If it isn't practical to collect we can arrange for your work to be delivered.
Our Mini Tasters are snappy workshops designed to whet your appetite. They are typically two hours long and are often inspired by, or respond to, observances and celebrations throughout the year. Mini Tasters occur every fortnight, monthly or by appointment for group bookings. You should expect to make 1-4 pieces.
Taster Days are hands-on sessions providing insight into a focused area of ceramics and pottery production. Each Taster Day includes opportunities to build, adapt and embellish several pots. Taster Days are typically five hours long and occur monthly or by appointment for group bookings. You should expect to make 4-6 pieces.
Our Short Courses are bundles of Mini Tasters designed to provide an overview of different ceramic techniques and processes. Each bundle has a focus such as building, adaptation or embellishment. Bundles typically comprise of six sessions and occur weekly and every fortnight. Sessions are typically two hours long.
All packages include:
Materials.

Refreshments.

Post production costs: firings and glazing (where needed).

Postage and packaging (where needed).

Booking fees.
Taster Days also include an informal lunch. We like to add to your handmade experience with produce sourced from local bakers and independent caterers.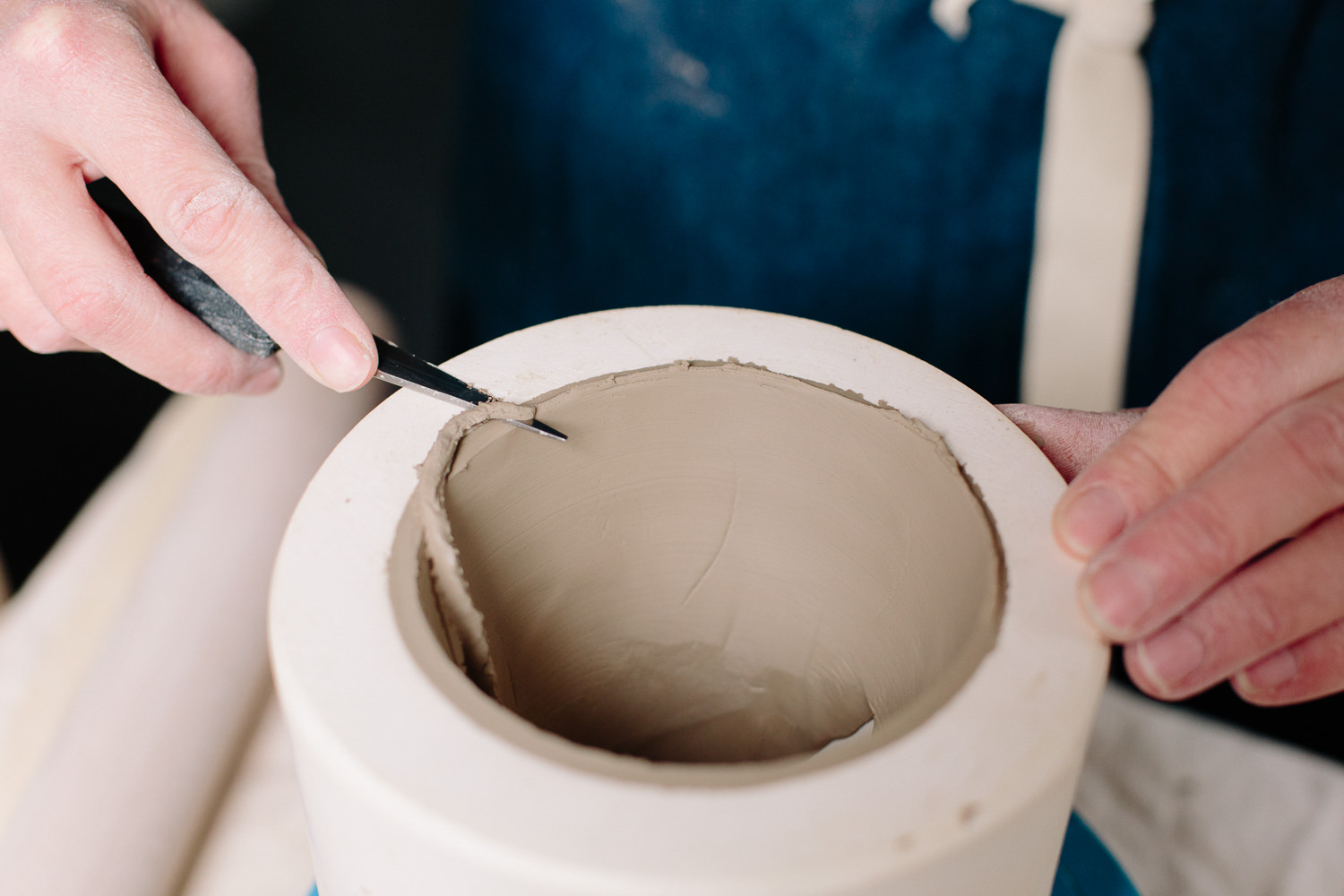 Beginner's Bundle: BUILD
BUILD begins by celebrating low-tech, no-fuss - it's been done for millennia - approaches to making pots by hand. Through demonstrations and practice you'll become familiar with ancient approaches to forming and constructing pots. You'll then progress to more recent, albeit still traditional, approaches to manipulating clay. You'll start and finish pots during each session and then learn how to glaze your own work.
Ticket Types for Beginner's Bundles:
Multiple courses scheduled, each 6 weeks in length, hosted weekly on Thursdays, 18:45-21:00.
SPRING Session 1: 20 Apr-25 May 2017. Dates: 20 & 27 Apr, 4, 11, 18 & 25 May.
SUMMER Session 1: 8 Jun-13 Jul 2017. Dates: 8, 15, 22 & 29 Jun, 6 & 13 Jul.
AUTUMN Session 1: 14 Sept-19 Oct 2017. Dates: 14, 21 & 28 Sept, 5, 12 & 19 Oct.
Multiple courses scheduled, each 6 sessions in length, hosted fortnightly on Tuesdays, 18:45-21:00.
SPRING Session 2: 25 Apr-4 Jul 2017. Dates: 25 Apr, 9 & 23 May, 6 & 20 June & 4 Jul.
AUTUMN Session 2: 5 Sept-14 Nov 2017. Dates: 5 & 19 Sept, 3, 17 & 31 Oct & 14 Nov.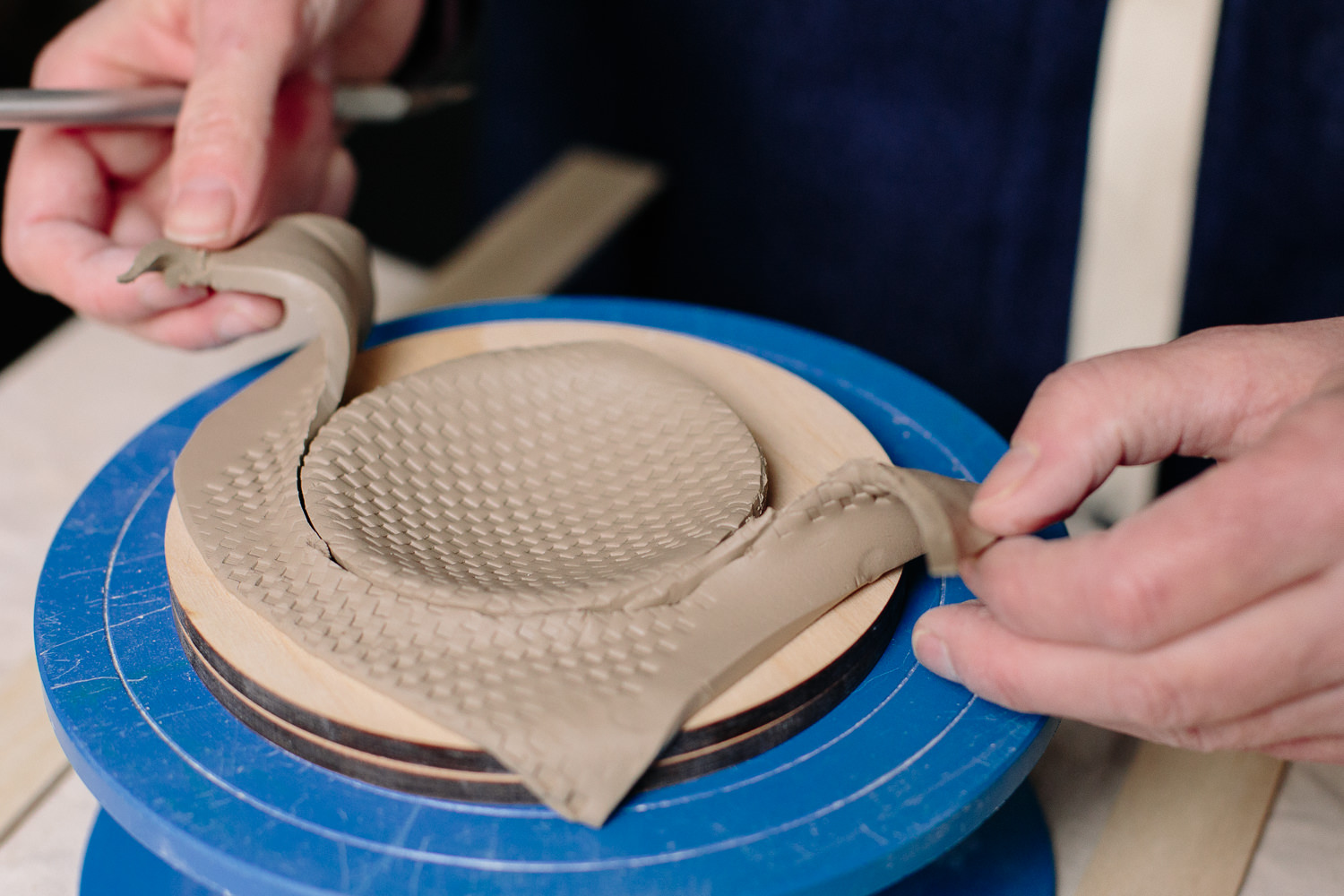 This six-week bundle includes:
Pinch
Pinch a pot of perfect poise.
PINCH is a great introduction to understanding the working stages of clay. You'll work on a number of small bowls and consider the placement of your fingers, thumbs and hands to control form and surface. You'll develop an awareness of how clay changes from plastic to leather hard and begin to adapt your crafting sensibilities to work with the material's characteristics. In addition to pinching, you'll also explore approaches to developing surfaces through pressing, carving and beating.
Coil
Roll it, bend it… just a little bit & shape it…
COIL is an energetic and spirited introduction to coil building. You'll compete with each other to make the most even, longest and thinnest coils, and then race to build forms and outdo each other's technical prowess. You'll learn how to regulate pressure to roll your own coils and build striking forms – we'll be celebrating a bit of healthy rivalry.
Coil pots are built using lengths of clay fixed together – a line is taken on a journey. What constitutes a coil pot can be open to interpretation: traditionally they are made using cylindrical lengths placed on top of each other. Layers are often directional and rhythmical – introducing visual and tactile patterns as well as demanding systematic approaches to making. Managing the plasticity of clay at all stages of the process can equate to agility training for potters.
Who dares, wins. This is a high-risk session – it focuses on process rather than finished pieces. It may not be possible to fire the results.
Join
Stretch those upper arms - you'll be doing a lot of rolling.
JOIN is an introduction to the basics of building pots with slabs of clay. You'll learn how to roll out consistent slabs and cut out pieces to assemble pots. Joining clay is essential to successful slab building so we'll show you a range of approaches to help keep your pots in one piece.
Slab building involves cutting, folding, bending, draping, wrapping and fixing two-dimensional shapes, to make three-dimensional forms. It's useful to think about slab building through allied processes - think pattern cutting, paper engineering and flat pack furniture. The aim is to envelop/wrap or assemble a form with sheet/flat materials: it is a highly adaptable method of construction.
Press
Do and do again.
PRESS is an introduction to small batch production. You'll explore how to reproduce shapes using plaster moulds and then customise your pieces with wire loop cutting tools. This one is for biophiliacs: you'll be making small indoor planters - ideal for succulents and other small plants.
Press moulding is a quasi-industrial method of production. Moulds enable the consistent repetition of form but have the flexibility to act as starting points for further adaptation.
Drop
To DROP may feel counter-intuitive, and even sound destructive, when it comes to clay – it can be, but not in this session. We'll introduce you to drop moulds and show you how to use gravity to shape clay. You'll learn how to roll out consistent slabs of clay and then tease, stretch and tap, to form simple bowls and plates. You'll also explore how to customise rims and apply texture.
Drop moulds are an alternative to plaster moulds. They are easy to make with basic tools, do not require specialist mould-making skills, light, easy to store and can be recycled – great for beginners and those concerned with sustainable practices.
Coat
Peanut butter and/or jam? Let's introduce a little colour and explore surface.
COAT is an introduction to glazing. You'll review glaze characteristics, prepare glazes for application and then learn how to apply glaze to the pieces you have made.
Glazing is the process of placing a glassy coating onto a ceramic body – it's a discipline concerned with colour, surface and functionality.
Prerequisites: none, designed for beginners and anyone wanting to refine existing skills.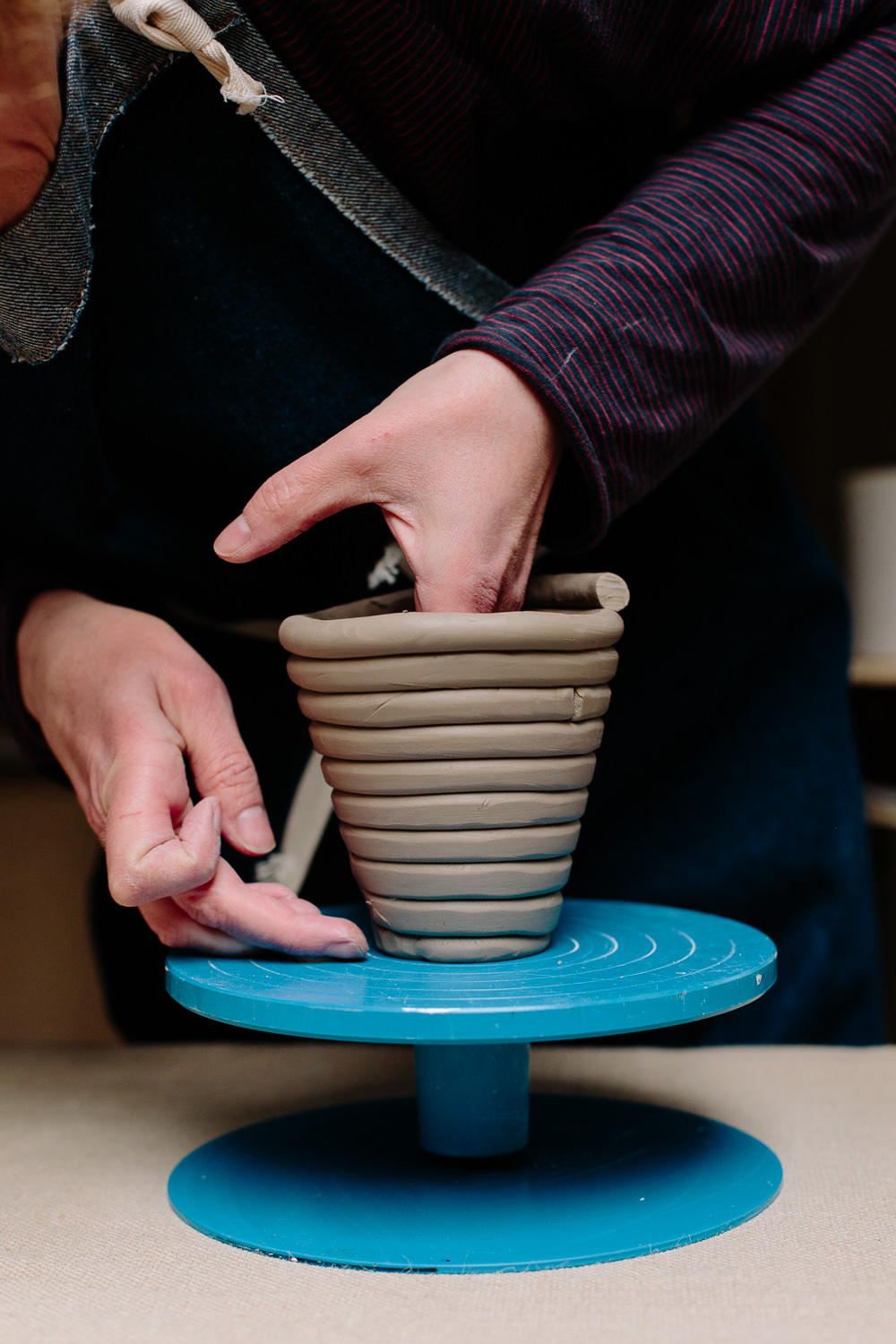 FAQs
Do I need to bring my own food and drink?
Tea, coffee and snacks are provided at all our Mini Tasters and Short Courses. We allow 15 minutes at the beginning of each session for arrivals, introductions and refreshments - you can also use this time to grab a bite to eat. Feel free to bring a meal - we will provide plates and cutlery and have a lovely dining room for you to use.
Taster Days include refreshments and an informal lunch. We tend to break for lunch at 13:15-13:45. All food is sourced from local bakers and independent caterers and served in the dining room. If you have any specific dietary requirements please let us know. Food is not consumed in the studio.
Do I need to prepare anything?
No, although it's standard workshop practice to wear flat, sturdy shoes with covered toes. Please protect your feet. Rings and long fingernails can be problematic when working with clay - please consider this when booking.
Is there an age limit?
All events are for groups of adults ages 18+.
What is access like?
Sunken Studio is housed in a period property with steep steps leading into the property, and down to the studio. Unfortunately there is no lift access. If you have any concerns about specific access requirements please contact Sunken Studio.
What are my transport/parking options getting to the event?
We are based in Roundhay, Leeds. We are close to www.roundhaypark.org.uk and easily accessible by car and public transport. To get here by public transport catch the number 2 or 12 and alight at Street Lane/Shaftsbury Avenue (W or SE bound). The studio is a 2 minute walk from Street Lane.
There is ample on-street parking.
I'm not local, can you recommend accommodation nearby?
We are currently reviewing places to stay and will provide more recommendations soon. In the meantime, there are several local www.airbnb.co.uk listings to fit a range of budgets. If you fancy staying somewhere a bit more central consider www.arthostel.org.uk - it's the first social enterprise Art Hostel in Leeds.
Where can I contact the organiser with any questions?
Contact Sunken Studio with any questions.
Cancellation Policy
Cancellation by those booked to attend an event.
Cancellation of attendance by individuals or groups can be done by contacting Sunken Studio. Contact Sunken Studio at least 5 days prior to the event to be entitled to receive a full refund. Those who cancel their attendance within 5 days of the event, for whatever reason, will receive a 90% refund. Those who fail to attend, for whatever reason, will not receive a refund.
Cancellation by Sunken Studio.
Sunken Studio reserves the right to cancel an event at its sole discretion. In the event of such a cancellation Sunken Studio will refund the value of the booking.
The Studio expressly excludes any liability for any direct or indirect losses or damages arising as a result of such cancellation and will not, for example, be responsible for any travel or accommodation costs incurred. In the event of cancellation, Sunken Studio will inform those booked to attend the event by email and/or telephone.