Description
Open to any one with a serious interest in foraging, fungi identification and making medicines out of mushrooms. You will get the chance to meet and work alongside professional herbalists and enjoy the wonders of fungi in a friendly learning enviroment. No experience necessary. (Contining professional development certification available)

Tutors:
Fred Gillam and Natascha Kenyon, Fred lectures on botanical medicine and medicinal mushrooms; is the author of Poisonous Plants in Great Britain, is an herbalist and forager and a regular contributor on both radio and television in the UK.
During this weekend we will be looking at the scope and therapeutic potential of fungi as used by herbalists'. We will explore the following areas in detail:
A fungal material medica

Fungal interactions with the human immune system, T-cells, B-cells, NK cells, etc.

Fungal interactions within the human microbiome

Essential fungal biochemistry and an overview of the treatment potential of the compounds present within fungi

An investigation of the amino acid ergothioneine and its possible roles in the human body

The use of synergistic formulations and treatment protocols that utilise both herbs and mushrooms

Understanding the potential of different types of medicinal mushroom extracts

A look at some of the more recent research directions being taken in investigating the actions of medicinal mushrooms

Contra-indications and toxicity
Practical pharmacy work - creation of ethanol and water based mushroom extracts. Creation of broad-spectrum double extractions. The importance of using the correct type of extract and the understanding that the employment of different extraction techniques can be used to produce a variable range of therapeutic actions.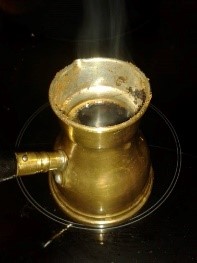 A nice cup of chaga mushroom coffee, Inonotus obliquus, brewing on the stove! Rich in antioxidants, betulinic acid from the birch tree and mushroom polysaccharides, chaga has been used to assist the body to fight infections, certain types of cancer, psoriasis and herpes, promoting good general health and vitality.
On the Sunday morning we will organise lift sharing in cars and make a visit to Savernake Forest which is a large ancient woodland about 7 miles away. While we are there we will be studying the principles of fungi identification, fungal taxonomy and the unique role of fungi within the ecosystem which has a powerful relationship to their therapeutic potential; please bring a change of footwear so that you can put clean footwear on when you get back to the hall at lunch time.
Please pack a notepad and pen as well as a camera.
A light and simple vegetarian lunch (for example jacket potatoes and soup) will be provided on both days. Please forward any special dietary requirements to the organisers well in advance of the course so that we can cater for you correctly. herbal tea will be available throughout the weekend.
Materials for workshop are provided but in the interest of conserving natural resources, please bring a small selection of clean re-used jars with lids (half a dozen should be sufficient). You will use these to take home the medicines that you learn to make on the course.
Please arrive at Bouverie Hall ready for a 9.30 start. The kettle will be on from around 9.15 onwards. We aim to finish by 6.00 on Saturday and by 5.00 on Sunday. Bouverie Hall has ample parking for course participants outside.
Directions can be found here:
https://www.google.co.uk/maps/dir/51.5616704,-1.0921197/bouverie+hall/@51.4627552,-1.9312168,9z/data=!3m1!4b1!4m9!4m8!1m1!4e1!1m5!1m1!1s0x48715884f2d73041:0xb9a770785eb0b9f3!2m2!1d-1.7675633!2d51.3396647
Course fee: £216.19 (Because of nature of this intensive introduction to medicinal mushrooms the group will be under 20 people. Last few tickets left)
Accommodation:
This must be organized by yourself. Rooms in Pewsey are available from £55.00 per night, booking.com is as good a place as any to start:
https://www.booking.com/city/gb/pewsey.en-gb.html
Train travel: Pewsey has good rail links with London Paddington, Reading, Oxford, Exeter, Taunton.

https://www.thetrainline.com/stations/pewsey