About this Event
Inner Bliss means living life from a place & in a way that nourishes and renews our body, mind & spirit continually. True bliss is about aligning our lives with what brings us joy, choosing to do what energises & renews us from the inside out.
Alison, Linda & Ailsa bring together 3 fabulous practices to create a deep sense of Inner Bliss.
We will begin the day detoxifying the body by releasing blocked energy with some fun Qigong & Dru Yoga Practices. Alison will then lead you through flowing Qigong Moving Meditations to enhance the flow of Qi (energy) in the body, aiding it's own ability to heal & rejuvenate.
We will break for a delicious light & healthy lunch provided by the Parkstone Hotel.
After lunch, we will practice Seasonal Yin Yoga Flow with Linda & a 40min healing Sound Bath Relaxation with Ailsa .
About Alison
Alison has been practicing yoga for 14 years and teaching Dru yoga since 2008. She has been enjoying Qigong training on a 1-1 basis for 3 years. The Practice of Dru Yoga and Qigong complement each other beautifully. They are both mindful practices which are designed to be practiced by people of all abilities. They work on the body, mind & spirit, improving strength, flexibility & encouraging the free flow of energy, giving a heightened feeling of positivity and rejuvenating your whole body.
About Linda
Linda is a 200hr trained Seasonal yoga teacher, who has been training with the British Wheel of Yoga for the last three years and completes her 500hr teaching diploma this September. She is also Rainbow Kids yoga trained and has attended various Mindfulness courses with the Glasgow Mindfulness Centre. Linda teaches students of all ages and abilities in and around Ayrshire, drawing on her trainings and own experiences to make each class inclusive and fun.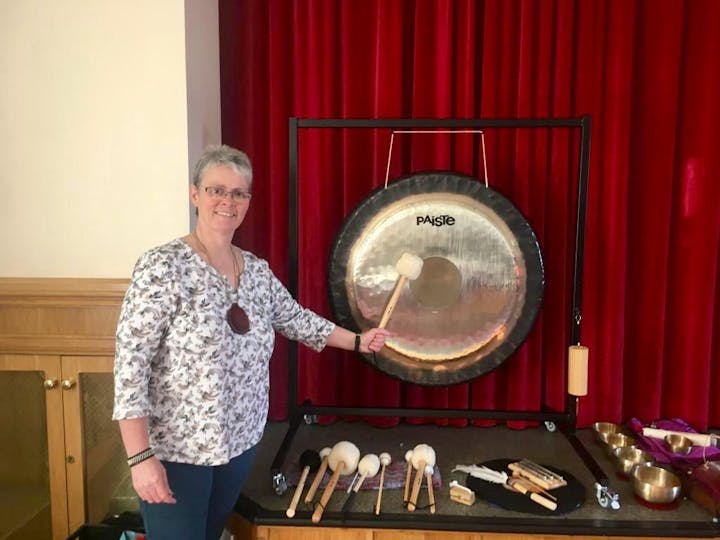 Holistic & Sound Therapist Ailsa Downie will treat you to the magical experience of her Sound Bath
"A sound bath is a gentle, yet powerful, experience for the mind and body," The sounds are created by a variety of instruments, including gongs, drums singing bowls, chimes, ting shaws and other instruments. The aim is to invite deep rest and relaxation and promote healing.