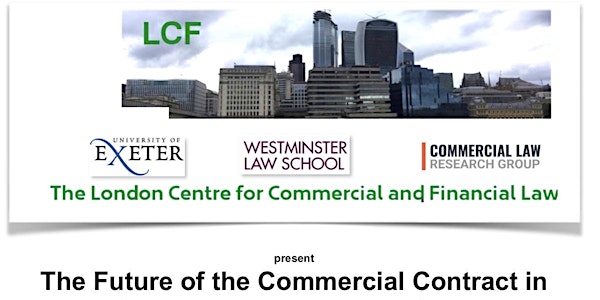 6th Annual Conference on The Future of the Commercial Contract
Sales Have Ended
Ticket sales have ended
International Conference: The Future of the Commercial Contract in Scholarship and Law Reform | Sixth Annual Conference |
About this event
This international academic conference continues the successful series of annual conferences on different aspects of commercial contract law.
The conference is organised in co-operation with the University of Exeter and the University of Westminster.
Panelists come from all over the world bringing comparative viewpoints to the table. The full panel of speakers will be announced by mid July.
What? The conference is organised in four panels one of which traditionally focusses on commercial arbitration. Other themes featured in 2021 are energy trading, new contractual and commercial practices emerging from the Covid-19 crisis as well as general theory of merchant law.
Who? The London Centre for Commercial and Financial Law (LCF) launched its programme of events in 2020 taking over from the Centre for Corporate and Financial Law at the Institute of Advanced Legal Studies (IALS), School of Advanced Studies, University of London. For more information go to www.lcf-academic.org.
Where? Responding to the current pandemic LCF is designing this conference once again as a live video conference via Zoom.