Planning video content for 2020? We've got lots of information to help you out. Small budget, native video and branded film production.
About this event
This night will be packed with useful information - something for every budget and skillset. Need help deciding what to budget in 2020 for video? How do you get started? How do you leverage video to build your brand and reputation?
Join us! This one will be brilliant!
Video Content 101
Gary Gumbleton: Managing Director, Capital Content
How can you create the best video content you're proud to share, keeping quality high without breaking the bank? Ask Gary!
Businesses know they need to make content but they tend not to know what to make and how to make it. Gary Gumbleton will cover off how to build a video content strategy before you press record and how to prioritise all of the content you want to go out and make. We all have a camera in our pocket nowadays so the presentation also includes tips on how to create your own video content and how to keep up the production quality without spending £1000's on an agency.
There's also a prize to win on the day too. :)
Branded Film &Video
Thomas Winward , Nemorin Film & Video
Thomas is going to be talking about branded content, what is involved in high end professional video productions, why budgets range so wildly and how investing in video can help your brand.
--------------
Panel Discussion with our Panellists:
Gary Gumbleton, Capital Content
Thomas Winward, Nemorin Film & Video
Hugh Moore, KG Moore
Jim Cliff, Green Spark
---------
Format of the Night:
6.30PM - Doors Open - Light Snacks, Drinks, Networking, and Smile
7.00 PM - Introduction and Welcome
7.05 PM - Video Content 101 - Gary Gumbleton
7.25 - Branded Film & Video - Thomas Winward
7.45 PM Panel Discussion
8:15 PM - Panel Finishes, Networking, more drinks and happiness
8.45 PM - End of the night - you leave with new contacts and fresh ideas
------------------------
Partnered with:
KG Moore - Marketing Agency specialising in marketing strategy development and customer insight. Using data and insight to build brands with purpose who deliver a wonderful customer experience, making the world a better place.
Brand Recruitment - The best marketing recruitment company I know and wonderful supporters of the meetup.
ContentCal: Ditch those stressful spreadsheets – organise all your content marketing in one beautifully simple calendar.
------------------------
And finally...
Please let your marketing friends and colleagues know about this group too, I hope to build it into a great resource for the Colchester marketing community over the coming months and years. Attendance will be taken at this event. If you RSVP 'Yes' and then do not come, you will receive a strike. Three strikes and you're outta here! This is simply a measure to allow appropriate respect to the organisers, speakers, sponsors, and your fellow community members :)
See you there!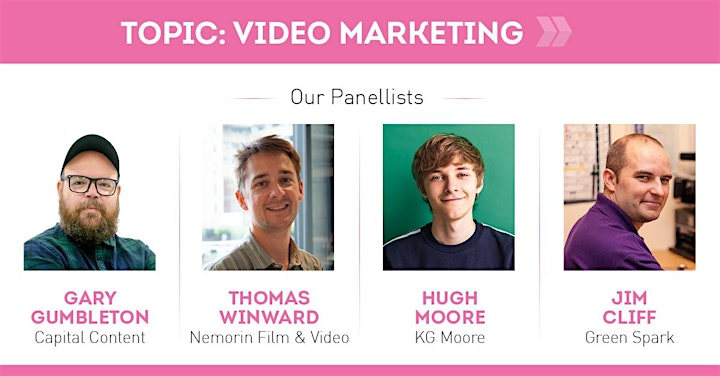 Organiser of 6:Video Content 101-The Marketing Meetup Colchester
The Marketing Meetup was set up with the duel mission of providing somewhere lovely to network, and a great place to learn about relevant marketing topics. 
The latter is easier to address. The Marketing Meetup provides marketers with a place to learn from expert speakers. Talks are pitched at a Marketing Manager/Solo Marketer in a medium company/Freelancer level – meaning to say we tend to take things to an 'intermediate' level in the events, while the workshops are for more advanced stuff. 
On the providing somewhere lovely to network front, we have just tried to create the events we would like to attend. The three values that hold our events together are: 
– Listening. Ever get that nagging feeling someone is trying to sell to you, or simply thinking about the next clever thing they are going to say while you're talking at a networking event? Yep. Us too. We thought it was annoying so we actively encourage everyone who walks through the doors of the Meetup to build a genuine human relationship with their fellow community members first, before thinking of business later.
– Saying hello. Networking events are reeeeeeally intimidating for a lot of people. So we've tried to create an environment where saying hello to a new person or someone stood by themselves is totally normal and seen as a good thing. Hello really is the hardest word in networking.
– Being positively lovely. A lot of this should be obvious, but The Marketing Meetup is a place where we encourage you to put the needs of the people in front of you first. Although slightly counterintuitive, we've found people end up getting a lot more in return when looking to help others first. 
As well as these things, we also believe where possible we should be eco-conscious, try to get a 50/50 male/female in our speakers, and be welcoming to anyone who wishes to enter our community. We are ultimately a community of ideas, not job titles.