Sales Have Ended
Ticket sales have ended
Thank you for your booking. Access to this course will be emailed to you within 24 Hours. Regards Acumen Envision
Sales Have Ended
Ticket sales have ended
Thank you for your booking. Access to this course will be emailed to you within 24 Hours. Regards Acumen Envision
Learn by Doing not Just by Watching.
About this event
Distance Learning DevOps MasterClass Program
Includes: 7 Courses, Over 120 Hours of Virtual Live Instructor Led Training, 90 Hours of Self-Paced Study, Real World Projects, Assessment & Certification
Duration: 6-8 Weeks (Based on part time study)
Global Access: Virtual Live Classroom Courses available in multiple time zones weekday & weekend
Instant Access Enrolment
Overview
This DevOps Engineer MasterClass program will prepare you for a career in DevOps, the fast-growing field that bridges the gap between software developers and operations. You'll become an expert in the principles of continuous development and deployment, automation of configuration management, inter-team collaboration and IT service agility, using DevOps tools such as Git, Docker, Jenkins and more.
The DevOps Engineer Program helps you develop the key skills necessary to become a DevOps expert. You will master Configuration Management, Continuous Integration, Deployment, Delivery, and Monitoring using DevOps tools. These tools include Git, Docker, Chef, Jenkins, Puppet, and Nagios in a practical, hands-on, interactive approach. Enhance your understanding of the fundamentals of Agile and Scrum methodologies and gain knowledge of the two major cloud platform providers—Amazon Web Services (AWS) and Microsoft Azure.
The program is built around a structured learning path recommended by industry experts. You will get access to 120+ live, instructor-led, online classes conducted by trainers who are experts in the field. You also get access to 90+ hours of high-quality e-learning, real-life case studies, chapter-end quizzes, simulation exams, and a community moderated by experts. Upon completing the requirements of the learning path successfully, you will be awarded the MasterClass Certificate.
What you will Learn
At the end of this DevOps Engineer Master's Program, you will:
Understand the fundamentals of DevOps engineering and be fully proficient with DevOps terminologies, concepts, benefits, and deployment options to meet your business requirements
Obtain complete knowledge of the "version control system" to effectively track changes augmented with Git and Github training
Have a detailed overview of continuous integration and container ecosystem by learning tools such as Jenkins and Docker
Be able to deliver change requests from customers rapidly and effectively by adding new (and updating existing) features
Develop a sound understanding of security and performance testing to safeguard releases from vulnerabilities
Successfully transition from a software engineer to a DevOps engineer
How it Works
Once you enrol for the course you will receive a link giving you access the Learning Management Systems.
You will then be able to review each module in the leaning path and start to plan your study time and book your Live Class room session.
All of the project based session have virtual lab access setup will all software and tools pre installed.
Help is available 24/7 should you require any assistance.
Why Take the Course?
DevOps engineers are expected to work with software developers, operators of systems, production staff, and IT to oversee the release of code. Engineers are expected to have both soft and hard skills to get rid of traditional barriers existing between software development, operation, and testing teams.
They are also expected to flawlessly manage IT infrastructure which requires software support in all environments. Engineers must provide the resources needed and come up with the most effective model for deployment and the protocols for testing, validation, and release of the software. Other tasks include preparing testing data, result analysis, glitch troubleshooting, and communication issues back to development. They should have skills such as leadership, business, configuration, organization, automation, and operations.
These jobs are in-demand because engineers are responsible for helping companies deliver essential services such as frequent security updates. Further, there is a significant shortage of the specific skills required for this particular position. With this increased combination and growth of technology in various sectors, there is also an increased demand for these engineers.
You are in Control of your Schedule and Courses
Plan you time and book onto the Live Instructor Led courses when you are ready via your Learning Management Systems Login.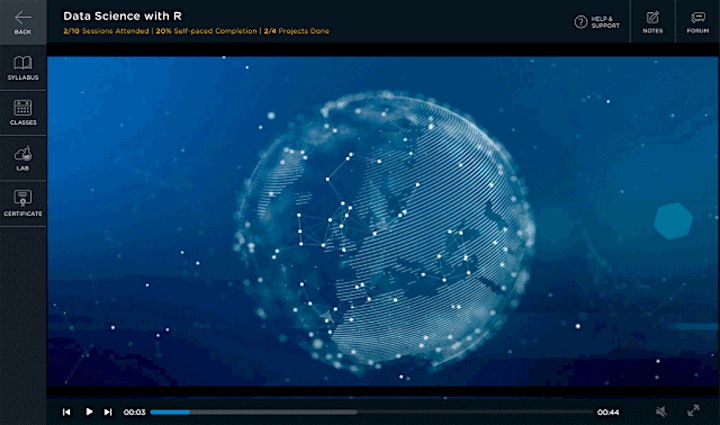 Structured Learning Path
All live Courses, Self Study and Projects are Planned in Sequence to ensure you are taking the course in the correct order and building up your skillset.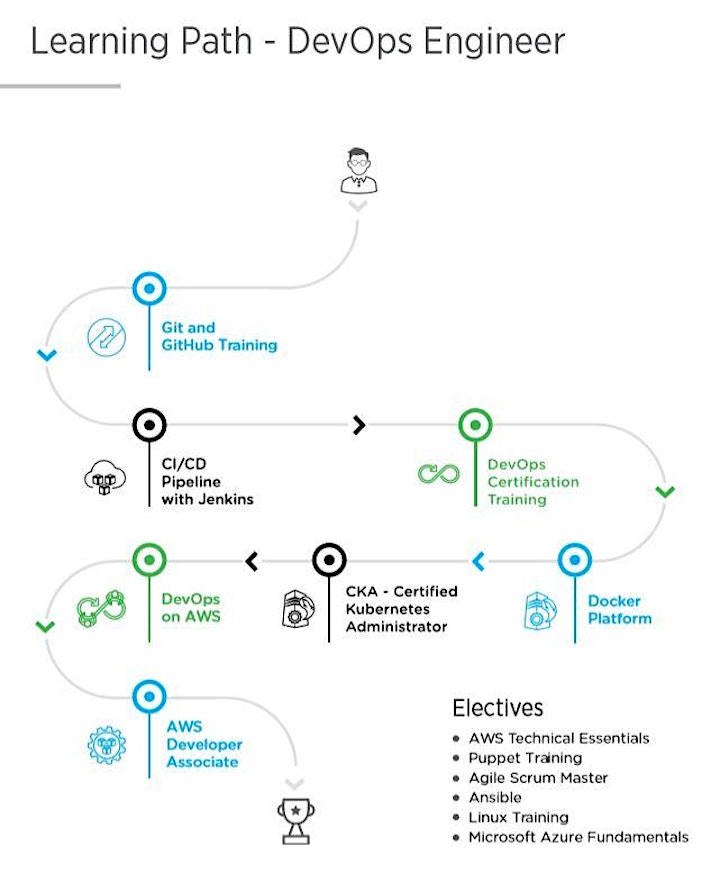 How do I Gain the Certification?
Upon completion of the following minimum requirements, you will be eligible to receive the masters program certificate that will testify to your skills as a DevOps engineer.