Sales Have Ended
Ticket sales have ended
Thank you for your booking. Access to this course will be emailed to you within 24 Hours. Regards Acumen Envision
Sales Have Ended
Ticket sales have ended
Thank you for your booking. Access to this course will be emailed to you within 24 Hours. Regards Acumen Envision
7 Courses, Over 50 Hours of Virtual Live Instructor Led Training, Self-Paced Study, 11 projects covering Ethereum, Hyperledger, Multichain
About this event
Distance Learning Digital Project Manager MasterClass Program
Includes: 7 Courses, Over 180 Hours of Virtual Live Instructor Led Training, Self-Paced Study, 18 Real World Projects, Assessment & Certification
Duration: 6-8 Weeks (Based on part time study)
Global Access: Virtual Live Classroom Courses available in multiple time zones weekday & weekend
Instant Access Enrolment
Overview
Become an expert in core Project Management with courses like PMP, Six Sigma, Agile and DevOps, and build awareness about the latest digital technologies with courses covering Digital Transformation, Digital Marketing, Big Data, and Data Science.
Digital Project Manager Master's Program will equip project management professionals with a three-layer skill-set framework that includes core project management skills, using modern tools and techniques critical to managing projects, and skills necessary for holistic digital awareness. This program will enable you to:
Plan projects, allocate resources, manage requirements and extract the benefits of digital technologies to ensure the smooth functioning of Agile projects
Analyze and evaluate projects against standardized metrics by using the core principles of Lean Six Sigma
Develop a flexible framework of techniques by deploying the five process groups and 10 knowledge areas of project management
Learn best practices for enhancing the quality of IT service management to reduce costs and increase productivity
Become an expert in the principles of continuous development and deployment, automation of configuration management, and IT service agility using modern DevOps tools such as Git, Docker, Jenkins, Puppet, and Nagios
Manage and deliver digital projects by emphasizing core digital marketing concepts to support business goals
Interpret what happens behind the processing of huge volumes of data as the industry switches over from Excel-based analytics to real-time analytics
Learn the basics of Microsoft Project 2013 applications
What you will Learn
At the end of this Masters Program, you will be equipped with the following skillset:
Grasp knowledge on modern project management tools such as work breakdown structure, resource allocation, Gantt charts, mathematical project scheduling models, project cost estimation, cost management and engineering economics to deliver projects on time and budget
Become proficient in executing Scrum methodologies for sprint planning and reviews, handling projects on a JIRA Cloud site and producing Scrum artifacts
Gain an understanding of Define, Measure, Analyze, Control, and Improve phases of Lean Six Sigma
Learn how to apply ITIL tools and techniques and Lean principles to improve your efficiency in handling business challenges
Equip yourself with statistical, analytical and data visualization skills using Microsoft Excel pivot tables, interactive dashboards, charts, and Power BI
Get familiar with DevOps fundamentals and tools to automate all aspects of a modern code delivery and deployment pipeline
Acquire a blueprint of the Digital Transformation Framework—people, process, and technology—to understand the impact of digital transformation on industries and individuals
Comprehend the power and potential of digital media to make effective business decisions and set up best practices within an organization's marketing teams
Understand and utilize the characteristics of Big Data, key components of the Hadoop ecosystem, Sqoop, and Zookeeper
Manage projects and budgets using Microsoft Project 2013
How it Works
Once you enrol for the course you will receive a link giving you access the Learning Management Systems.
You will then be able to review each module in the leaning path and start to plan your study time and book your Live Class room session.
All of the project based session have virtual lab access setup will all software and tools pre installed.
Help is available 24/7 should you require any assistance.
How you Gain the Certification
Upon completion of the following minimum requirements, you will be eligible to receive the certification.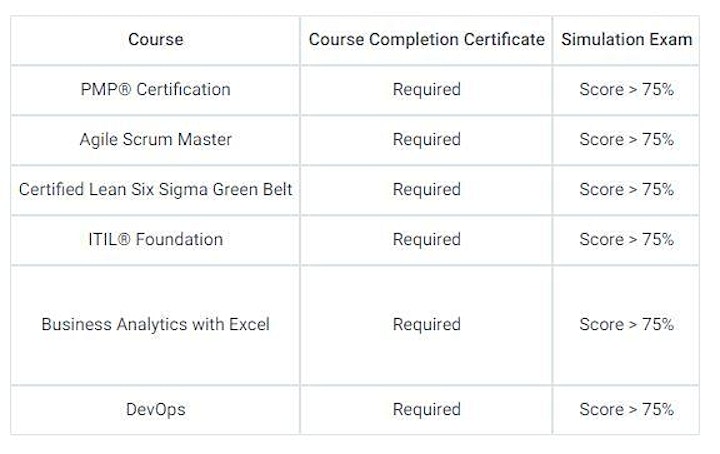 You are in Control of your Schedule and Courses
Plan you time and book onto the Live Instructor Led courses when you are ready via your Learning Management Systems Login.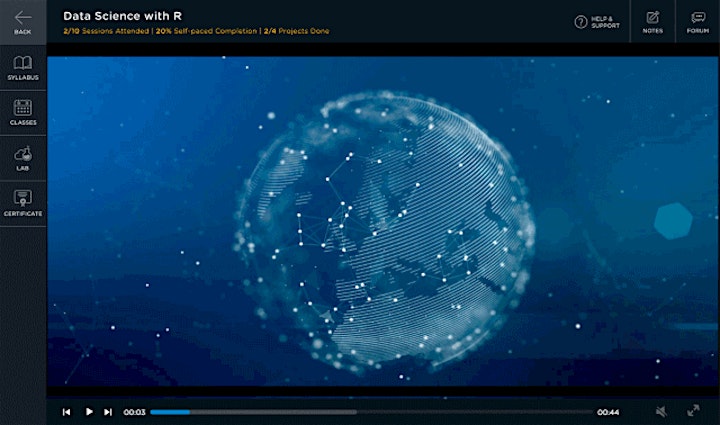 Structured Learning Path
All live Courses, Self Study and Projects are Planned in Sequence to ensure you are taking the course in the correct order and building up your skillset.