Sales Have Ended
Ticket sales have ended
Please sign up for the wait list if you are still interested in this event.
Sales Have Ended
Ticket sales have ended
Please sign up for the wait list if you are still interested in this event.
Description
Join us for the first 7 Hour Kirtan Fest in Bristol!
Experience several hours of kirtan chanting led by Tablatom, Tim Chalice, Babaji Temple Singers, Sivani Mata, Nikki Slade and Amma's Glastonbury Satsang Group. Singing the profoundly healing sounds of Sanskrit Mantras together will naturally uplift and benefit us physically, mentally and spiritually.
This event is inspired by the life and teachings of Swami Chidananda of the Sivananda lineage, who helped bring the spiritual wisdom of Yoga to the West, and is in honour of his birth centenary.
Proceeds of the concert will go to homelessness projects in Bristol in service to our local community and publicity about this will be available at the event.
Please bring your own cushion, blanket or yoga mat to sit on and anything else you may need to stay comfortable throughout the event; chairs are available for those who find it harder to sit on the floor. Please also bring some drinking water with you.
There will be a selection of small stalls run by local traders selling treats and refreshments and CD's produced by the kirtan artists will also be on sale.
During the event a short video telling us some spiritual wisdom will be shown and we will also have a brief meditation session towards the end of the evening.
A delicious Indian vegetarian meal will be served during the main break and we will end the Kirtan Fest by sharing prasad – a sweet treat that has the blessings and vibrations of our chanting together infused into it.
Please join us for this wonderfully uplifting event and help us raise money for homelessness in Bristol. All are welcome - come for as little or as long as you like. Venue is wheelchair accessible. Car park and street parking available. If you have further queries please contact us at kirtanbristol@gmail.com.
Please BOOK EARLY as places are limited.
Look forward to seeing you.
Photo: Kirtan Chanting with Krishna Das, Tiruvannamalai, India, Jan'16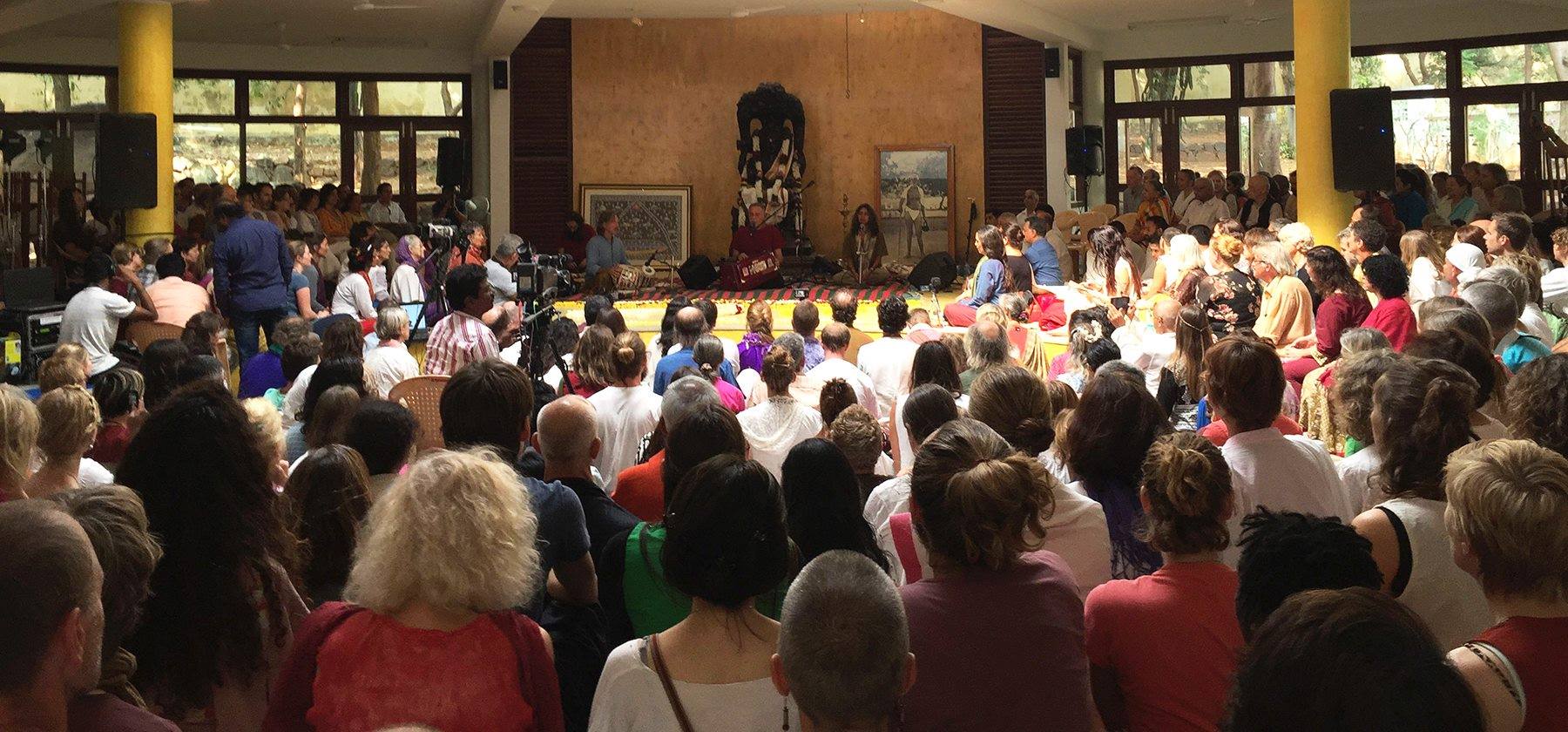 Find out more about Kirtan
Kirtan chanting is the yogic practice of singing from the heart and is a devotional offering to the Higher Self, part of the Bhakti tradition originating in India over 500 years ago. Chanting is accompanied by musical instruments, harmonium and tabla etc. and everyone can join in. It is incredibly simple and easy to follow, yet the results can be transformative and profound. The singing usually begins slowly and gradually builds up to a joyful crescendo, which often inspires people to clap and dance. It is enormously uplifting and soul-stirring.
By repeating simple mantras over and over, chanting is an effortless and powerful way to quieten the restless and busy mind, relax the body and open the heart, taking one deeper into a place of peace, well-being and joy.
The Sanskrit mantras used in chanting contain a transformative power, having a profoundly healing effect on our subconscious and energetic system. These mantras are essentially universal sounds, beneficial to us all, irrespective of our beliefs. Chanting is for everyone, no prior experience is necessary to gain the benefits.
Kirtan helps us to release mental, emotional and physical stress and to energise us. It can help us to express ourselves more fully and to become more confident, productive and creative. Regular practice can help support our health, well-being and spiritual life.
Terms & Conditions of Sale/Entry
Please note that there will be no refunds unless the event is cancelled. There will be some photos/film/audio recordings taken during the event which will be used for future event marketing. The Kirtan Bristol team cannot take responsibility for injuries to any persons or damages/loss of property whilst at the event and do not accept liability for these occurrences. Kirtan Bristol has the right to change the line-up of artists at the event without prior notice.