7 principles - a journey to higher focus and energy, for more meaning, balance and connection in your professional ánd private life .
About this event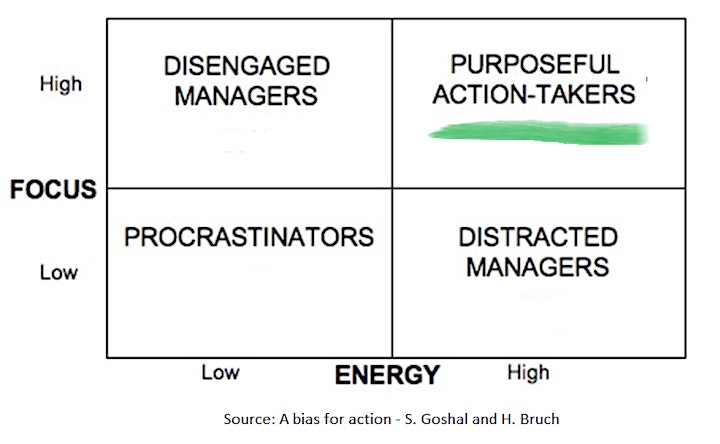 Short description:
In this intra- and interactive workshop, participants will experience seven proven principles, to overcome the traps of non-action, losing track and negativity:
Proactive thinking - being more self-driven and taking responsibility
Discovering purpose - linking personal vision and company vision
Focusing on what matters - balancing long-term and short-term priorities
Renewing your energy - manage your personal energy sources
Seeking mutual benefit – collaboration based on trust vs. competition
Understanding current realities – listen deeper with openness and empathy
Taking a stand for synergy – healthy friction through assertiveness and creativity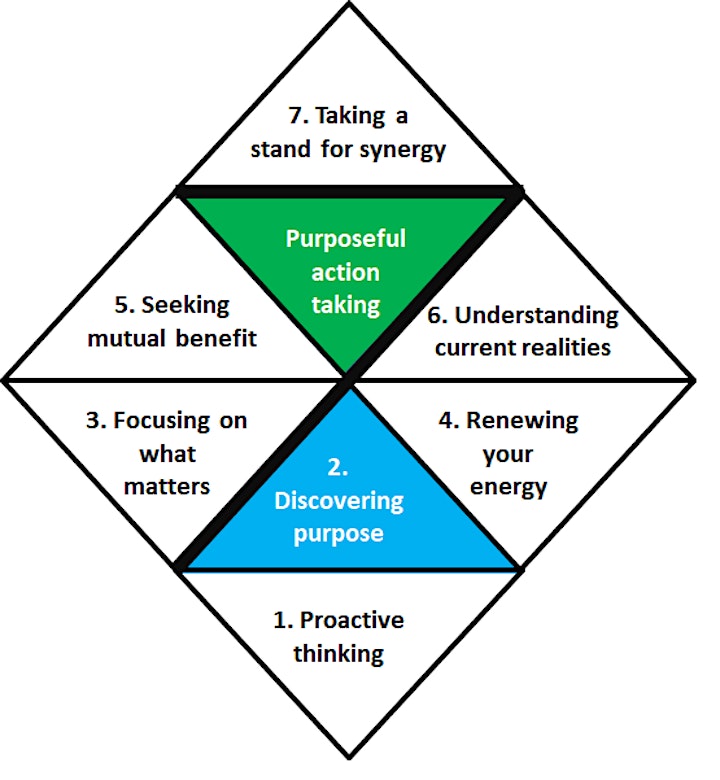 Inspired by the 7 habits of highly effective people from Steven Covey
Objectives:
After this training participants should be able to:
take proactive actions and be more self-drive
define their purpose based on talents, passion, personal values and visions
to sharpen their focus on importance vs. urgency
strengthen their willpower and resilience
strengthen their personal energy and mindful balance in life
influence key relationships in their life (business and private)
listen with empathy and understand the situation as it is
take a stand with assertiveness and deliver synergistic results
embody their learning in a somatic and mindful way
Target Group:
All people who want to re-energize and re-focus their work and their life to be more effective, to be more balanced and to feel more meaning and purpose in life.
Participants of the course "7 habits" can get a refresher, a deeper more embodied experience and valuable additional content.
Trainers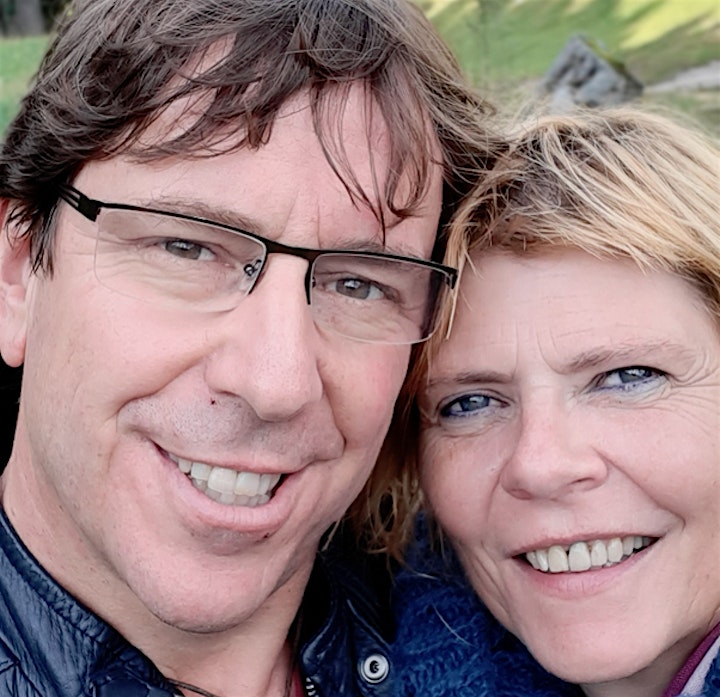 Lut Schops
is a clinical psychologist by education. Before she started her career in that area, she worked for several organizations as a teacher and later on as a designer and international seller of jewellery.
Being interested in what really helps people, brought her back to psychology, she discovered "Somatic Experience" and graduated as an SE practitioner in 2012/2013.
Since 2019 Lut started to combine Somatic Experience and her teaching background by joining Peter Gündling T&D as a personal coach and trainer.
Lut is an embodied leader for Soul Motion, conscious dancing.
Grounded - Present - Empathic
Pedro Gündling
is the founder of Peter Gündling T & D, an international supplier of training and development activities in the areas of sustainability, leadership, international management and self-development. 1989 Peter started his career at a global company called SKF, as a manufacturing engineer. With the introduction of Total Quality Management he started to shift in 1998 into a role as inhouse trainer and consultant for organizational and people development. In 2008 Pedro started to work as a freelancer and as an independent trainer and coach. Besides SKF he worked by now for many global players and different industries like GE, Rolls Royce, Siemens, 3M, ThyssenKrupp, Pepsico, Allianz, JTI, SAP, Vodaphone, ZF, TU Munich, National History Museum Berlin…
Pedro aquired a trainer license for the 7 habits, Search Inside Yourself TM and a number of different self-development programs as well as psychometric tools. He offers more than 25 years of truly global training experience as well as personal development like Vipassana, feelings as a source of power and sustainability initiatives.
In 2019 Pedro graduated as a teacher for Soul Motion, a conscious dance practice.
Passionate - Inspirational - Deep
The named trainers are confirmed at the time of publishing the event but may be different due to short term changes.
Method / Format:
The course will be conducted through a mix of presentations,self-reflection and a personal energy assessment. In addition, the program is highly interactive and practical as participants are given several opportunities to practice and receive feedback from their learning partners.
The course offers somatic experiences and mindfulness exercises to embody the learnings for longterm impact.
The trainers also offer a 30 min individual coaching session for the participants, on their personal energy assessment or other vibrant topics, stimulated by the training. Time for that will be offered either during the training days or after the course via Skype.
A follow up coaching session four weeks after the classroom training offers room for discussing challenges, answering questions and refreshing the course content.
Course language: English
Book-Resources:
"7 habits of highly effective people TM" by Stephen Covey
"A Bias for Action" by Heike Bruch and Sumantra Goshal
"The power of feelings" by Vivian Dittmar
Other requirements and comments:
Pre-work assignment: Personal energy assessment
Participants who experience a period of high levels of psychological disorder may postpone their participation. Please contact the trainers if you are in doubt.
Follow up online session 4 weeks after the training
Organizational information and logistics
Course fee includes:
3,5 days training workshop
30 minutes individual coaching session
Coffee breaks and 3 lunches
Follow up online session 4 weeks after the training
Course manual
Optional offerings:
Optional Yoga sessions in the morning on day 2 and 3, free of charge
Optional free evening activity - Soul Motion dancing
Optional additional coaching sessions via Skype, chargeable
Timing
The program days starts on all days at 09:00.
The program days end at 18:00, on the last day it finishes at 13:00.
Food & beverages
The Hotel serves vegetarian and organic food daily.
Coffee breaks and lunches are included in the course fee.
We prefer no alcohol consumption during the training hours
If you have special food restrictions, please contact the hotel directly.
Location & Accomodation
Naturparkhotel Weilquelle, Limesstraaße 16, 61389 Schmitten.
If you need a room, please organize it directly with Naturparkhotel Weilquelle Tel: +49 6082-9700, weilquelle@naturparkhotel.de
The hotel is about 45 minutes away from the Frankfurt airport
Reduced ticket price
If you book for a group of 3, one participant only pays 50 % of the course fee
We believe in generosity if you buy a ticket you support reduced tickets for NGO´s and students.
If former 7 habits participants attend or their partners they can get a ticket for 50% of the course fee.
Please ask at info@peterguendling.de to buy reduced tickets
Cancellation - If you really can not participate the following cancellation fees apply:
30 days before the training, no cancellation fee
29 days to 8 days before the training, 50% cancellation fee
7 days before the training, full course fee will be charged
Eventbrite will refund your fee accordingly within 15 days of your cancellation
To rebook your participation for the next available course, if possible, until 14 days before the training.
Questions to info@peterguendling.de
Ticket Information
After buying a ticket you will receive a confirmation email from Eventbrite (our ticket partner), your ticket will be attached in that email.
Please check your SPAM file if you do not receive the confirmation email.
If you can not find it there either, please contact Eventbrite directly.
Terms and conditions - AGB
All purchases are legally binding and you accept the online buying conditions from Eventbrite.
Allgemeinen Geschäftsbedingungen.
1. Geltungsbereich der AGB
1.1 Diese Allgemeinen Geschäftsbedingungen (AGB) gelten für sämtliche Lieferungen und Leistungen von Connected Business im Zusammenhang mit dem Verkauf und der Lieferung von Eintrittskarten (Tickets) und treten neben die sonstigen AGB (inklusive Hausordnung). Im Falle von sich widersprechenden AGB, haben diese AGB Vorrang.
1.2 Vertragspartner des Käufers und somit Verwender dieser AGB ist "Connected Business" (im Folgenden "Veranstalter"). Dies gilt auch für Eintrittskarten, die durch autorisierte Vorverkaufsstellen veräußert werden.
2. Bestellung, ermäßigte Tickets, Gültigkeit
2.1 Der Veranstalter schließt keinen Vertrag zugunsten eines Kindes bis zum Alter von 7 Jahren. Kinder und Jugendliche im Alter von 8 bis einschließlich 17 Jahren haben nur Zutritt zur Veranstaltung in Begleitung einer personensorgeberechtigten Person oder einer erziehungsbeauftragten Person. Eine erziehungsbeauftragte Person ist jede Person über 18 Jahren, soweit sie auf Dauer oder zeitweise aufgrund einer Vereinbarung mit der personensorgeberechtigten Person Erziehungsaufgaben wahrnimmt oder soweit sie ein Kind oder eine jugendliche Person im Rahmen der Ausbildung oder der Jugendhilfe betreut. Erziehungsbeauftragte Personen haben einen schriftlichen Nachweis ihrer Beauftragung mitzuführen und auf Verlangen eine Kopie des Ausweises der personensorgeberechtigten Person vorzuzeigen.
2.2 Bei einem Kauf von Tickets an der Abendkasse oder in einer autorisierten Verkaufsstelle kommt der Kaufvertrag mit Veranstalter durch Übergabe der Tickets.
2.3 Bei einer Bestellung in einem Online-Buchungssystem eines autorisieren Online-Ticket Händlers geht das Angebot für einen Vertragsabschluss vom Käufer aus, sobald dieser eine Buchung/Reservierung eines Tickets auslöst.
2.4 Die Versendung von Tickets erfolgt auf Gefahr des Käufers.
2.5 Der Käufer ist verpflichtet, die Bestätigungs-E-Mail und die Tickets nach Zugang unverzüglich auf Richtigkeit zu überprüfen, insbesondere in Bezug auf Anzahl, Preise und Datum.
2.6 Der Ticketkauf über das Internet ist auf die Anzahl von Tickets beschränkt, die der Online-Shop für die jeweilige Veranstaltung als Höchstmenge ausweist.
2.7 Der Besuch einer Veranstaltung mit einem ermäßigten Ticket ist nur möglich, wenn der Grund der Ermäßigung zum Zeitpunkt der Veranstaltung noch besteht und beim Eintritt nachgewiesen werden kann. Andernfalls besteht ein Recht zum Besuch der Veranstaltung nur, wenn der Käufer die Differenz zwischen dem ermäßigten und dem normalen Ticketpreis zahlt. Zahlt der Käufer auf Verlangen der Veranstalter den Differenzbetrag nicht, gilt Ziffer 4.3 entsprechend.
2.8 Das Ticket berechtigt ausschließlich den berechtigten Inhaber zum einmaligen Besuch des Veranstaltungsortes und verliert mit dessen Verlassen seine Gültigkeit.
​3. Versandbedingungen
Es gelten ausschließlich die Allgemeinen Bestimmungen der autorisierten Vorverkaufsstelle, über welcher Kunde Eintrittskarte/n erwirbt.
​4. Entgelte, Zahlungsbedingungen, Zahlungsverzug
Es gelten ausschließlich die Allgemeinen Bestimmungen der autorisierten Vorverkaufsstelle, über welcher Kunde Eintrittskarte/n erwirbt.
​5. Ausschluss von Widerrufs- und Rückgaberechten im Falle des Erwerbs von Eintrittskarten
Es gelten ausschließlich die Allgemeinen Bestimmungen der autorisierten Vorverkaufsstelle, über welcher Kunde Eintrittskarte/n erwirbt.
​6. Absage von Veranstaltungen, Zuweisung anderer Plätze
6.1 Wird eine Veranstaltung aus von Veranstalter zu vertretenden Gründen abgesagt, so erhält der Käufer den Nennwert der Eintrittskarte (exkl. Vorverkaufsgebühren oder ähnlichem, welche von Ticketverkäufer erhoben werden erstattet. Ein darüberhinausgehender Schadensersatzanspruch besteht nicht.
6.2 Der Veranstalter behält sich weiter vor, dem Käufer einen anderen als den mit dem Ticket zugewiesenen Platz für die jeweilige Veranstaltung zuzuweisen, wenn es für die Veranstalter aus Gründen, die von ihr nicht zu vertreten sind (z.B. Bauarbeiten) nicht möglich ist, den auf dem Ticket ausgewiesenen Platz zur Verfügung zu stellen und der ersatzweise zugewiesene Platz vergleichbar ist. Andernfalls haben die Veranstalter die Differenz zu dem auf der Eintrittskarte angegebenen Preis zu erstatten.
6.3 Der Veranstalter behält sich darüber hinaus vor, dem Karteninhaber auch aus sonstigen Gründen innerhalb der bestätigten Preiskategorie einen anderen Platz zuzuweisen.
6.4 Der Veranstalter behält sich das Recht vor, die Veranstaltung örtlich und/oder terminlich zu verlegen, soweit dies für den Besucher zumutbar ist und 1 Woche vor Veranstaltungsbeginn bekannt gegeben wird. Absagen oder Änderungen werden durch den Veranstalter so früh wie möglich auf dessen Webseite bekannt gegeben. Hieraus können seitens des Festivalbesuchers keine Ansprüche jedweder Art abgeleitet werden, es sei denn der Veranstalter handelt grob fahrlässig oder mit Vorsatz.
7. Haftungsbeschränkung
7.1 Die jeweilige Veranstalter, ihre gesetzlichen Vertreter oder ihre Erfüllungsgehilfen haftet nur bei Vorsatz oder grober Fahrlässigkeit. Bei der Verletzung vertragswesentlicher Pflichten besteht die Haftung auch bei einfacher Fahrlässigkeit, jedoch begrenzt auf den vorhersehbaren, vertragstypischen Schaden. Ansprüche für Schäden aus der Verletzung des Lebens, des Körpers oder der Gesundheit sowie nach dem Produkthaftungsgesetz bleiben von vorstehenden Beschränkungen unberührt.
7.2 Die Teilnahme setzt eine normale psychische und physische Belastbarkeit voraus. Sollten gesundheitliche Einschränkungen vorliegen, verpflichtet sich der Teilnehmer, bzw. die Teilnehmerin einen ärztlichen Rat einzuholen, ob eine Teilnahme möglich und sinnvoll erscheint. Die Teilnahme findet auf eigenes Risiko und Haftung statt. Die Trainer und Organisatoren werden von Haftungsansprüchen im Falle von Fahrlässigkeit oder höherer Gewalt befreit.
7.3 Für Fremdleistungen (z. B. gastronomische Leistungen) und evtl. daraus resultierenden Schäden haftet nicht die Veranstalter, sondern der jeweilige Leistungserbringer direkt
8. Verhalten im Veranstaltungsort
8.1 Für das Verhalten gilt die jeweilige Hausordnung, welche an den Eingängen zu den Veranstaltungsorten aushängt.
8.2 Die Hausordnung und die Weisungen der Ordnungskräfte sind zu beachten. Bei einer Missachtung kann – ungeachtet sonstiger Ansprüche – ein sofortiges Verlassen des Veranstaltungsortes angeordnet werden.
9. Ton-, Foto- und Filmaufnahmen
9.1 Am Veranstaltungsort sind Ton-, Foto- und Filmaufnahmen aus urheberrechtlichen Gründen untersagt. Bei Zuwiderhandlungen wird unbeschadet weiterer Ansprüche eine Vertragsstrafe fällig, deren Höhe nach billigem Ermessen von dem Veranstalter festzusetzen ist, höchstens jedoch EUR 3.000,00 im Einzelfall. Aufnahmegeräte und Kameras aller Art dürfen nicht mit in den Zuschauerraum genommen werden. Sie müssen an der Garderobe zur Aufbewahrung abgegeben bzw. in Schließfächern verwahrt werden.
9.2 Bei Zuwiderhandlungen ist das Hauspersonal berechtigt, Aufnahmegeräte und Kameras einzuziehen und bis zum Ende der Veranstaltung einzubehalten. Filme und Aufzeichnungsmaterialien jeder Art, auf denen Teile der Vorstellung festgehalten sind, können vom Veranstalter eingezogen und verwahrt werden. Sie werden an den Eigentümer wieder ausgehändigt, wenn dieser der Löschung der Aufnahmen zugestimmt hat.
9.3 Die Veranstalter ist berechtigt, im Rahmen der Veranstaltungen Ton-/ Foto- und Filmaufnahmen des Ticketinhabers sowie seiner Begleiter, die über die Wiedergabe einer Veranstaltung des Zeitgeschehens hinausgehen (Recht am eigenen Bild), zu vervielfältigen, zu senden oder erstellen zu lassen, vervielfältigen zu lassen oder senden zu lassen, sowie in audiovisuellen Medien zu nutzen oder nutzen zu lassen. Die Einwilligung erfolgt ausdrücklich unter Verzicht auf einen Vergütungsanspruch. Die Teilnehmer können dies jedoch zu Beginn des Trainings wiederrufen.
10. Anwendbares Recht, Datenschutz, Gerichtsstand
10.1 Es gilt ausschließlich deutsches Recht. UN-Kaufrecht findet keine Anwendung. Sollte eine Klausel unwirksam sein, werden die übrigen Klauseln davon nicht berührt. Anstelle der unwirksamen Klausel tritt die gesetzliche Regelung. An die Stelle der unwirksamen oder undurchführbaren Bestimmung soll diejenige wirksame und durchführbare Regelung treten, deren Wirkungen der wirtschaftlichen Zielsetzung am nächsten kommen, die die Vertragsparteien mit der unwirksamen bzw. undurchführbaren Bestimmung verfolgt haben. Die vorstehenden Bestimmungen gelten entsprechend für den Fall, dass sich die AGB als lückenhaft erweisen.
10.2 Sämtliche vom Käufer übermittelten Daten werden von Veranstalter unter Einhaltung der maßgeblichen Datenschutzbestimmungen be- und verarbeitet.
10.3 Ist der Käufer Kaufmann im Sinne des HGB, juristische Person des öffentlichen Rechts oder öffentlich-rechtliches Sondervermögen, hat er keinen allgemeinen Gerichtsstand im Inland oder ist sein Wohnsitz oder gewöhnlicher Aufenthaltsort im Zeitpunkt der Klageerhebung nicht bekannt, so ist der ausschließliche Gerichtsstand für alle Auseinandersetzungen aus und im Zusammenhang mit dem Vertragsverhältnis Schweinfurt.