Description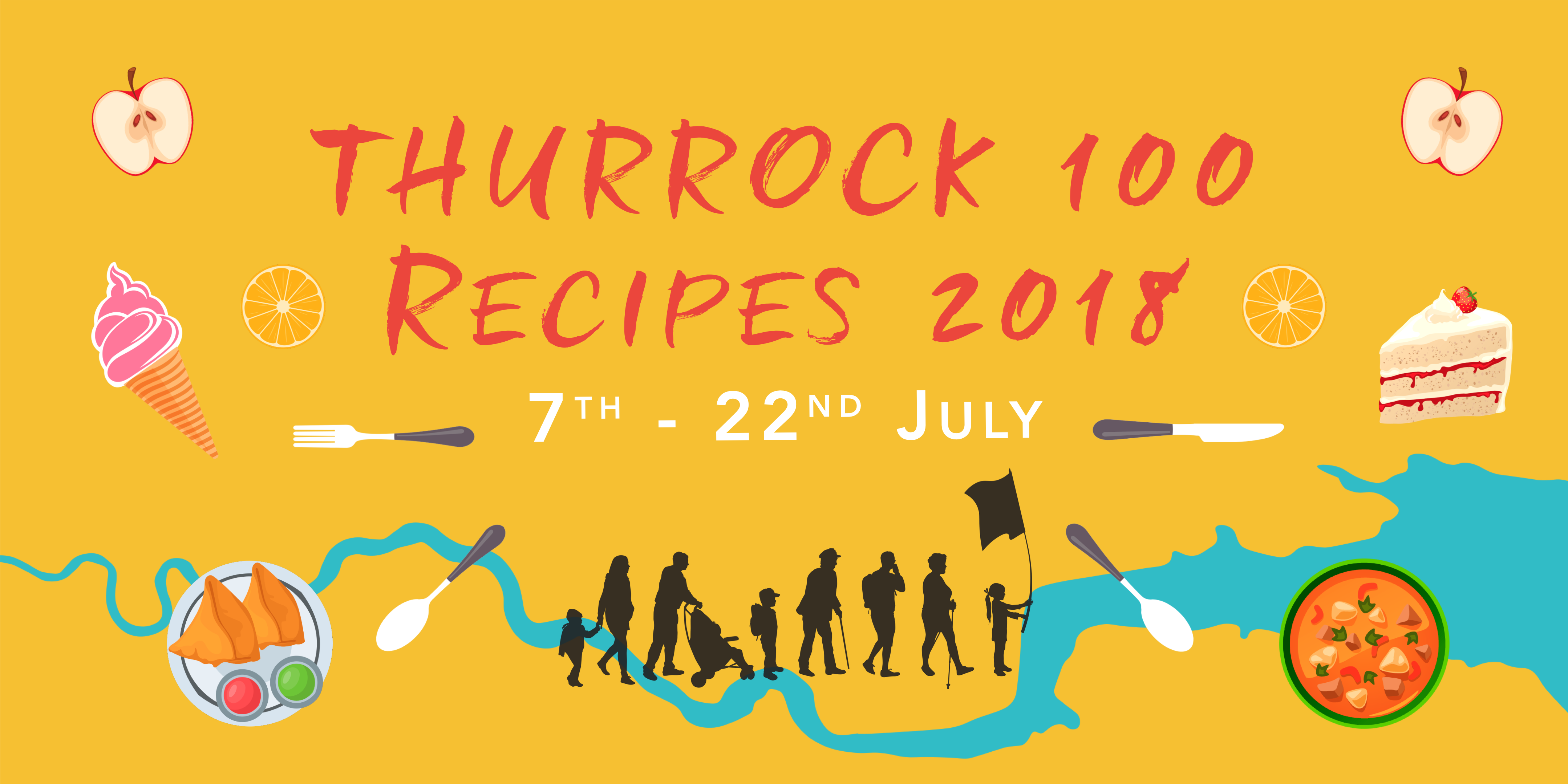 A walk of two halves ending in a picnic all together at Rainham Marshes.
Starting the walk at Purfleet we will consider the food grown on local farms or sold in village shops. Find out about "the famous white bait suppers" and the award-winning village school famous for its amazing apples.
For a longer walk, please see Walk 6 details and to book, start at Rainham Hall where we will hear about their kitchen gardens, herb spiral and orchard with some very unusual varieties like a 150 year old Mulberry tree and how jam is made from the fruit. On the way to Rainham Marshes we will hear about the local history of the area.
After the picnic either enjoy spending some more time exploring the marshes or visit the local Purfleet Heritage Centre.
Please bring a sharing picnic.
Registration: 10.45 a.m

Walk starts: 11.00 a.m

Meet: Purfleet Station, RM19 1PP

Meet other Group at Rainham Marshes side gate: 1:00 p.m

Arrive at Visitors Centre for RSPB Rainham Marshes Introduction: 1:15 p.m

Picnic: 1:30 p.m

Optional walk back to Purfleet Station via Purfleet Heritage Centre: 2:30 p.m.
Distance: 1.7 miles
Grading: Easy
Walk Leader: Mike Ostler
All Thurrock 100 walks are free to join.
See the route map here:
https://www.wikiloc.com/outdoor-trails/purfleet-village-to-rainham-marshes-25212829
Travel
Train
Nearest Train Station: Purfleet Train Station
Parking
Purfleet Station Car Park and Council Car Park close by
Accessibility
The walk from Purfleet Station to Rainham Marshes is accessible. The walks are on pavement or footpaths. However, please note that The Rainham Hall to Rainham Marshes walk (walk 6)
is not accessible for wheelchairs and pushchairs.
Thurrock 100 walks are of different lengths and on different terrain. Some are mainly on footpaths, and others mainly on footpaths where ground may be uneven. If this walk doesn't suit you, there is probably another one that will.
Please note:
You need to choose walks within your capabilities; the walk leaders are experienced but must take your word that you are sufficiently fit for the grade of walk you have chosen.
Walk leaders will be at the start of the walk regardless of the weather. In the unlikely event of any unforeseen circumstances, Kinetika reserve the right to change or cancel a walk and/or performance. Please check the website regularly for any updates or follow us on Twitter or Facebook.
Due care has been exercised in organising the walks, however Kinetika, the funders and associated partners of the project cannot accept liability for loss, accident or injury caused to any person following the routes. Participants under the age of 16 must be accompanied by an adult.
What to bring
Please ensure that you are properly equipped for all walks. The weather can be unpredictable so bring waterproof clothing and/or sun hats and sun cream – it's best to be prepared for everything!
Walking boots/shoes are recommended, but otherwise please wear suitable and comfortable footwear- best to leave open-toe sandals or high heels at home. Make sure you bring a packed lunch, if necessary, and plenty to drink.
Photos/ filming
We will be taking photographs and video of this event to promote and celebrate the project in print and online. If you do not give consent to be photographed or filmed, that's absolutely fine, please let a member of the Kinetika team know on the day.
Flyer
Download the flyer for Thurrock 100 Recipes 2018 here: Thurrock 100 Recipes 2018 flyer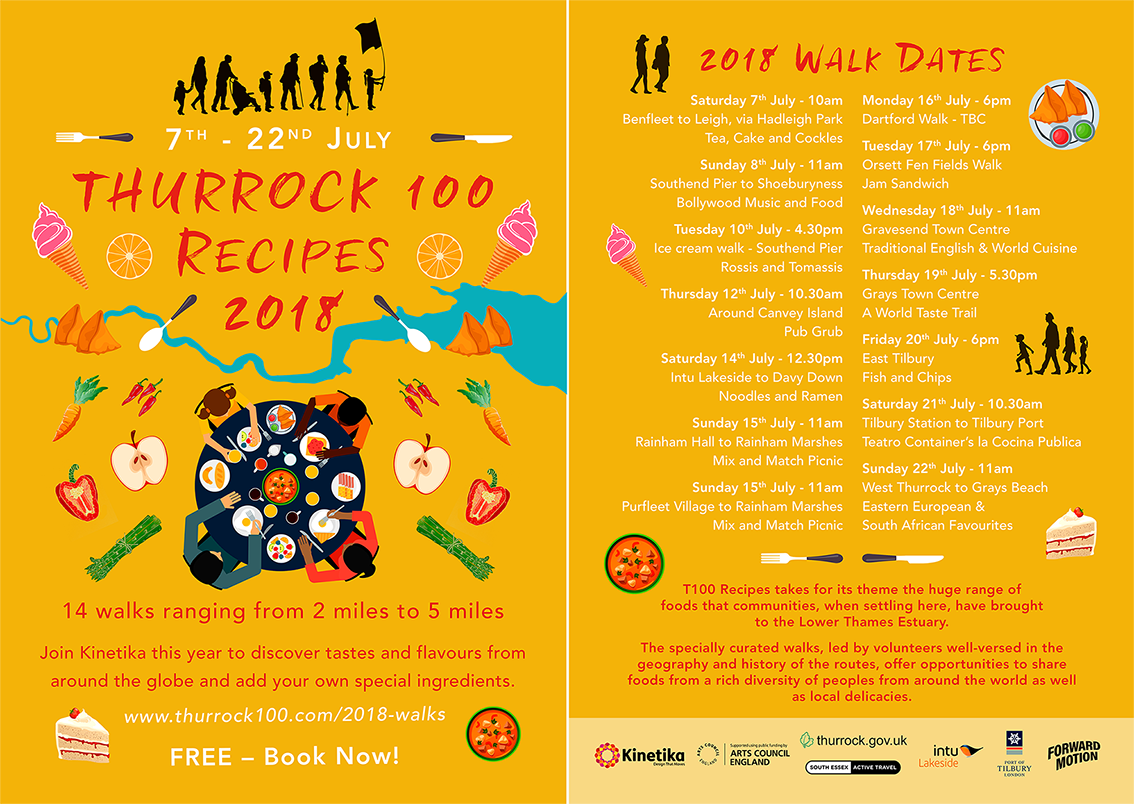 More info about all the walks on the Thurrock 100 website: thurrock100.com/2018-walks
Data Collection
Kinetika is funded by Arts Council England (ACE) and as a funding condition we are asked to collect participant data. The data we collect is anonymised and submitted to ACE. We do require your name and email address but only to communicate with you in connection with the event. We hate junk mail and would never sell your address or bombard you with emails. We don't want our data collection questions to feel intrusive so you are either not required to answer or we include a 'prefer not to say' option.