Sales Have Ended
Registrations are closed
Please check your junk folder. The hyperlink to the live event will be shared three hours before...
Discover how Learning by Questions can fulfil your pupils' remote learning needs and the Department for Education's expectations...
About this event
In this webinar, TeacherToolkit's Ross McGill and 'BETT COVID-19 Award Finalist' and primary head teacher, Victoria Morris talk to education consultant Matthew Pearson about how LbQ can help your school cover the 7 DfE expectations.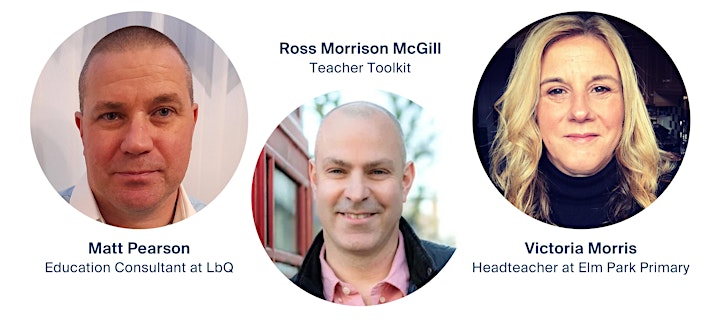 If you would like an LbQ 1:1 demonstration before or after this event, visit lbq.org/remotelearning to register.
-----------------------------------------------------------------------------
What?
In this webinar, we will learn:
What are the 7 expectations the DfE set out?
Which expectations are tough to meet eg: feedback and engagement and how you can meet those simply and easily.
Can these expectations be met without an increase on already over-burdened teachers?
How can proven education technology give you peace of mind?
Moving through each of the 7 key expectations outlined by the DfE, Ross, Victoria and Matthew talk about the significance of each requirement and how LbQ facilitates that requirement.
Talking points include:
Set assignments that are meaningful, ambitious and in different subjects.
Deliver 3 hours of Remote Learning each day.
Give frequent clear explanations of new content delivered by a teacher, through high-quality curriculum resources or video.
Have a system for checking pupil engagement.
Gauge how well pupils are progressing through the curriculum.
Provide feedback, at least weekly.
Enable teachers to adjust pace or difficulty of what is being taught in response to questions or assessments.
Why? In lockdown 3, the English government issued a new set of expectations on schools for remote learning.
Who? This is a virtual 1-hour discussion for teachers and school leaders. Hosted by Ross McGill, head teacher and BETT-COVID 19 Award Finalist, Victoria Morris (Elm Park Primary School) and LbQ's education consultant, Matthew Pearson
Hosted by:
Ross Morrison McGill is also known as @TeacherToolkit, is the 'most followed educator on social media in the UK'. He works with pupils, teachers and school leaders across the world, supporting teaching and learning, workload and mental health.
A former deputy headteacher, he has been teaching for 27 years working in some of the most challenging secondary schools in London. In 2015, he was nominated as one of the '500 Most Influential People in Britain' by The Sunday Times. He is currently writing his fifth book and is studying for his EdD at Cambridge University.
If you have any questions please contact Support@TeacherToolkit.co.uk.

FAQs:
What do I need for the event? You will need a desktop or laptop with a reliable internet connection. You do not need to download any software. If you miss the live session for whatever reason, the resources and video will still be shared with you.
How does the webinar work? During the training, the host will share their screen, video and audio in a webinar so that attendees can use the chat or question and answer options to interact with the host and other panellists. Attendees are view-only participants who can be unmuted if the host chooses. Their view of the webinar is controlled by the host. They can interact with the host and the panellists through the Q&A and the chat.
Can I access the resources and video? The host reserves the rights to hold the recording and audio footage. This will be circulated to all paid clients after the event. Note, you do not need to be a live participant to access the video and resources.
How can I contact the organiser with any questions? Please contact Support@TeacherToolkit.co.uk if you have any questions.
What is the refund policy? There is no fee for attending this event.
How will my email address be used? Your email will automatically be signed up to the TT @TeacherToolkit newsletter. You will be able to opt out of this at any point. Your details will also be shared with LbQ.