Sales Have Ended
Registrations are closed
Please check your junk folder. The hyperlink to the live event will be shared 3 hours before...
Sales Have Ended
Registrations are closed
Please check your junk folder. The hyperlink to the live event will be shared 3 hours before...
Wave goodbye to complicated spreadsheets, say 'Hello' to quick, point in time assessments!
About this Event
During this webinar, TeacherToolkit's Ross McGill and Angel Solutions' Ben Jackson will share how education software 'Balance' can support teachers with 'Professional Judgments' - giving a simple 'point in time' assessment for pupil progress at a glance.
7 reasons how Balance's Professional Judgement feature gives primary school teachers a clear picture of how each child is progressing through the curriculum, saving you a whole lot of time and a whole lot of admin.
If you would like to learn more about how Professional Judgements can really add value to the way assessments are carried out at your school, please join us on Tuesday 23rd February at 3.45 pm as we look at this in more detail.
We think you're going to love it!
Every attendee will get access to Balance Lite, our free curriculum tool for primary schools – no strings attached.
Put the focus back on learning and make sure no child falls behind.
Ready to Balance things out?
If you'd like more information about Balance before or after this event, visit bit.ly/bal-info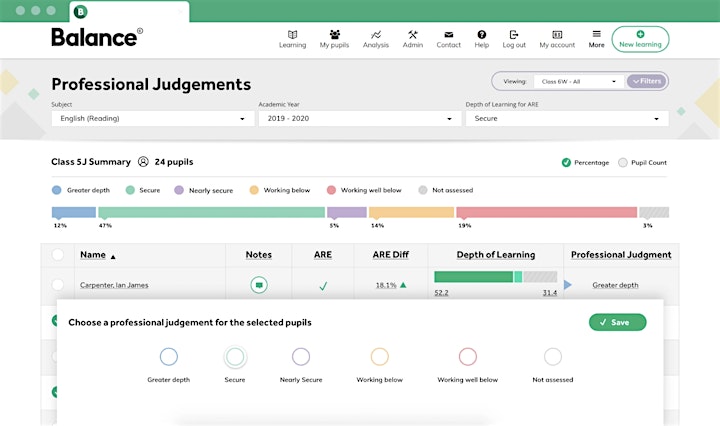 What? We think you're going to love our Professional Judgements (or PJs as we like to call them)! Hundreds of schools are already benefiting from this speedy, point in time assessment tool that gives a clear picture of how each child is progressing through the curriculum at any given point in the year - they're so easy to update and even easier to maintain.
Why? There's no need for complicated spreadsheets or calculators, Balance does all the hard work for you with a summary bar that updates every time you submit your judgement.
Magic.
How? They'll help to reduce your workload with simple, one-click assessments, whether your pupils are learning remotely or in the classroom. This means that with all the disruption that schools are experiencing at the minute, leaders will always have an up-to-date overview of the data they're looking for, whilst teachers can quickly see where resources and learning need to be targeted.
It's a win-win!
7 Reasons Why You Should Use Balance
In this webinar, we will show you how schools using Balance are saving time and benefitting from:
Pupil Progress meetings just became a whole lot easier - our tools facilitate the discussion between school leaders and class teachers and can compare groups of children across the school.
Live updates: A snazzy summary bar that automatically updates as teachers submit their judgements.
Our Time Frame drop-down tool means there is no need to re-enter your judgements each half-term, check you're happy and just make light touch changes where necessary.
Some pupils at home? Others are in the classroom? Balance works seamlessly with different groups and is responsive so you can access it from absolutely anywhere, even on a phone or tablet!
Bored of the same old copy, paste, send, repeat? We automatically link to your MIS so you always have the latest pupils and contextual data at your fingertips, then, use automatic filters to easily analyse data for contextual groups e.g. SEN, PP.
No more jargon, customise statements to match the language used in your school.
Sick and tired of copying the dreaded 'master spreadsheet' or doing and redoing calculations? Record point-in-time assessments for each child at the click of a button
"A big positive at the moment is the Professional Judgements page. Allows very simple and easy data collection and an incredibly valuable display makes it easy to analyse." - Jordan Whiffing, St Jerome's Catholic Primary School.

Hosted by:
Ross Morrison McGill is also known as @TeacherToolkit, is the 'most followed educator on social media in the UK'. He works with pupils, teachers and school leaders across the world, supporting teaching and learning, workload and mental health.
A former deputy headteacher, he has been teaching for 27 years working in some of the most challenging secondary schools in London. In 2015, he was nominated as one of the '500 Most Influential People in Britain' by The Sunday Times. He is currently writing his fifth book and is studying for his EdD at Cambridge University.
If you have any questions please contact Support@TeacherToolkit.co.uk.
FAQs:
What do I need for the event? You do not need to download any software, just a good internet connection.
How does the webinar work? During the training, the host will share their screen, video and audio in a webinar so that attendees can use the chat or question and answer options to interact with the host and other panellists. Attendees are view-only participants...
Can I access the resources and video? The host reserves the rights to hold the recording and audio footage. This will be circulated to all participants after the event.
How can I contact the organiser with any questions? Please contact Support@TeacherToolkit.co.uk if you have any questions.
What is the refund policy? There is no fee for attending this event.
How will my email address be used? Your email will automatically be signed up to the TT @TeacherToolkit newsletter. You will be able to opt-out of this at any point. Your details will also be shared with partners who help make these events possible.