7.15pm-8.30pm Aerial Relaxation Pods - Sound Journey Meditation in Hammocks
London's first multi-sensory aerial relaxation experience with live ambient music, aromatherapy and aerial hammocks. Oasis of Calm.
About this event
(Please watch our video to give you a taste of the experience)
AERIAL RELAXATION PODS 7:15pm-8:30pm session
UPCOMING DATES:
THU, 27 Jan (if sold out please book 8:45pm-10pm session)
THU, 3 Feb
THU, 10 Feb
THU, 24 Feb
THU, 3 MARCH (Private booking)
THU, 10 MARCH (Private booking)
THU, 24 MARCH
THU, 31 MARCH
*Respectfully Socially Distanced & Covid compliant*
We run monthly 7:15pm-10pm 'System Reset' workshop featuring Bioenergetic, Creative Flow & Aerial Relaxation Pods, next session on Thu, 20 Jan - details and bookings here: https://www.eventbrite.co.uk/e/123649855045
More details about Aerial Relaxation Pods, what to bring & safety guidelines - please scroll down.
(PLEASE NOTE: ALL VIDEOS & PHOTOS WERE TAKEN PRE COVID)
ABOUT AERIAL RELAXATION PODS™
London's first multi-sensory aerial relaxation experience with live ambient music and nurturing electronica, aromatherapy, sky-blue silky aerial hammocks to soothe your stresses away and lift your spirit!
"An oasis of calm in our busy lives."
Londoners stressed out by their busy lives can now turn to Aerial Relaxation Pods™  to transform their tension to calm, and restore the body's natural healing wisdom.
 "Our pods are here to help Londoners relax. As a former teacher myself, I am fully aware just how busy and stressed a lot of people are. And most of us just don't find the time to unwind. Our Aerial Relaxation Pods are going to help you alleviate stress, providing time & space to allow your body to deeply rest, harmonising your nervous system. You'll feel rejuvenated and refreshed after one session." Seth Newman, co-founder of Aerial Relaxation Pods™.
ROCK-ABYE-BABY & RESEARCH
Two new studies published in Current Biology suggest our brains are evolutionarily programmed to respond to rocking. Research also provides insight into why rocking is calming to babies. The brain wave synchronization occurs much easier through a rocking motion and allows the baby to feel more at home (i.e. it feels closer to being in the womb). And let's not forget that we spend the first nine months of our lives being gently rocked in an amniotic sea.
"Since immemorial times we've rocked our babies, and often ourselves, to sleep," says lead author on the new paper, Konstantinos Kompotis, at the University of Lausanne, also in Switzerland. "Our study provides new insights into the neurophysiological mechanisms underlying this phenomenon."
Dr Michael J Breus, a Certified Sleep Specialist, states that it's the simplest of soothing, sleep-inducing remedies, something we all naturally do: rocking a baby gently to sleep.
But why does it work? How exactly does a gentle rhythmic motion change the sleep architecture of the brain? Repetitive motions, like those experienced in the gentle rocking of a hammock, can soothe anxiety.  Dr. Herbert Benson, founder of Harvard's Mind/Body Medical Institute, recommends repetitive movement to elicit your body's relaxation response. This reaction allows a lower heart rate, blood pressure, and muscle tension.
The gentle rocking of a hammock will boost brain wave oscillations associated with better sleep and has been shown to provide a fertile ground for deep relaxation. More specifically, the rocking fortifies the brain waves that are naturally present during sleep which help maintain deep relaxation. Neuroscientist Laurence Bayer of the University of Geneva in Switzerland, likens the findings to our intuitive appreciation that a slowly rocking hammock can relax us and do wonders for our mood. "This is potentially a very promising avenue for future clinical research," he notes. Rocking to sleep may have significant health benefits such as better quality of sleep and even improved long-term memory formation.
We all instinctively know about the power of a soothing, repetitive rocking motion and this in combination with live ambient soundscapes and aromatherapy is a potent synthesis for deep relaxation.
FACILITATOR, VENUE, PRICES:
Facilitated by: Seth Newman
As a coach, Seth is dedicated to helping people calm, empower and rejuvenate their busy minds and bodies to achieve the best versions of themselves. Seth brings a wealth of experience holding heart-centered spaces.
In addition to guiding people on their life journeys, he enjoys helping clients design lifestyles of optimal health and balance with creative living practices.
Seth has been running various body-mind integration classes and workshops for many years. His inspiration comes from many sources including Humanistic & Body Psychotherapy, the Human Potential Movement, 5 Rhythms, Tantra and Active meditations.
Address: The Skylight Centre, 49 Corsica St, Highbury East, London N5 1JT (closest Station Highbury & Islington)
Time: 7:15pm - 8:30pm (please arrive 5 min before the start of the session as there is no waiting room,
Strictly no latecomers! - Sorry, please arrive on time! Unfortunately, if you are more than 10 minutes late, you will not be allowed entry, (and there can be no refunds if you are more than 10 minutes late, very sorry!) as we need to make it a calm & peaceful space for people who are already here.
Prices: 1 x ticket £17 (£18.92 inc ticket fee)
Offer (limited availability) 2x tickets £28 (£30.77 inc ticket fee)
Payment: Please book via Eventbrite (very limited spaces, advance booking is essential as we have limited capacity for these classes)
PLEASE NOTE:
1) Strictly no latecomers! - Sorry, please arrive on time! Unfortunately, if you are more than 10 minutes late, you will not be allowed entry, (and there can be no refunds if you are more than 10 minutes late, very sorry!) as we need to make it a calm & peaceful space for people who are already here.
2) Please only arrive 5 minutes before the start of the session, as there is no waiting room.
3) No Refunds. Last minute refunds are not available as we need to have enough time to fill the space left - at least 1 week's notice. You are welcome to pass on your ticket to a friend, colleague or family member however please let us know the name and email address of the person attending in your place for track & trace purposes.
4) Clothing: Please wear a sleeved shirt that covers the armpits and leggings or yoga trousers that cover your knees. Wear form-fitting clothing. Please do not wear baggy clothing as they can snag and catch on the sling's fabric causing accidents. Ensure that your clothing is "zipper free" and remove all jewellery (body piercings, watches and hair clips etc). These items can snag and damage the silk hammocks.
5) Weight limit is up 300 pounds (140kg).
6) This session is not suitable for people with pacemakers and other therapeutic electronic devices or persons suffering from severe mental health issues due to the vibratory nature of the session. Please seek advice from your GP if you have any concerns prior to attending our session.
7) Our sound journeys are very gentle and not loud/intense therefore suitable for pregnant women. It is believed that there are many positive and beneficial effects to be gained from relaxation and healing sounds to the growing foetus. The advised healing practice is gentle flowing sounds around the pregnant mother for the beneficial and positive effect of both mother and baby. However, Sound Baths are not advised when less than 12 weeks pregnant.-->If you have any questions please feel free to send us an email: aerialrelaxationpods@gmail.com or youareyoubeyou@gmail.com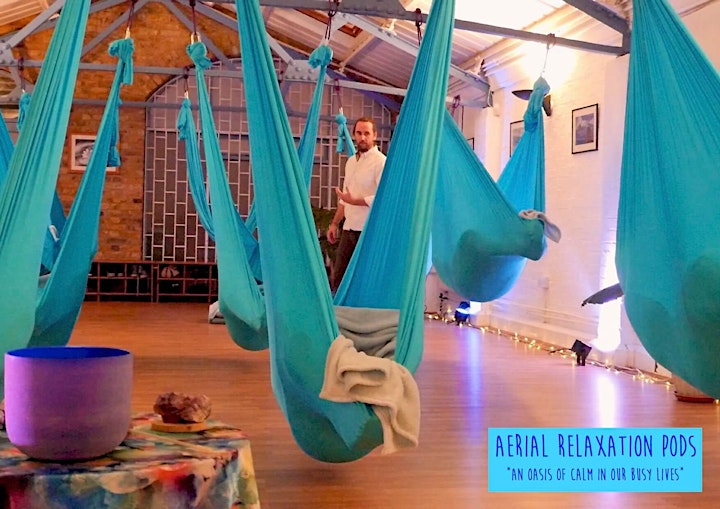 FEEDBACK FROM OUR SESSIONS:
"Words are inadequate to express the uniquely nurturing experience I had during your class... and the music was amazing! The feeling of being securely wrapped in a silk hammock from head to toe, suspended in the air, slowly rocking, with the gentle breath meditation, the crystal bowls and the ambient music created a sublime and profound atmosphere. It was as if I was in a cocoon of total support, allowing peace to flow into my entire being." - Alison
"Being someone who is always on the move and finds it very difficult to relax, I found this session to be really valuable 'me time!' Initially, I found it difficult to let go and unwind where the muscles in my arms and legs were contracting. After a few minutes, I started to drift away into a soft slumber which was deeply relaxing. Despite this my senses were heightened and I became very conscious of the sounds that seemed to travel through my ears, vibrating all the way into my body. The gentle movements of the hammock with the music in the background made me feel like a young infant being rocked to sleep. A wonderfully calming and soothing experience, with the added bonus of not having to put in any physical effort. Great! I look forward to more of this."  - Navpreet
(PLEASE NOTE: ALL VIDEOS & PHOTOS WERE TAKEN PRE COVID)
COVID SAFETY GUIDELINES & PREVENTION MEASURES:
- If you are showing any Covid -19 symptoms, please do not attend. Any participant repeatedly coughing in the space will be asked to leave immediately.
- Please arrive ON time for the check in (5 min before the class start time) and please leave promptly after the class. This is to avoid overcrowding and ensure smooth check in and changeover between the sessions. Thank you.
- You can wear a face covering during the sessions if you choose to. We ask all participants to keep the face covering on whilst moving through the space before and after the class. You can take the face covering off once you are in the hammock.
- We ask all participants to remain socially distanced at all times and not to mix/socialise with each other INSIDE the venue before or after the class. This is to avoid mixing with people they do not live with or share a support bubble.
- Name and contact details will be kept for 21 days by the venue for track and trace purposes.
- Please come already dressed in comfortable clothing ensuring your knees, armpits and torso are covered, and with a bag for your belongings. There are bathrooms at the venue but no changing rooms.
- We will provide antibacterial wipes and hand sanitisers at the venue. Please wash your hands regularly and use the hand sanitiser supplied upon entering the venue.
- All touch hotspots will be regularly cleaned with disinfectant between each session.
- We ask that all participants keep at least 1m physical distance at all times. Any participant repeatedly breaching this distance will be asked to leave.
- All hammocks will be disinfected with antibacterial spray between each session.
- We will provide clean lavender eye pillows with washable covers. You are welcome to bring your own eye pillow/ eye mask.
- Blankets and cushions: we will provide clean set. You are welcome to bring your own blanket and cushion.
- Venue has skylights that will be opened to allow more air flow in the space.

Date and time
Location
Refund policy
Organiser of 7.15pm-8.30pm Aerial Relaxation Pods - Sound Journey Meditation in Hammocks
Pioneering Conscious and Wellbeing Events since 2009 in London and UK! Home to Ecstatic Dance London and much more!
Our intention is to offer a variety of transformational experiences designed for supporting you in your personal life journey, enhancing community wellness and togetherness. We bring a wealth of experience, knowledge, heart centred and humanistic approach into all our work. We create and facilitate all our workshops and continue to develop new practices which we are very excited to share! URUBU was first formed in 2008 as a Live Music Ecstatic Dance Collective 'Urubu' by founder Seth Newman, has since developed into a holistic wellness event organiser based in London facilitating Workshops, Classes, Retreats, Campouts & Trainings for living a Healthy and Embodied Life!
URUBU is a School of Transformational Arts!
Ecstatic Dance London (DJ, Live Music, Indoors & Outdoors with Headphones)
Body-mind Integration and Embodiment Practices
Active Guided Meditations & Trance Dances
Creativity Coaching & Closed Groups
Cacao Ceremonies & Rituals
Gong Baths & Live Music Sound Journeys
Drumming & Singing
Aerial Relaxation Pods & Sunday Hammock Sessions
Conscious Connections & EcoTantra
Retreats, Campouts, Festivals and much much more!
Come on a journey with us!

URUBU - You are you, be you! 
Instagram: @urubu_school_of_transformation
Instagram:  @ecstaticdance_london 
Facebook: www.facebook.com/EcstaticDanceLondon
Facebook: www.facebook.com/urubucollective  
Website: www.ecstaticdancelondon.com