About this Event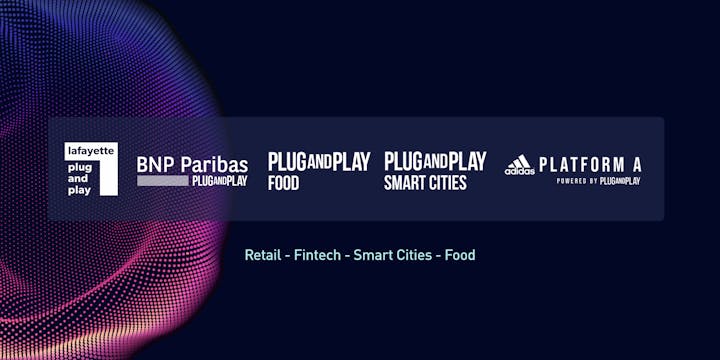 Over the course of two days, come and discover Plug and Play's portfolio of the most innovative startups in Food & Packaging, Retail, Fintech & Smart Cities.
You can join us for just one or several of these events, meet world class entrepreneurs, get a glimpse at how these industries are evolving and mingle with the movers and shakers of the European tech scene.
Thursday, November 28, 2019
9:00am - 1:30pm: Plug and Play Food and Packaging Launch Day
The Plug and Play France Food & Materials Innovation Platform will bring the best startups in the world focusing on these verticals together with the leading European AgriFood corporations to drive innovation and solve industry challenges in a collaborative environment.
2:30pm - 8:00pm: Lafayette Plug and Play Expo Day Batch 7
Lafayette Plug and Play, the premier business accelerator for the Retail and E-commerce industries, part of the Plug and Play Tech Center global network, is delighted to invite you to attend the 2019 Batch 7 Expo Day.
During this afternoon, we will present you with:
A special introductory talk by Emery Jacquillat, CEO of Camif Matelsom
Final pitches of our 17 startups from Batch 7
A networking cocktail will close this special event
Friday, November 29, 2019
9:30 am - 5:30 pm: Plug and Play Smartcities & BNP Paribas Plug and Play
Fintech & Smart Cities have joined forces to give you a combined overview of how the world is changing. Join us for inspiring mini-keynotes, fast-paced debates and product demos.
Agenda:
9:00am - 10:00am: Welcome Coffee
10:00am - 10:30am: Opening remarks
10:30am - 11:00am: Smart Cities, Dumb People? - Hani Ramzi, Founder @ iiContact
11:00am - 11:21am: Smart Cities - Startup pitches
11:21am - 11:40am: VTOL & Flying Cars - Uber Flying Taxi; EVA flying Cars; Volocpoter
11:40am - 12:08pm: Fintech - Startup pitches
12:08pm - 12:23pm: Branch of the Future - Anais Louis Chabanier, BNP Paribas
LUNCH
13:30pm - 13:50pm: BNP Paribas Plug and Play - Startup Booster
13:50pm - 14:10pm: Sustainable Cities - Engie, Adidas, Enerbrain, Green City Solutions
14:10pm - 14:31pm: Smart Cities - Startup pitches
14:31pm - 14:50pm: Holoportation - Florian Couret, BNP Paribas Real Estate
14:50pm - 15:18pm: Smart Cities - Startup pitches
NETWORKING DRINKS