About this Event
Our environment is in crisis, inequality is growing, and yet our economic system seems fixated on endless growth, while politics is paralysed and coarsened by division.
How must our political and economic assumptions change in order to meet these challenges?
How can we model new ways of living as individuals and as churches?
How does our hope in God's future empower us to live a hopeful, abundant life on a planet with finite resources?
JPIT's 2020 national conference Renewal and Rebellion: faith, economy and climate invites you to join with us in looking at the big challenges our world faces, rethinking economic structures and taking radical steps towards climate justice, and how we can all act to bring lasting change – in faith, for people and for planet.
Through panel discussions, workshops, poetry, art and conversation, we hope to inspire and resource people to speak, pray and act boldly for justice and peace over the next decade.
You will need to choose a workshop to take part in at the conference. Full workshop descriptions can be found here.
Keynote Speakers Include:
Ed Miliband, MP and co-host of 'Reasons to be Cheerful' podcast
Katherine Trebek, Wellbeing Economist
Christine Allen, Director of CAFOD
Anthony Reddie, Director of Oxford Centre of Religion and Culture
Ross Greer, Green Party MSP
You can find out more information about the conference, including a running order of the day and additional information about accessibility on our website.
Please bring lunch with you. We encourage you to be as environmentally conscious as you can, and to bring as little waste as possible. Free refreshments will be available during the day.
It's only a 10 minute walk from Derby Station to the Riverside Centre. You can see how simple it is on the map below: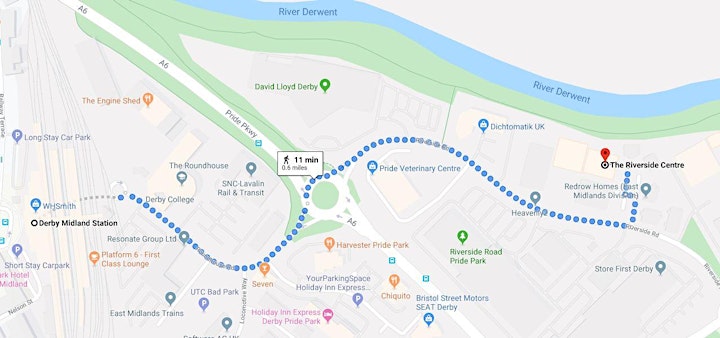 If you have a question or need help booking tickets, please contact us at:
Email: enquiries@jointpublicissues.org.uk
Phone: 020 7916 8632
The Joint Public Issues Team is a collaboration of Baptists Together, the Church of Scotland, the Methodist Church and the United Reformed Church, working together for peace and justice. You can find out more about us here.
You can find out about JPIT's Privacy Policy for the conference here. You can find out about Eventbrite's privacy policy here.