Description
A memorial marking the 75th anniversary of the end of the Russian Arctic Convoys and World War II
---
Join us on this momentous occasion to remember the heroism, courage and sacrifice of our brave sailors.
During World War II our brave Royal Navy and Merchant Mariners served on the Russian Arctic convoys sailing from Loch Ewe in Scotland to the Arctic ports of Murmansk and Archangel in northern Russia. They provided Russia with much-needed materials and armaments to help them continue the fight against the Germans on the Eastern Front, providing the Allies with the opportunity to launch D-Day.
If the terrible seas and ice were not threatening the convoys, it was the constant attacks from German aircraft and submarines that were. In total, 104 Allied merchant ships were sunk with the Arctic convoys, along with 18 warships; 829 merchant mariners and 1,944 navy personnel were killed aboard them. Russia lost 30 merchant ships and an unknown number of personnel.
---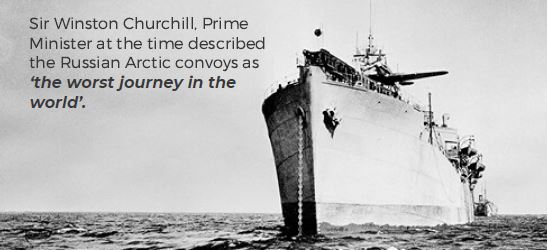 ---
SPECIAL GUEST
Our special guest will be Celia Sandys, granddaughter of Sir Winston Churchill. She will be joined by Ambassadors, High Commissioners and Consuls representing those nations whose nationals served on the Russian Arctic convoys together with representatives from our own armed forces.
DONATION
Should you wish to make a donation in the memory of a Russian Arctic convoy veteran in their name or to support our memorial event, we would welcome that to be made payable to: The Russian Arctic Convoy Project.
Please send to Russian Arctic Convoy Museum, Birchburn, Aultbea, Scotland IV22 2HZ, thank you. We are a registered charity and all donations will be acknowledged.
w w w . r a c m p . c o . u k