7th LJWG Conference: Leading London to Hepatitis C Elimination
Description
The 7th Annual London Joint Working Group on Substance Use and Hepatitis C conference will focus on Leading London to Hepatitis C Elimination.
This year's conference will be held on Tuesday 26th September 2017 in Livery Hall, Guildhall, London.
The conference will be led by LJWG Co-Chairs, Dr Emily Finch, Consultant Addiction Psychiatrist at the South London and Maudsley NHS Foundation Trust and Clinical Director at the Addictions Clinical Academic Group, and Dr Suman Verma, Consultant Hepatologist Chelsea and Westminster Hospital and Honorary Consultant at Royal Brompton Hospital.
This year's sessions include:
Strategic decision making and action, with presentations focused on the challenges and opportunities facing hepatitis C services and patients in London, how sustainability and transformation plans can help progress towards hepatitis C elimination and hepatitis C from an international perspective.

Interventions for impact, including presentations about the family involvement in interventions, understanding barriers to data collection and onward referral, active case finding in pharmacy testing and homeless populations, reaching the prison community and the opportunities and aspirations for elimination by 2030

Action in ODNs, with a workshop led by London ODN leads to discuss current challenges, opportunities and priorities.
We hope that you are able to join us for this conference.
#LJWG2017
Who should attend?
This event is free to all:
Hepatologists

Gastroenterologists

ODN MDT Members

Specialist Nurses

Addiction Psychiatrists

Managers of Drug and Alcohol Treatment Services

NHS England

Local Authority Councillors

PHE

Directors of Public Health

Health & Wellbeing Boards

Service User Organisation Representatives

Community Pharmacy & Needle Exchange Leads

General Practice Leads

Clinical Commissioning Group Members

Specialist Commissioning Leads

Statutory and Third Sector Managers
Capacity of this conference is limited, places will be allocated on a first come, first served basis. If the conference is oversubscribed it may be necessary to limit representatives of organisations or professions. The organisers reserve the right to cancel bookings if required to facilitate fair representation.

If you are a representative of the private sector, please send an email to ljwgconference@unlimitedgroup.com with 'LJWG17 Private sector registration' in the title for details on how to book. Charges will apply to some private companies.
Agenda
An agenda of the days events is displayed below. Please note that this agenda is subject to change.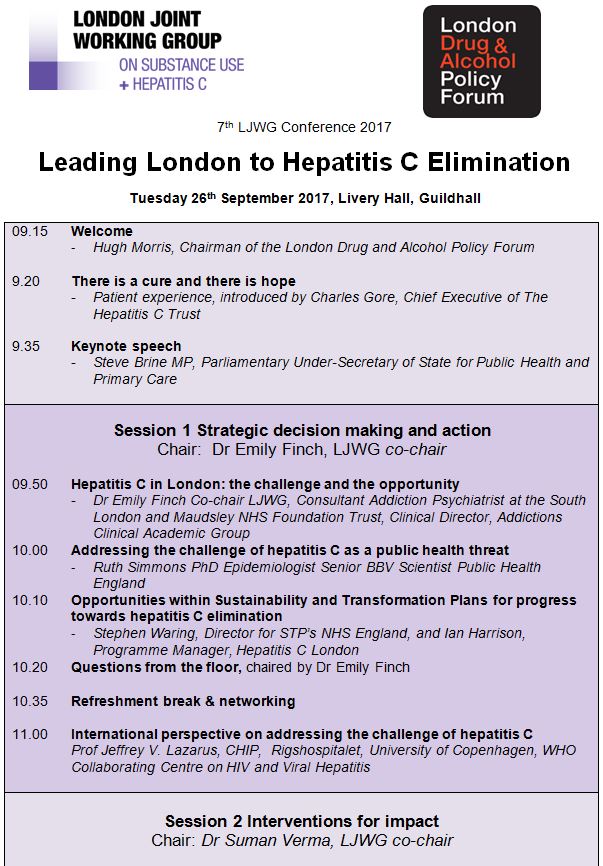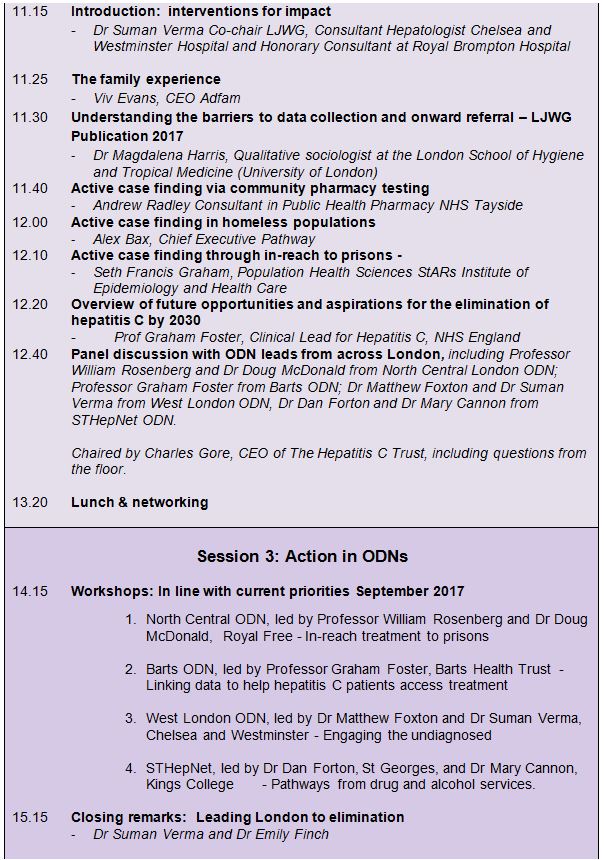 Best,
LJWG London Joint Working Group