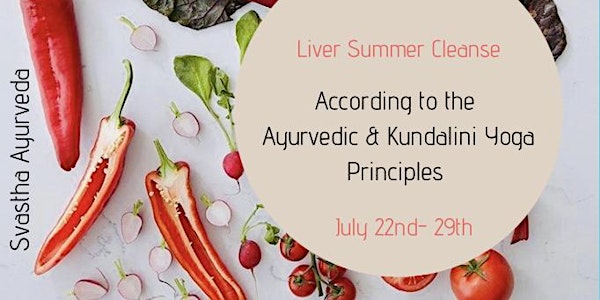 8 Days Online Liver Cleanse ~ Ayurveda & Kundalini Yoga ~
Refund policy
Contact the organiser to request a refund.
Eventbrite's fee is nonrefundable.
~ Registration closes on JULY 11th at 11:59pmUK Time ~
About this event
Adopting a daily routine is a very purposeful and enduring act of self-love. Each day, our routines provide us with a tangible opportunity to prioritize our own health and well-being, regardless of what else might be going on in our lives.
Undertaking a Seasonal cleanse can support a healing process preventing illnesses. Re-balancing the elements in the body, symptoms can be relieved bringing awareness of the mind/body response to welcome a healthier lifestyle and nutrition.
About Ayurveda:
Ayurveda is a wellness practice that originated in India and is about 5,000 years old. The word "Ayurveda" is a combination of two Sanskrit words that mean life (Ayur) and science (Veda). The literal translation of Ayurveda is "the science of life."
Ayurvedic medicine seeks to create a healthy strong body through a series of diet, exercise and lifestyle practices, including sleep and mindful living.
In the life of everything that exists in nature, there is always a beginning, a middle and an end in regards to time. Ayurveda also believes there are three seasons each year represented by these three Doshas known as the Vata, Pitta & Kapha Seasons. Weather and seasonal changes affect our balance. Everyone can benefit from adapting their routine to the season.
Scroll Down to the Bottom of the Page for Frequently Asked Questions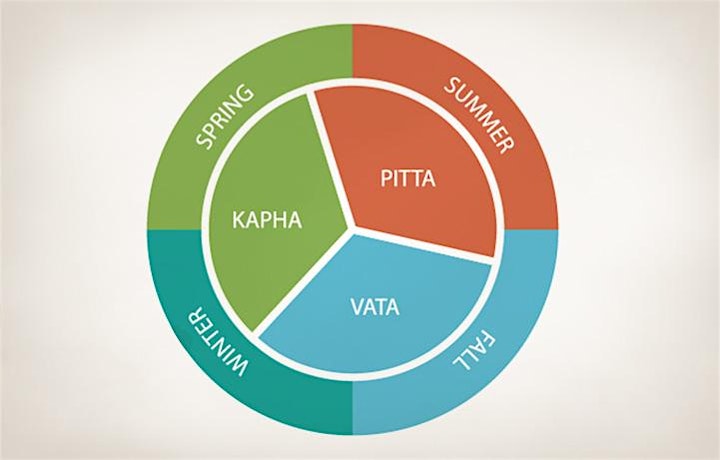 According to this ancient medicine, every season holds the qualities of a different Dosha, and so, a body constitution or blend of elements that represent our personality.
~ Summer: Pitta (fire and water): Pittas are often described as intelligent, joyful, and driven. Attributes include sharp, hot, liquid, and mobile.
~ Spring: Kapha (earth and water): Kaphas are often described as calm, loving, or lethargic. Attributes include moist, heavy, soft, and static.
~ Winter: Vata (space and air): Vatas are often described as creative, intense, or expressive. Attributes include dry, light, cold, and rough.
Signs and Symptoms of Pitta Imbalance
Is your pitta out of balance? If so, you may be experiencing some of the following signs or symptoms:
Red, inflamed rash, acne, cold sores
Acute inflammation in the body or joints
Chronic pain
Acid reflux, gastric or peptic ulcers, heartburn
Nausea or discomfort upon missing meals
Loose stools
Uncomfortable feeling of heat in the body
Frustration, anger, irritability
Judgment, impatience, criticism, intolerance
Red, inflamed or light-sensitive eyes
Excessive perfectionist tendencies
Actions of pitta dosha in the body and mind are:
Intelligence, Valor, Understanding, Color and complexion, Hunger, Thirst, Visual perception, All digestion, All heat in the body and mind, Softness and health of the skin, Regulation of the liver, Proper function of the small intestine.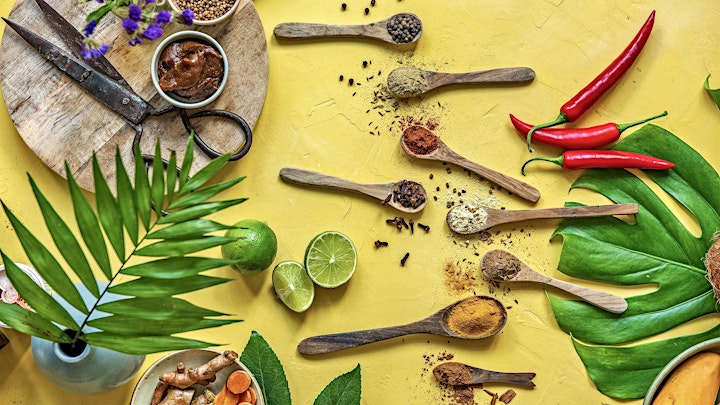 How the cleanse works:
When the registration form will come through, participants will receive an email from the organiser - Maitri Shakti Gold - requesting to suggest dates and timing for the first step of the cleanse, the Ayurvedic consultation.
Through the consultation and assessment will be made on how the shifting of the season has influenced mentally, physically and emotionally the patient.
During the consultation the practitioner will discuss and tailor a diet according to the routine of the patient. Modifying the diet with the combination of a daily 60 minutes kundalini yoga and meditation morning practice the body and mind will be brought into harmony.
There are no dietary restrictions on the kind of food or quantities unless the patient presents major health problems, the aim is to reduce the Pitta imbalances listed above, each participant will have the benefits and learning from this gentle cleanse experience.
Some herbal remedies might be shared according to the body imbalance for the length of the cleanse.
~Moderation is the key, maintain the benefits is our priority~
With this cleanse you will receive
- 75minutes Zoom Ayurvedic Nutrition & Lifestyle Consultation
- Tailored dietary according to the Ayurvedic & Yogic tradition to use as a reference for Pitta season -Pdf material-
- 8 Live Online Morning sessions of Kundalini yoga, pranayam and meditation.
From 7:00- 8:00 UK Time (BST)
Or receive the recording of the class daily to practice when most convenient for you ~for all levels~
- One weekly Live Online Check in Zoom Sharing Circle
- Home made herbal recipes for Pitta season
- A basic understanding on Pitta season and how this element manifest in the body functioning -Pdf material-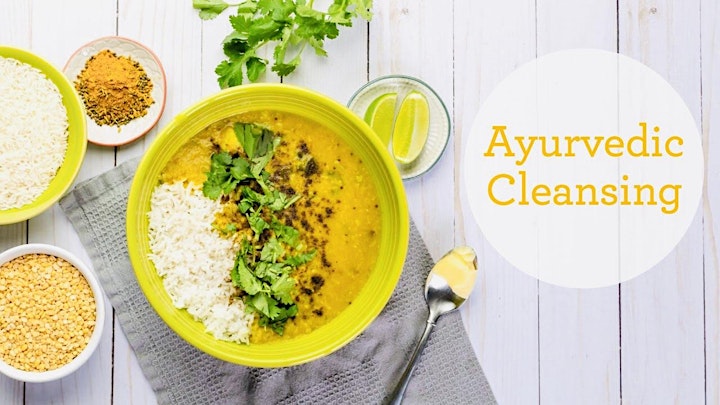 FREQUENTLY ASKED QUESTIONS
Do I need to be vegetarian or vegan to participate?
No, the requirements are to eat fresh and homemade meals. During the initial consultation, a diet will be tailored according to the patient's needs.
I am breastfeeding, do I need to stick to the diet?
In these cases, we usually have a plan B with foods allowed during the cleanse for breastfeeding mothers. The diet in this case is less important and it is requested to focus more on attending the yoga practice and the regularity of taking herbal remedies.
There is a family celebration I will need to attend during the cleanse, how shall I organise my meal on this occasion?
It is suggested to bring some of your food if possible or choose what's most similar to your diet for that meal. Exceptions are necessary when attending 8 days' online cleanses.
How much time do I need to set aside for the cleanse?
This is a thorough and in-depth, traditional Ayurvedic cleanse. Depending on the season there will be body care besides the cooking and daily practice. The processes themselves will take roughly 1-1.5 hours a day on average, it is important to say that participants tend to do what's possible considering their current lifestyle and family situation. At times it requires a few steps to get there, and kindness is the key to this process.
I am taking medications and other supplements, can I carry on taking them during the cleanse?
It will be requested a list to check if there's interference with the cleanse's remedies. Generally, most supplements and medications are welcome as long as the patient doesn't feel overwhelmed adding the remedies for the seasonal cleanse.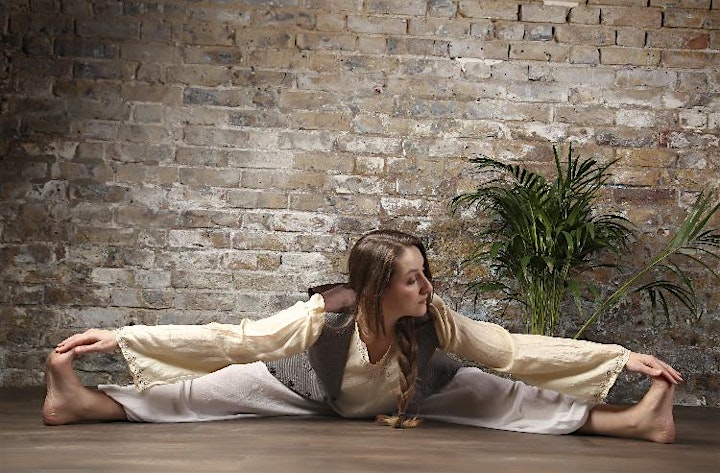 About Svastha Ayurveda - Ancient care for urban wellness-
Maitri Shakti Gold is an ayurvedic practitioner and kundalini yoga teacher specialised in addictions.
Her own path on self-discovery has birthed many groups and individual cleanses in the last 10 years allowing her students and patients to have a better understanding on how inner balance and harmony can be achieved on a modern life through the ancient remedies of ayurveda and kundalini yoga.
Many have experienced ayurveda and kundalini yoga individually, very few have tried the healing that comes from the combination of the two being guided for 8 days in large groups.
Testimonials
I am enjoying the yoga, the advice and tips from you about kundalini and Ayurveda. I feel as if this cleanse is bringing me a step further toward my real self, I feel more in touch with who I am. The group energy and support is brilliant and of course, Maitri's humour, knowledge, experience and skills are a real blessing!
Sue from Cologne
I have experienced quite a beautiful phenomenal journey with Maitri, developing and growing throughout to a healthier realm. Primarily upon meeting, I was overwhelmed with a heavy heart full of grief. I had physical discomfort managing my complex gynecological problems of uterine fibroids and endometritis. Working together we reduced my inflammation and swelling, stabilised my emotions and sorrow. I have attended several seasonal cleanses, Ayuverdic consultations. I had a series of 1-2-1 sessions and attend weekly meditation & pranayama classes.
Through kundalini yoga I have experienced wonderful spiritual connection, finding my bliss! Working with Maitri I have been moved physically, emotionally and spiritually - elevated. Maitri's kind encouragement, grace and wisdom has provided me with a safe, enlightening healing space that has been nurturing, soothing and divine. I thank you Maitri with all my might for your blessings.
Catherine W. from UK
I entered into this experience with an open mind and a heavy heart. I knew I had some healing to do. Maitri's kindness softened my heart and allowed me to be kinder to myself. Her modeling, guidance and care is real. The cleanse and meditation practice gave me permission to observe triggers and to let go of my reactive nature. In slowing down, listening and limiting distractions, the body tells you what it needs. The body is a reflection of the mind's condition; the mind seeks peace. It isn't about finding a cure, it's about finding balance, letting go and discovering the joy in living.
K.D From Savannah US