Sales Have Ended
Registrations are closed
If you'd like to join, please contact Jo and May directly.
The MBSR course is an evidence based approach teaching you techniques to become more aware and find ways to deal with stress
About this event
Mindfulness is paying attention in particular way: on purpose, in the present moment and non-judgmentally. It's about experiencing the great adventure of your life unfolding moment by moment, starting now, where you already are, wherever that is, however difficult or challenging your situation. Jon Kabat-Zinn
New year, true you
Mindfulness isn't a panacea; it takes time, practice and discipline. It's a tool you can apply in every situation of your life, once practiced. And through that you can see the transformation. It's a wonderful journey once you start on it.
The last two years have seen unprecendeted levels of stress impacting all of us: emotionally, physically, through your thoughts. What we've also seen is people starting to focus more on their wellbeing, resilience and mental health.
The 8 week MBSR course
The MBSR course is an evidence based approach to stress reduction and wellbeing, if practiced regularly and in the long run. Join us for 8x 2 hour sessions and one half day retreat (3 hours) to learn about:
what mindfulness is
how to cultivate awareness and get less caught up in mind chatter, negative thoughts, feelings and behaviour patterns
helpful tools and resources to cope with stress and be better able to take in the good and life's pleasures
a variety of mindfulness practices and stress reduction tools
Each session builds on each other so it's important to attend all of them. The dates for sessions are:
31 Jan, 7 Feb, 14 Feb, 21 Feb, 28 Feb, 7 Mar, 14 Mar, 21 Mar. Please make a note of those dates.
The half day retreat is on Sunday, 6 March from 10am - 1pm.
All sessions, including the half day retreat will be held online via Zoom.
Before you sign up
We'll be asking each applicant to complete an assessment form prior to joining to ensure this course is right for you and you get the most out of it in your current situation.
A new year treat - special offer: £150 per person.
As a new year treat, we're offering the course at a reduced fee of £150 per person. We will only take payment after you've registered and we have sent the below assessment form. Payment will be taken by Paypal.
Your teachers
Jo and May have both been trained at MindfulnessUK and are excited to teach this course together, drawing on each other's experiences as seasoned mindfulness practitioners.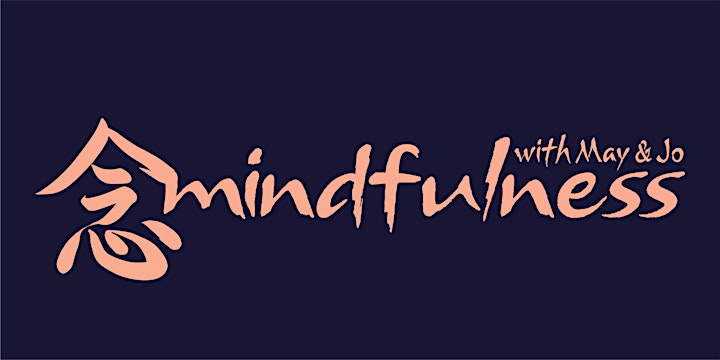 Our logo explained
We've used the Japanese symbol and word for mindfulness: nen (inspired by a post we read by Full of Mindfulness). We loved learning about what the kanji symbol nen represents with its two elements. The top part is like a roof or mountain peak which means presence, now, today, this present era, this moment. Beneath the roof/peak is shin which can be translated to heart and/or mind. In Full of Mindfulness, we learn: "The combination of these characters suggests this possible interpretation: heart and mind brought together into this very moment; full awareness with heart."
For Jo and May this represents mindfulness in its purest form and we wanted to integrate this sentiment into our logo. We hope you find it as inspiring as we do.