Multiple Dates
8:30-10pm Aerial Relaxation Pods… with live ambient music!
Description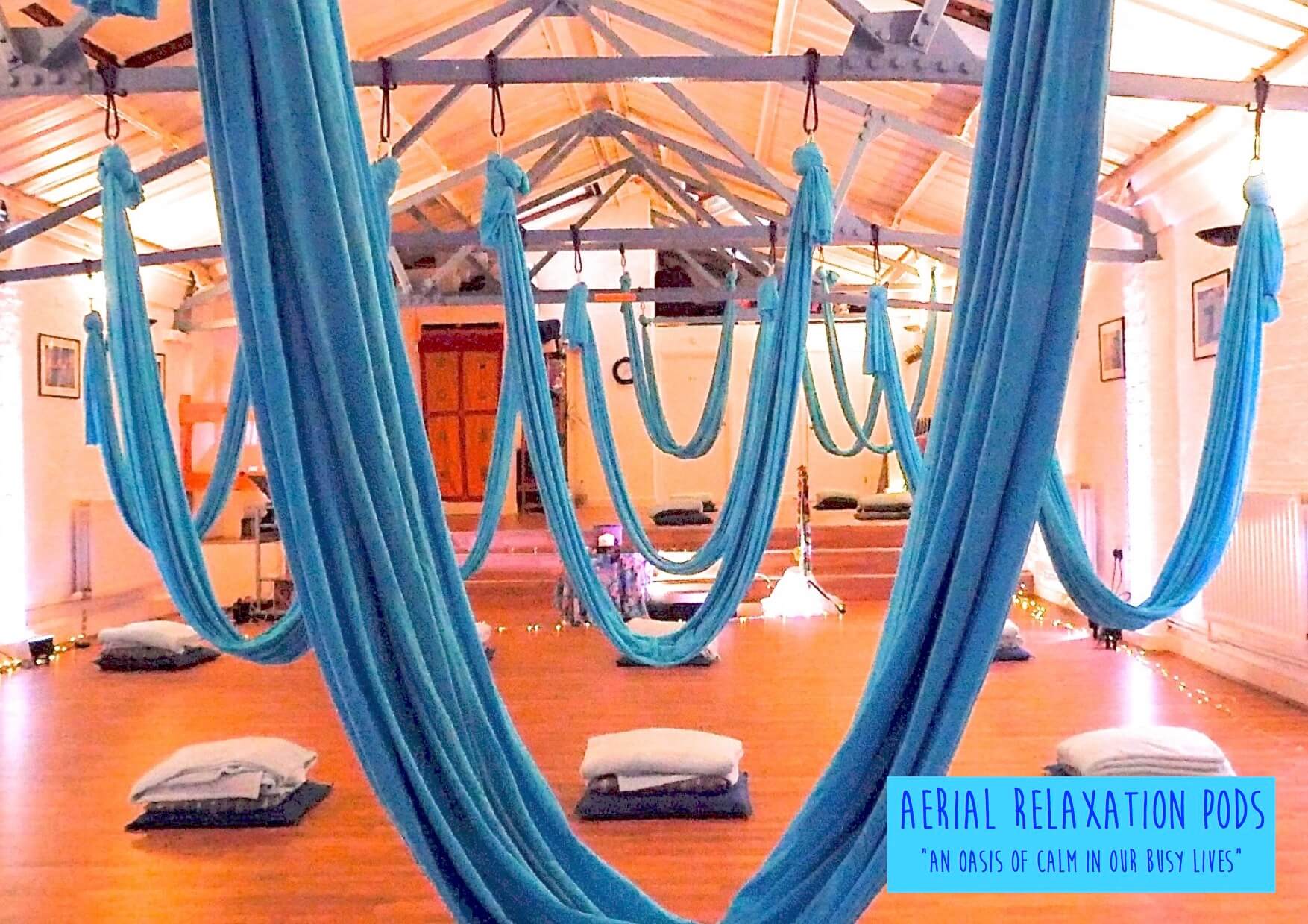 Aerial Relaxation Pods… with live ambient music!
We also offer 7:00 - 8:30pm session, please book here.
- "A new solution for stressed Londoners" - Aerial Relaxation Pods - Lift Your Spirit
London's first multi-sensory, aerial relaxation experience with Live ambient music, colour therapy and aromatherapy and featuring our sky-blue silky Aerial Hammocks (see photo above!)
"An oasis of calm in our turbulent lives."
Londoners stressed out by their busy lives can now turn to "Aerial Relaxation Pods" to transform their tension to calm, and restore the body's natural healing wisdom.
Repetitive motions, like those experienced in the gentle rocking of a hammock, can soothe anxiety. Dr. Herbert Benson, founder of Harvard's Mind/Body Medical Institute, recommends repetitive movement to elicit your body's relaxation response. This reaction allows a lower heart rate, blood pressure, and muscle tension.
Please watch our video to give you a taste of the experience.

Please note:
Strictly no late comers! - Sorry, please arrive on time, unfortunately, if you are more than 10 minutes late, you will not be allowed entry, (and there can be no refund if you are more than 10 minutes late, very sorry!) as we need to make it a calm & peaceful space for people who are already here.
Please only arrive 5 minutes before the start of the session, as there is no waiting room. Thank you
Refunds: up to 7 days before the event full refund. After that time no refunds are available this is so we have adequate time to fill the space left.
Clothing
- Please wear a sleeved shirt that covers the armpits and leggings or yoga trousers that cover your knees.
- Wear form-fitting clothing. Please do not wear baggy clothing as they can snag and catch on the sling's fabric causing accidents.
- Ensure that your clothing is "zipper free" and remove all jewellery (body piercings, watches and hair clips. These items can snag and damage the silk hammocks.
Private & Corporate events - Why not book us and we will come to you!
For more information please contact Seth & Dee on: info@urubu.com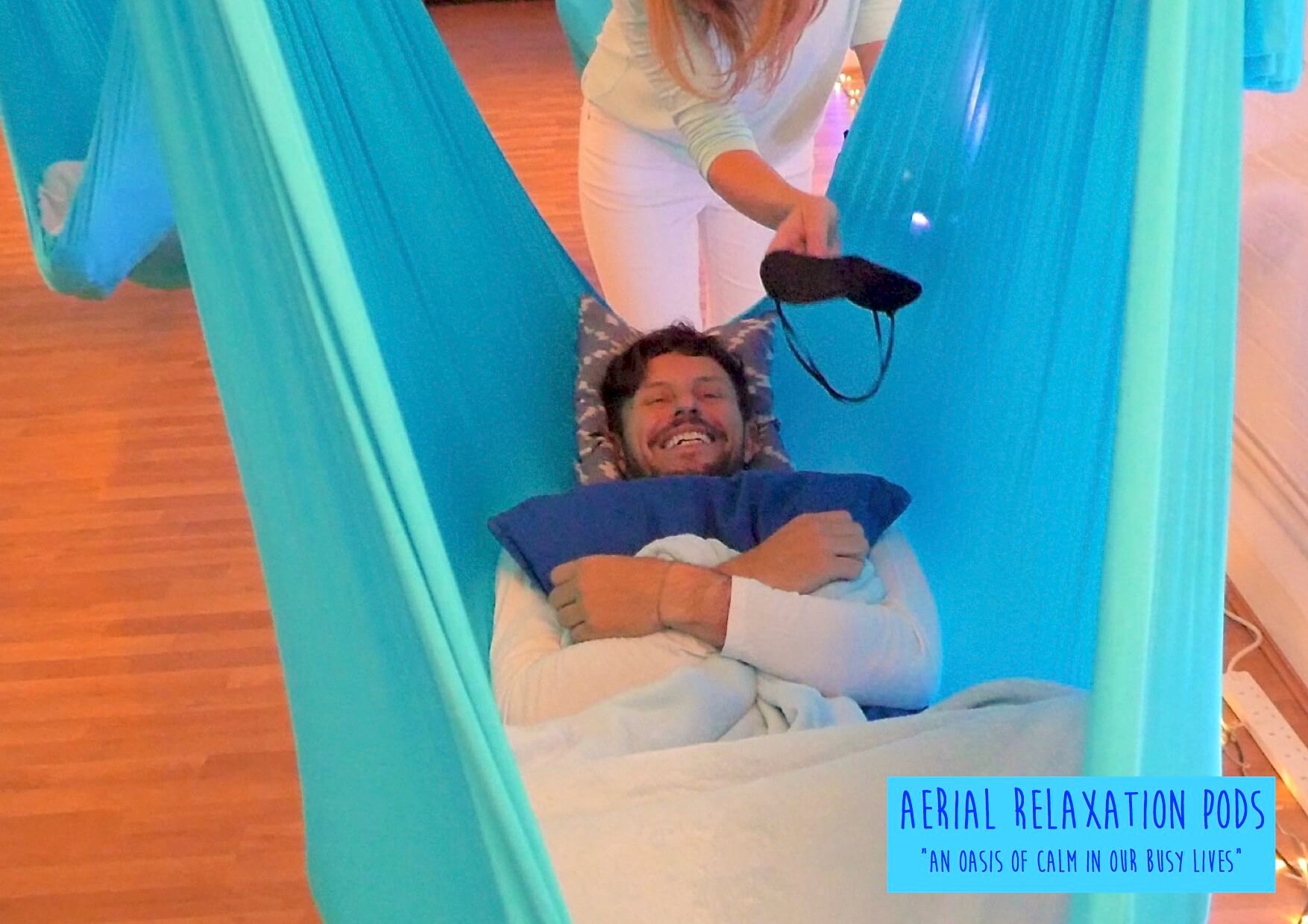 Rock-abye-Baby
Research provides insight into why rocking is calming to babies. The brain wave synchronization occurs much easier through a rocking motion and allows the baby to feel more at home (i.e. it feels closer to being in the womb).
The gentle rocking of a hammock will boost brain wave oscillations associated with better sleep and has been shown to provide a fertile ground for deep relaxation. More specifically, the rocking fortifies the brain waves that are naturally present during sleep which help maintain deep relaxation.
Seth Newman, from Bioenergetic Alchemy, says: "Our pods are here to help Londoners relax. As a former teacher myself, I am fully aware just how busy and stressed a lot of people are. And most of us just don't find the time to unwind. Our Aerial Relaxation Pods are going to help you alleviate stress, providing time & space to allow your body to deeply rest, harmonising your nervous system. You'll feel rejuvenated and refreshed after one session."
We all instinctively know about the power of a soothing, repetitive rocking motion and this in combination with live ambient soundscapes, colour therapy and aromatherapy is a potent synthesis for deep relaxation.
Aerial Relaxation Pods - featuring Live ambient music and nurturing electronica to soothe your stresses away!
"Words are inadequate to express the uniquely nurturing experience I had during your Aerial Relaxation Pod class and the music was amazing! The feeling of being securely wrapped in a silk hammock from head to toe, suspended in the air, slowly rocking, with the crystal bowls and ambient music created a sublime and profound atmosphere. It was as if I was in a cocoon of total support, allowing peace to flow into my entire being."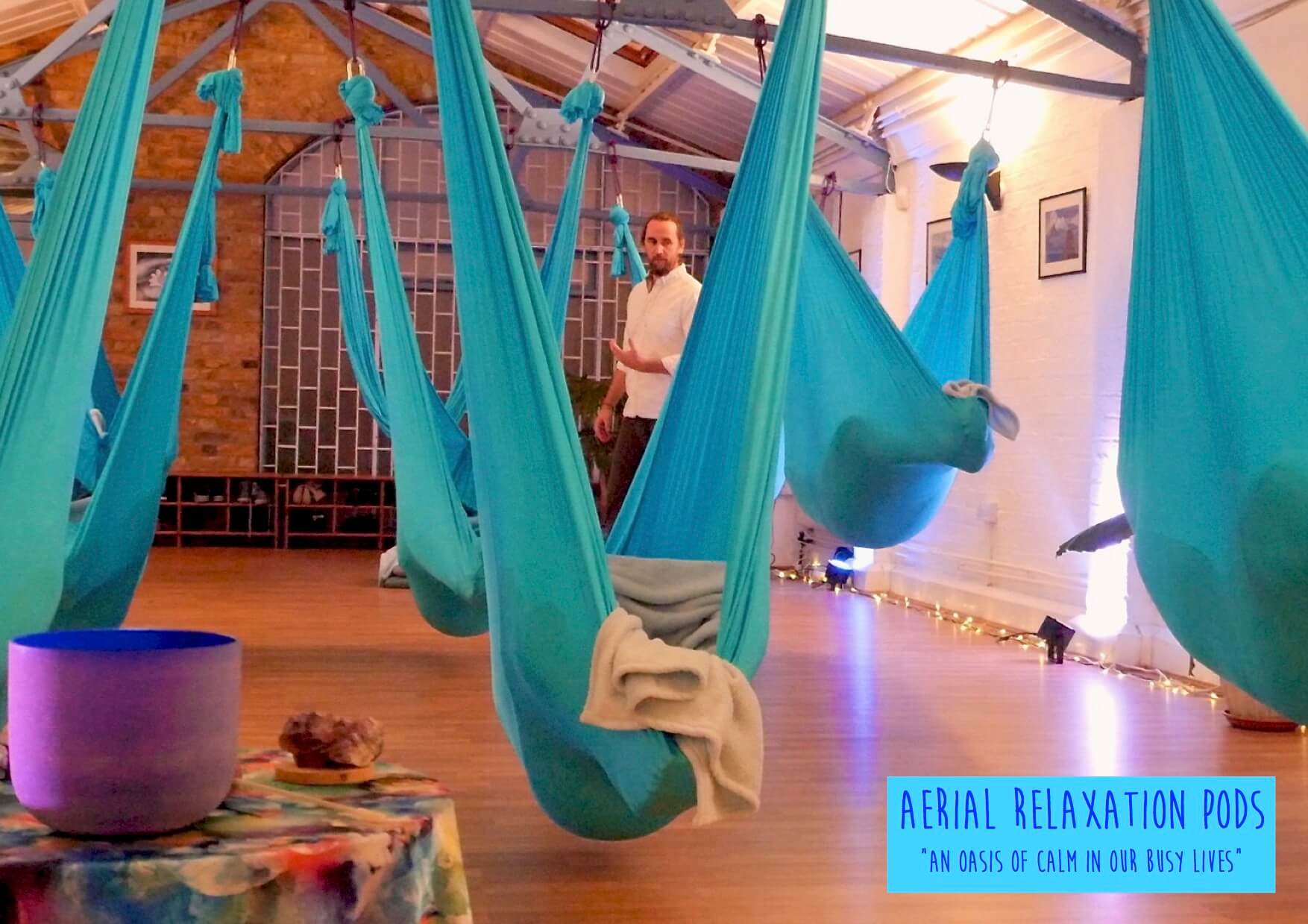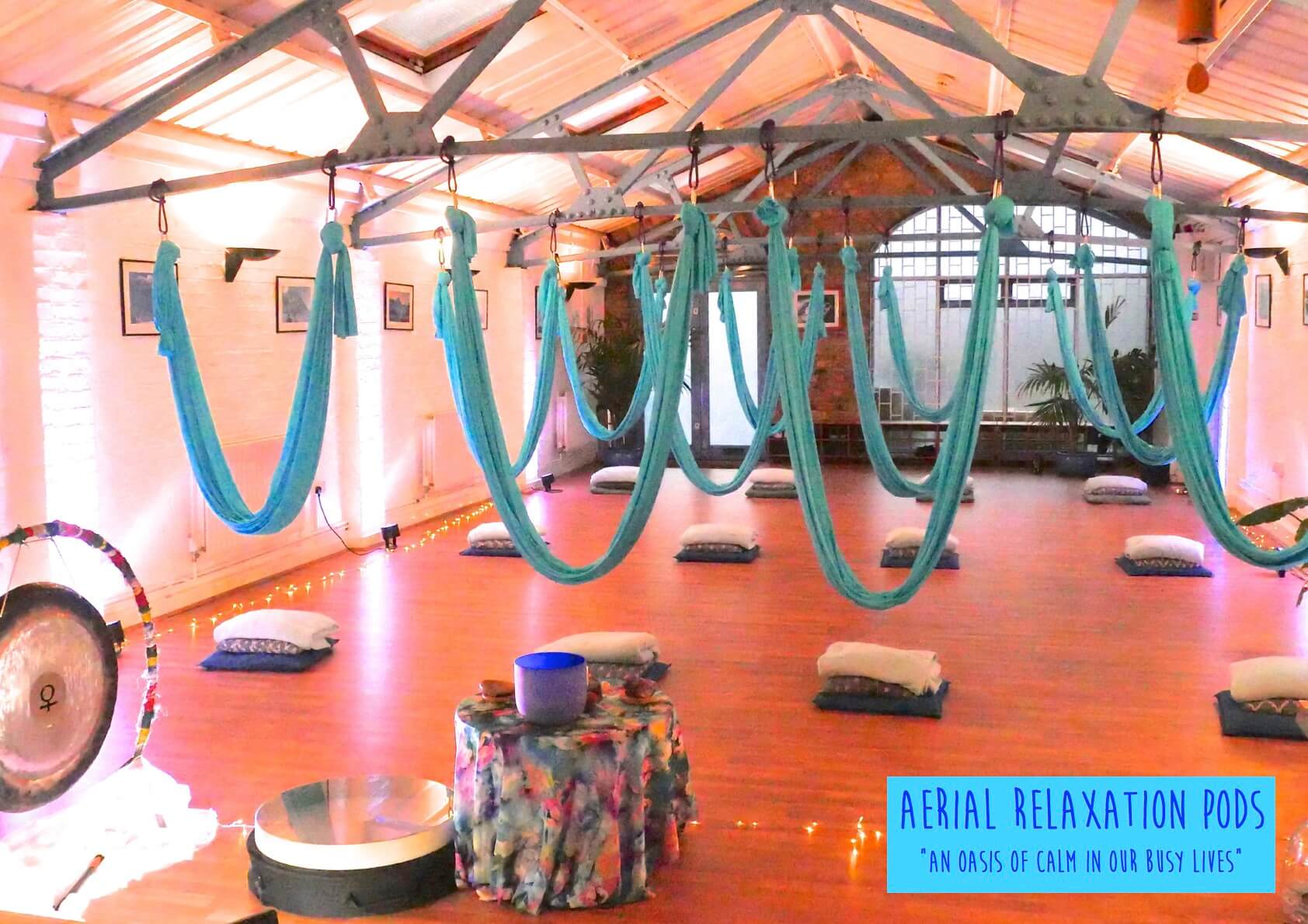 Organiser of 8:30-10pm Aerial Relaxation Pods… with live ambient music!
Pioneering Conscious and Wellbeing Events since 2009 in London and UK! Home to Ecstatic Dance London and much more!
Our intention is to offer a variety of transformational experiences designed for supporting you in your personal life journey, enhancing community wellness and togetherness. We bring a wealth of experience, knowledge, heart centred and humanistic approach into all our work. We create and facilitate all our workshops and continue to develop new practices which we are very excited to share! URUBU was first formed in 2008 as a Live Music Ecstatic Dance Collective 'Urubu' by founder Seth Newman, has since developed into a holistic wellness event organiser based in London facilitating Workshops, Classes, Retreats, Campouts & Trainings for living a Healthy and Embodied Life!
URUBU is a School of Transformational Arts!
Ecstatic Dance London (DJ, Live Music, Indoors & Outdoors with Headphones)
Body-mind Integration and Embodiment Practices
Active Guided Meditations & Trance Dances
Creativity Coaching & Closed Groups
Cacao Ceremonies & Rituals
Gong Baths & Live Music Sound Journeys
Drumming & Singing
Aerial Relaxation Pods & Sunday Hammock Sessions
Conscious Connections & EcoTantra
Retreats, Campouts, Festivals and much much more!
Come on a journey with us!

URUBU - You are you, be you! 
Instagram: @urubu_school_of_transformation
Instagram:  @ecstaticdance_london 
Facebook: www.facebook.com/EcstaticDanceLondon
Facebook: www.facebook.com/urubucollective  
Website: www.ecstaticdancelondon.com