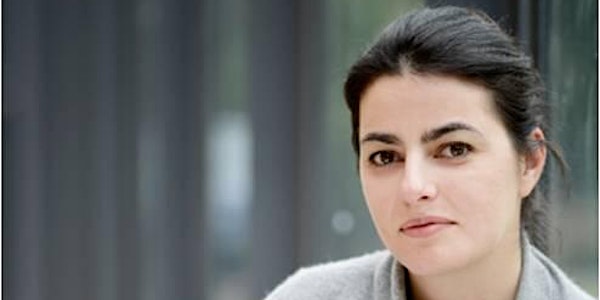 Добринка Табакова, нов диск със запис на хора на Катедралата на Труро
Хорова музика, Добринка Табакова- презентация на най-новия диск със записи на хора на Катедралата на Труро
About this event
22.01.2020; 19:00 часа; Салони на Българското Посолство
Българският културен институт Лондон има удоволствието да ви покани на събитието "Хорова музика, Добринка Табакова- презентация на най-новия диск със записи на хора на Катедралата на Труро".
Специални гости: Добринка Табакова, Richard Longman
Добринка Табакова – нов Авторски Диск с хорова музика
След номинирания за Грами (2014) първи авторски диск на Добринка Табакова (Струнни Пътеки, ЕСМ Рекордс), следваха шест други дискове включващи нейна музика. В началото на 2019 нейната хорова творба "Векове на Медитации" беше определена като една от десетте най-добри композиции във Великобритания през последните 25 години.
През есента на 2019 Риджентс Рекордс издаде нейния втори авторски диск, който беше определен от престижното списание за класическа музика Грамофон като един от дисковете на годината, избрани от музикални критици.
--------------------------------------------------
22.01.2020; 19:00; Halls of the Bulgarian Embassy
The Bulgarian Cultural Institute London cordially invites you to the event: "Choral music, Dobrinka Tabakova – presentation of the latest CD with records of the Truro Cathedral Choir".
Special guests: Dobrinka Tabakova, Richard Longman
Dobrinka Tabakova – new CD with choral music
After Dobrinka Tabakova's debut profile album, nominated for a Grammy in 2014 (String Paths, ECM Records), six other CDs with her music followed. At the beginning of 2019, her choral work, Centuries of Meditation, was named one of the ten best compositions in the UK in the last 25 years.
In the fall of 2019, Regents Records released her second profile CD, which was named by the prestigious classical music magazine Gramophone as one of the CDs of the year selected by music critics.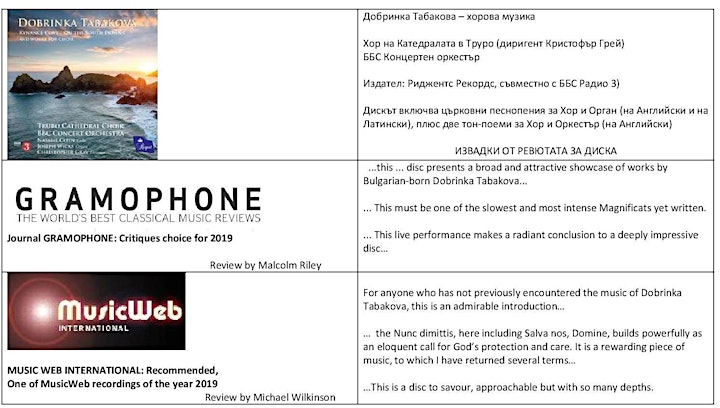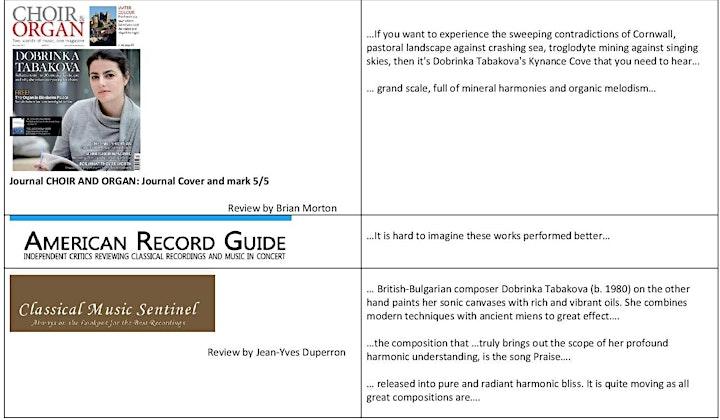 Organiser of Добринка Табакова, нов диск със запис на хора на Катедралата на Труро