Description


Greetings Legion of Light,
I will be holding a one hour meditation on the 8 August from 7.30pm-8.30pm in my flat in London for £10. You can pay on the door. Please arrive by 7pm for a prompt start at 7.30pm. There will be powerful exercises to do and it will be quite intensive and healing.
A lot of information will be shared and you will be transported to your Infinite Possibilities with the Ancient Actuarians, Sirians, and Egyptians. You will receive your own particular Light Code for your Ascension and more.
This is a life changing portal that happens every year. I look forward to seeing you there and being a channel of Divine Healing. Please contact Yanni for any further details 07961044895. Thank you.
"Toks has an amazing sense of energy when leading a meditation. She manages to capture a unique space whereby one can enter into the core of their consciousness thus suspending doubts and inhibitions that block us in realising our full potential. I strongly recommend these sessions with Toks as she is a vibrant and caring spiritual leader." Janet xx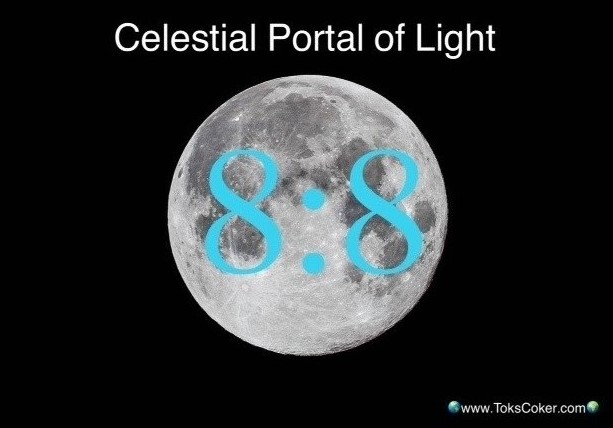 "I loved the beautiful energy. It was powerful. I felt centred, aligned and connected. I was moved by the positive emotions and lots of energy. I am taking away new downloads. Thank you Toks for a beautiful powerful workshop. The energy is lovely, nourishing and relaxing. Amazing to connect with everyone and to share the portal energies." Sonal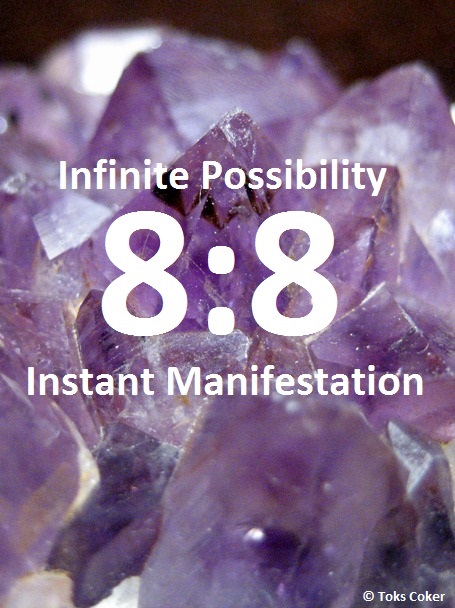 How is the 8:8 Meditation going to help you?
1. It will release blocks that have been inhibiting your progress.
2. You will become centred, aligned and connected.
3. You will get specific downloads for your life right now.
4. Your energy will be cleared, healed and grounded.
We Will Be.....
1. Tuning in to Infinite Possibility.
RESULT: Realising that anything is possible.
2. Tuning in to your I AM Presence.
RESULT: Allowing you to increase your confidence.
3. Connecting to your Pure Essence.
RESULT: Forgiving yourself and others of any trangressions, clearing your energy.
4. Connecting to Source.
RESULT: Receiving guidance for your life right now.
5. Activating your Alignment.
RESULT: Realising what it is you really want.
6. Activating your Magic.
RESULT: So that you can overcome any obstacles.
7. Accessing a Deep Understanding.
RESULT: Dispelling doubt and fear and confusion.
8. Creating a Divine Connection.
RESULT: Opening yourself to divine inspiration and light.

We Will Also....
1. Access The Magician in You.
RESULT: You learn how to transform any situation in your life.
2. Access The Magical Healer in You.
RESULT: You learn how to heal yourself and others and soothe any pain.
3. Access The Magical Business Person in You.
RESULT: You know how to move forward at each junction, getting the results you desire.
4. Access The Magical Goddess/God in You.
RESULT: You inspire a deep-seated confidence in yourself that nobody and no situation can take away from you.
5. Activate the 8:8 Within You.
RESULT: You become open to infinte possibilities in all areas of your life.
6. Celebrate the 8:8 Vibration in your Life.
RESULT: You acknowledge, celebrate and honour yourself.
7. Connect with Good Chi.
RESULT: You feel focused and productive, yet calm and centred.
8. Activate Your Inner Light.
RESULT: You sweeten and soothe yourself.
This 8:8 Medicine Meditation will allow you to see the choices in your life, the ones that have been unconsciously influencing how you think and act and the struggles that you have as a result. This will allow you to then know how to transform yourself and thus overcome any obstacles that are on your path and opening new doors of opportunity for your life.
It will also activate your Mind Eye Heart Power and your Inner Spiral Galaxy. This is you calling forth your power, the power that will allow you to step up to any situation in your life, be it relationship, business, health etc. and know how to deal with it in a healthy and wholesome way that gets you the results you desire.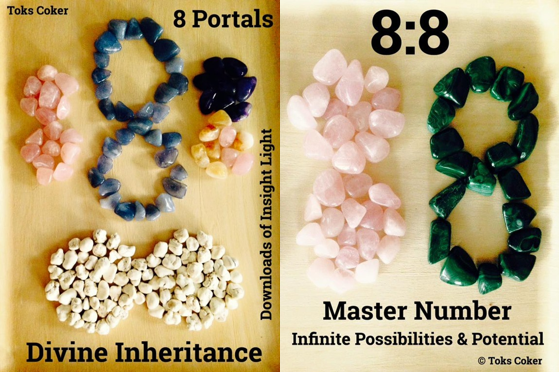 Why are numbers important? Why meditate with numbers?
This is a phenomenal task – working with numbers. For me, I 'feel' the numbers strongly when I sense them or look at them or touch them or smell them!
Working with numbers helps us in many ways, come to the meditation and you will find out how.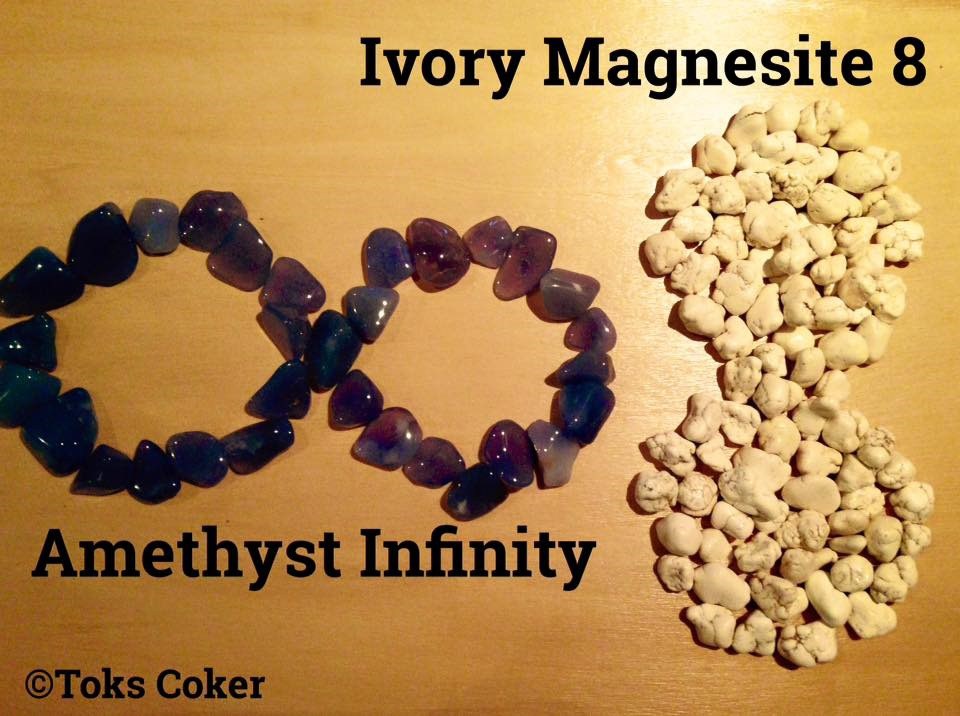 We Will Call Forth
1. Great Compassion
2. Great Creativity
3. Great Consistency in your Life
4. Great Commitment to yourself

Benefits of an 8:8 Medicine Meditation with Toks Coker
1. Have answers to questions.
2. Gather in a safe healing space.
3. Receive Profound Healing on many levels e.g. karmic, relationship, dis-ease, grief, loss, etc.
4. Get amazing insight that has been locked away from you.
5. Improve your Intuition and connection to Divine.
6. Relaxing – Deep relaxation of brain, mind, body, emotions and spirit.
7. Calming influence in all areas of your life.
8. Release stress and tension.
9. Improve Immune System.
10. Inspire creative ideas and solutions.
11. Be in the reality of your life – the Energy of Now.
12. Be in the presence of a True Elder, in the vortex of Kindness and Strictness. Holder of the Light of Forgiveness and Truth. A Woman who means Spirit, Soul, Business and Love.
TESTIMONIALS
"It was a tsunami of energy, with all sorts of colourful elements though it was not overwhelming for me. I was moved by the sense of joy, softness and calm I felt. Lots of symbols came to me and played with me. They also blessed me and integrated with me. I am taking away instant manifestation and infinite manifestations. I am taking away success beyond my expectations. Such a wonderfully powerful, intense and colourful initiation and ascension and so much more. So much is coming and it is welcome." Yanni
"I loved the intense informative workshop. I liked the fact that a lot of clearing was done and performed. I was so moved when I put a crystal on my Third Eye and felt a lot of cleansing power. It is always a pleasure to be around Toks and her energy. I felt a powerful connection with everyone present and felt that a lot of good work was achieved to move forward in my next chapter of my life." Kalisha
"I was moved by the wonderful 888 invocation Toks channelled. I felt a deep peace and movement through the portal. I am taking away a new freedom and surety that life is different. Toks creates a wonderful peaceful and empowering meditation for all auspicious occasions." Chrissy
Wishing you a Happy, Joyous, Fulfilling 8:8 Energy
LEGION OF LIGHT
Love Always
Legion of Light Toksee
xxxxxxxx