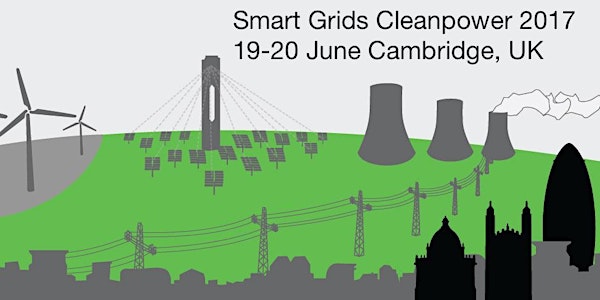 8th Smart Grids & Cleanpower 2017 Conference Expo UK 19-20 June
Location
Wordsworth Crausaz Robinson Exec Conference Centre
Adams Rd
Cambridge University
Cambridge
CB3 9AD
United Kingdom
Description
Probably the best international annual Smart Grids and Cleanpower Conference in the world - running since 2009:
8th Smart Grids & Cleanpower Cambridge UK 19-20 June 2017 | Corp Exec Briefing & MasterClass Day, Dinner Evening | Business Conference & Demo Expo Day
Welcome from Director
We warmly invite you to join us in Cambridge, UK to update, discuss, learn and take in, understand, network, dine, meet, build relationships and invest or fund your business.
There are over 500 highly diverse smart grid projects globally; It is a crucial sector for the implementation of industry 4.0 energy applications; Cambridge is a Smart Grids and Power innovation hub. A key benefit for scale-ups is the presence of larger players looking to implement the technology of scale-ups. A key benefit for larger players is the presence of scale-ups with great solutions, products and services that can be accessed and demonstrated through partnership or investment.
We'll bring them together. There is a lot to take in and update on. Don't miss this one!
Quick agenda
19 June 2017 Conference Centre, Cambridge, UK: Corp Exec Briefing & MasterClass Day, Dinner Evening
20 June 2017 Cambridge, UK Business Conference & Demo Expo Day
Book here now or call Maya on +44 1223 303500 to secure your place! Standard all event pass with and without hotel tickets and other upcoming conference tickets are also available directly via card at lower fees via our ticket shop C4IR.
The conference follows the highly successful inaugural Conference 2009. It is where corporate & venture capital investors, angels, entrepreneurs, visionaries, scale-ups, vendors, volume manufacturers & service providers, energy, IIOT, sensors, electronics, drones, design & engineering consultancies and technology companies come together to find new applications and revenue streams to address global grids projects, and to develop the relationships that will accelerate their growth.
The Conference is unique in respect of the way the programme is built. Talks are not opened up to papers randomly, but are taken by leading, selected speaking companies and experts, who are required to address the topics as fed back by past executive delegates. An ideal and market-led programme thus ensues!
About CIR networks of exchange
CIR invites you to use our events to derive the best networking value possible for you, nurturing your business development and personal and corporate success by leaning into your value network.
CIR founded this expanding network of exchange in 2002. There have been 46 great conference days since 2002...with 4,275 delegates and counting! This unique international long-running event series provides a forum for selling and buying, partnering, developing and learning about world-changing innovations for industry.