Sales Have Ended
Ticket sales have ended
Thank you for your booking. Access to this course will be emailed to you within 24 Hours. Regards Acumen Envision
Sales Have Ended
Ticket sales have ended
Thank you for your booking. Access to this course will be emailed to you within 24 Hours. Regards Acumen Envision
This concise program covers R, Power BI, Python , Data Science, Tableau, Data Visulization, SQL and more.
About this event
Distance Learning Data Analyst MasterClass Program
Includes: 9 Courses, Over 200 Hours of Virtual Live Instructor Led Training and Self-Paced Study, 15 Real World Projects, Assessment & Certification
Duration: 6-8 Weeks (Based on part time study)
Global Access: Virtual Live Classroom Courses available in multiple time zones weekday & weekend
Instant Access Enrolment
Overview
This Data Analyst Master's Program in collaboration with IBM will make you an expert in data analytics. In this Data Analytics course, you'll learn analytics tools and techniques, how to work with SQL databases, the languages of R and Python, how to create data visualizations, and how to apply statistics and predictive analytics in a business environment.
What you will Lean
The learning path in this master's program is specifically designed to give you the tools you need to be successful in Data Science and help you obtain a competitive edge. By the end of this Data Analyst Master's Program, you will:
Understand essential statistical concepts including measures of central tendency, dispersion, correlation, and regression
Master SQL concepts such as Universal Query Tool and SQL command
Write your first Python program by implementing concepts of variables, strings, functions, loops, and conditions
Understand the nuances of lists, sets, dictionaries, conditions and branching, objects and classes in Python
Work with data in Python, including reading and writing files, loading, working, and saving data with Pandas
Learn how to interpret data in Python using multi-dimensional arrays in NumPy, manipulate DataFrames in pandas, use SciPy library of mathematical routines, and execute machine learning using Scikit-Learn
Perform data analytics using popular Python libraries
Gain insights on several data visualization libraries in Python; including Matplotlib, Seaborn, and Folium
Gain an in-depth understanding of the basics of R, learning how to write your own R scripts
Master R programming and understand how various statements are executed in R
Understand and use linear and non-linear regression models and classification techniques for data analysis
Learn and use clustering methods including K-means, DBSCAN, and hierarchical clustering
Gain a foundational understanding of business analytics using Excel
Get introduced to the latest Microsoft analytics and visualization tools (Power BI)
Grasp the concepts of Tableau Desktop 10, become proficient with Tableau statistics and build interactive dashboards
Become an expert on visualization techniques such as heat map, treemap, waterfall, Pareto, Gantt chart, and market basket analysis
How it Works
Once you enrol for the course you will receive a link giving you access the Learning Management Systems.
You will then be able to review each module in the leaning path and start to plan your study time and book your Live Class room session.
All of the project based session have virtual lab access setup will all software and tools pre installed.
Help is available 24/7 should you require any assistance.
Why Take the Course?
By 2020, the World Economic Forum forecasts that data analysts will be in demand due to increasing data collection and usage. Organizations view data analysis as one of the most crucial future specialities due to the value that can be derived from data. Data is more abundant and accessible than ever in today's business environment. In fact, 2.5 quintillion bytes of data are created each day. With an ever-increasing skill gap in data analytics, the value of data analysts is continuing to grow, creating a new job and career advancement opportunities.
The facts are that professionals who enter the Data Science field will have their pick of jobs and enjoy lucrative salaries. According to an IBM report, data and analytics jobs are predicted to increase by 15 percent to 2.72 million jobs by 2020, with the most significant demand for data analysts in finance, insurance, and information technology. Data analysts earn an average pay of £67,377 in 2019 according to Glassdoor.
You are in Control of your Schedule and Courses
Plan you time and book onto the Live Instructor Led courses when you are ready via your Learning Management Systems Login.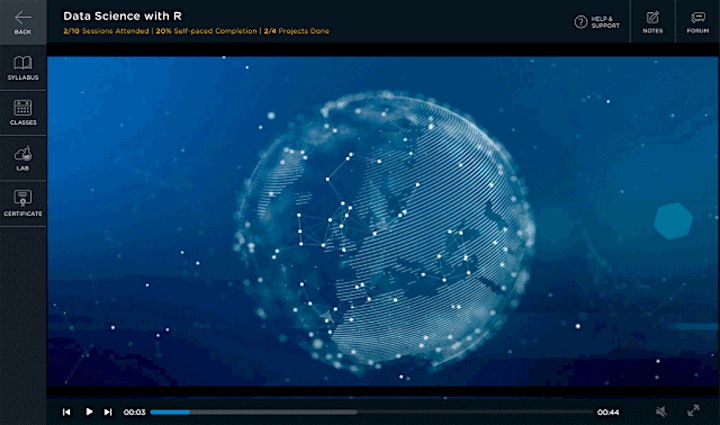 Structured Learning Path
All live Courses, Self Study and Projects are Planned in Sequence to ensure you are taking the course in the correct order and building up your skillset.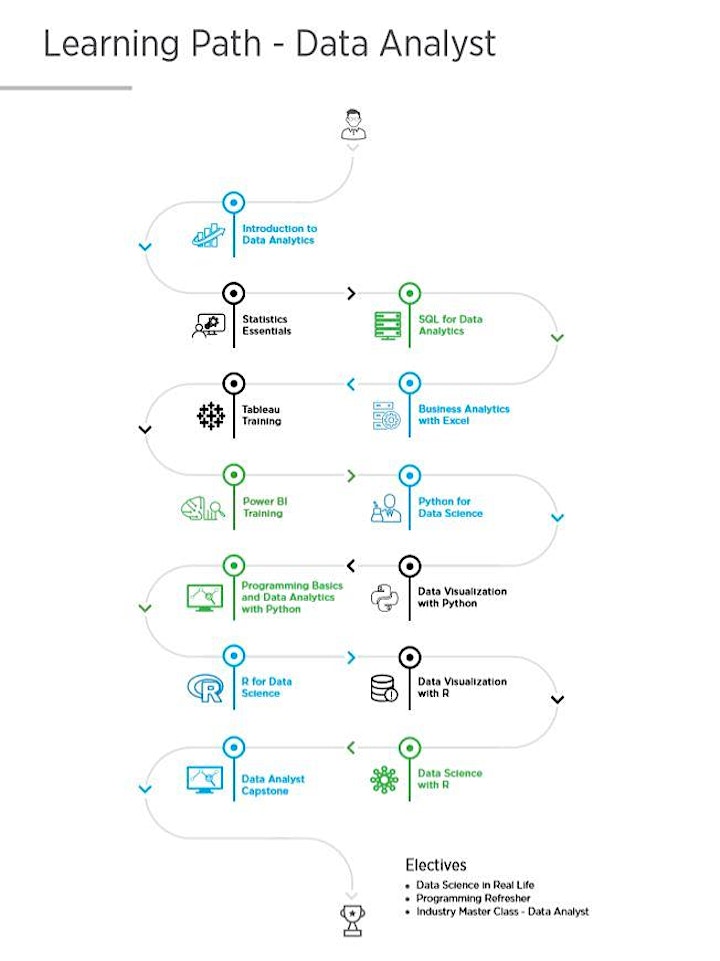 How do I gain my Certification
Upon completion of the following minimum requirements, you will be eligible to receive the Data Analyst Master's Program certificate that will testify to your skills as an expert in Data Analytics.