FREE Masterclass - 9 Steps to Get Funding Ready
About this event
Tower Hamlets Council supported by InvestorConnected Presents:
Getting Back to Business Masterclass ...
9 Steps to Get Funding Ready
About This Event
When trying to start and grow a business, you will often need funding from an external source to help facilitate that growth. During this masterclass, InvestorConnected (IC) will provide an overview of the key steps that businesses need to go through in order to successfully secure the funding they need.
In this session you will learn:
The InvestorConnected 9 step process for getting funding ready to ensure your business has the highest chance of securing funding.
This session is ideal for:
Startup founders and business owners looking to raise funding.
All attendees to the session will be offered a FREE 30 minute consultation with InvestorConnected
Agenda
11:00 - 11:05 Welcome and Introductions
11:05 - 11:35 Presentation
11:35 - 11:55 Q&A
11:55 - 12:00 Close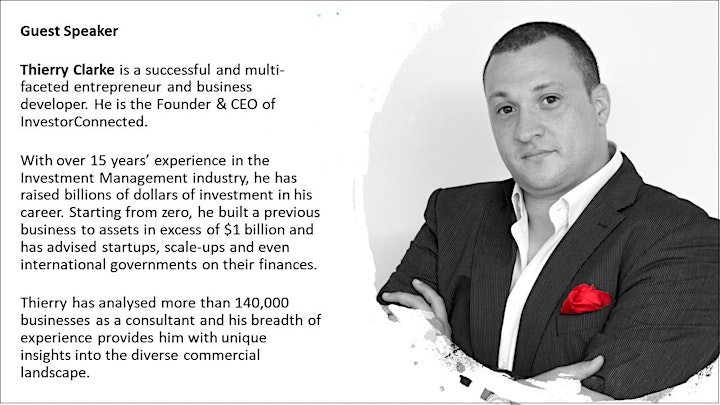 About InvestorConnected
InvestorConnected (IC) helps bridge the gap between SMEs and funders. The company provides solutions using both technology and consultancy, enabling SMEs to better prepare for their funding journey, signifcantly increasing their chances of successfully raising growth capital. IC also works with a number of investors and lenders to help them access and manage quality investment deals.
In addition to their work with private sector organisations, IC also works with a number of governmental and supra-national organisations, on both the policy and delivery of solutions aimed at access to funding and capital market growth and liquidity. IC aims to provide clients with objective, high quality tools and implementable advice, derived through rigorous analysis and extensive experience. The IC team approaches each assignment with a fresh perspective and are known for developing innovative and effective solutions.
About Getting Back to Business Masterclasses
This last year has been a particularly challenging one for businesses, many of which have found themselves catapulted into a new way of working without any introduction. Business as usual for most businesses will now look very different.
Tower Hamlets Council are curating a series of online masterclasses to provide you with professional advice from industry experts helping you to resume to, in many cases, a new business as usual.
These masterclasses will address topical themes in accordance with your needs, address issues you face and present solutions.
Invitation Link:
Link to join this online masterclass will be sent out once you have registered
Upcoming Events
Date - 6th May 2021
Time - 11am - 12:00pm
Topic - 5 Steps to Becoming a Pro Networker
More details and to register will be available shortly
To sign up to receive information on upcoming events please register your email here