Description
Do You Have An Effective Plan For YOUR Business?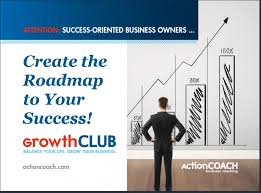 You'll walk away with ...
Renewed energy, vision and focus for the next 90 days in your business.

Take home strategies to build your profits right away.

A ready-to-implement, real time 90 day action plan.

The skills and the tools to get more done in less time.

A team of local business people to brainstorm, problem solve and share success with.

All food and refreshments and workbooks are included.
Who is it for? ...
Non-ActionCOACH Clients – If you're serious about your success and are prepared to make some changes to get it, then you will get results! So much so that we are prepared to guarantee it.
Action Coach 1-2-1 Clients – If you are an existing 1-2-1 ActionCOACH client then this event it a must! It's a chance to step outside your business for the day and get real clarity over where you are, where you're heading and how you're going to get there. You will re-enforce some of the strategies you've implemented since starting Coaching, network with other Action Coach Clients and share success, learn some new strategies, reflect on the past year and have a FUN day planning your business with other like-minded people.
1-2-1 Clients' Team Members – We strongly recommend all clients bring their KEY team members. This event creates an amazing environment for you to share your vision, make plans, work on bottlenecks and celebrate as a team. Your team members are KEY to your success and the best way to enroll and inspire them is to get them involved every step of the way!
The entire investment of this full day event is £295 + VAT to attend. This includes ALL course materials, lunch and refreshments.
If you feel you don't get amazing value … we'll refund 100% of your investment in the programme - no questions asked!
Here are just a few comments from local business owners who recently attended GrowthCLUB…
"Every business owner no matter how experienced should go on it!"
"I think it actually undersells and over delivers - huge amounts of focus and ideas from the day".
"The whole day was well planned and very educational. Everything was presented well and easy to understand. Great atmosphere, great experience, great presenters"
"Clear and easily understandable yet still bespoke to each business"
"The documented process gives focus, the clear step-by-step approach ensures it isn't overwhelming and the variety of businesses in the room meant there were lots of different experiences and ideas to call upon"
"We now have much better focus for the short term and better control over the business in the longer term"
***SPACES ARE STRICTLY LIMITED. BOOK YOUR PLACE NOW TO AVOID DISAPPOINTMENT***