Description
The Launch event features an In Conversation with artists and curators plus live music from Emmanuela Yogolelo.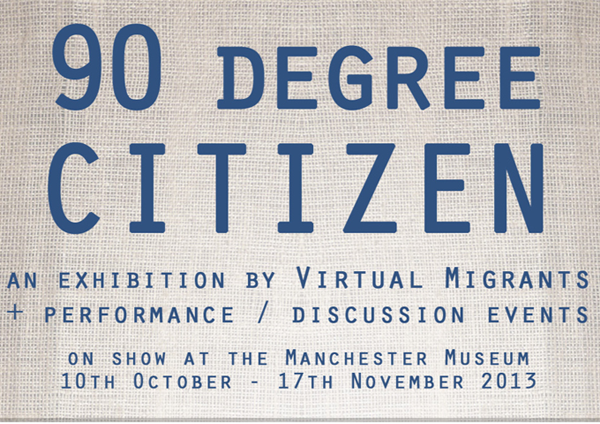 A rare exhibition of work by a new wave of visual artists whose experiences include life as refugees in the UK engaging with objects from The Manchester Museum.

90 Degree Citizen presents artworks that resonate with experiences of migration and refuge. They represent a sample of a new wave of expression in the UK outside of the limitations of western art schools and markets, often with a greater interest in symbolism, narrative and cultural hybridity.
Exhibiting artists include award-winning Amang Mardokhy from Kurdish Iraq, whose paintings touch on repression, history and resistance. Photographer Iseult Timmermans worked with Refugee women at Glasgow's Red Road Community Studio exploring "how military violence affects women's lives". Iranian photographer Mazaher creates detailed montages combining human forms with Persian-influenced designs. The International Women's Group from North Glasgow use photographic mixed media in response to issues of violence against women. Bold paintings and prints by Tracey Zengeni from Zimbabwe reflect on influences between her homeland and the UK. Painter and mixed media artist Flora Alexander presents intricate paper-cuts, subverting popular notions of her native Iran.
A special display of museum objects by curator Stephen Welsh (Manchester Museum) challenges how cultures were categorised during the era of colonial object collecting, which among other things suppressed diaspora expression.
"Committed To Represent" pop-up exhibition produced with Greater Manchester Immigration Aid Unit will be on show Weds 30th October to Friday 1st November. This celebrates the critical work of legal caseworkers in the difficult lives of refugees.
Exhibition open daily 10am - 5pm at the Manchester Museum, Oxford Road, Manchester M13 9PL
Produced in partnership with Street Level Photoworks (Glasgow), The Manchester Museum and Gtr Manchester Immigration Aid Unit. Part of Platforma 2013 national festival of arts and refugees.
Further information on Virtual Migrants website: 90 Degree Citizen
www.virtualmigrants.net
Organiser of 90 Degree Citizen - Launch Event
Digital media and art connecting with race, migration and globalisation.
virtual migrants connects and engages artists with digital media, and organises projects that add new aesthetics and perspectives to themes of race, migration and globalisation.  virtual migrants create, exhibit and distribute artworks that incorporate digital media techniques that can be installed in galleries, public spaces or community venues.
virtual migrants association was founded in 1998 to bring together a range of artists, particularly those working in visual, music, performance and writing, to collaborate on moving image and new media projects. Its critical purpose is to add new aesthetics, artistic responses and perspectives to themes of race, migration and globalisation; to cross boundaries between artists and non-artists, including with theorists, activists and communities; to draw attention to expressions of migrants whose existence is held in question; and to artistically explore and respond to the causes of racialised political issues which continually make headline news.