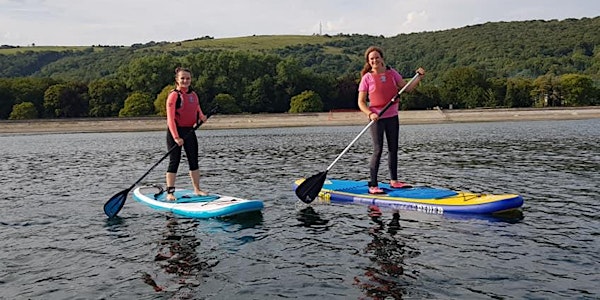 90 mins Stand Up Paddleboard Experience, Cheddar Reservoir (2022 dates)
90 mins introduction to Stand Up Paddleboarding on Cheddar Reservoir, with a British Canoeing qualified instructor.
About this event
This is a 90 min introduction to Stand Up Paddleboarding (also called SUP) on Cheddar Reservoir, near Axbridge, Somerset, led by a qualified instructor, suitable for ages 10 and above.
The course gives you the skills to manoeuvre your paddleboard around the reservoir, covering how to launch, paddling in a kneeling position, standing up, forwards paddling, reverse paddling and turning around.
The session starts with being kited up, then a safety briefing and introduction to the equipment, followed by a land demo.
Once the group has mastered the basics, perhaps with a game or two, there will be a short trip on the reservoir to practice the basic techniques and explore.
There will be the opportunity to practice all the skills learned before returning to shore for a debrief and discussion on next stages for developing your skills.
Health and Safety
Cheddar Watersports takes the health and safety of all water users very seriously.
All under 18's must be accompanied on the water by a parent. 'In Loco Parentis' rule do not apply to paddle sports on cheddar reservoir.
Prior to attending the course, we will require the completion of temporary membership form, including a Health Declaration confirming your fitness to participate in a session with light to moderate exercise.
How Much Does It Cost?
The cost is £30, with a £5 discount for BCYC members (apply the promo code BCYC_Member and bring your membership card on the day).
Private groups can sometimes be arranged at a cost of £25 per person for 4-6 paddlers, £35 pp for 2 or 3 paddlers or £55 for a 1:1 - please contact paddlesports@bcyc.org.uk to discuss options. We can consider accommodating 8-10 year olds as part of a family group. For younger children please consider our double kayaks which can seat a smaller child as a 3rd person.
A minimum of 2 paddlers is required for any public session to go ahead.
What if the weather is bad ?
The safety of all water users is our top priority. Where our instructors believe it is too windy (or forecast to be too windy) to go ahead, the session will be cancelled and an alternative date will be offered. If a convenient alternative is unavailable, your payment will be refunded less booking fee per ticket.
Similarly , if we need to cancel your booking due to any other unforeseen circumstances, we will try to re-arrange the date or, If a convenient alternative is unavailable, your payment will be refunded less booking fee per ticket.
Our maximum payment for any cancellation will be limited to a full refund of your ticket price less booking cost. We will not accept responsibility for any consequential loss.
What if I need to cancel?
With sufficient notice, we can usually re-arrange courses to a convenient future date. However, if you need to cancel completely, then please notify us in writing as soon as possible and the following timetable will apply...
Cancellation up to 1 week before your booked event - A refund of your ticket price(s) will be provided, less an administration charge of 20%.
Cancellation up to 72 hours before your booked event - A refund of 50% of your ticket price(s) will be provided.
Cancellation less than 72 hours before your booked event - No refund available, sorry.
What Do I Need to Bring?
• Please arrive on time for your booked session, so there is time for changing and getting ready for the water. Unfortunately, if you are late, we cannot extend your session time as there will be other courses running.
• We will provide hire of your paddleboard, paddle, a wetsuit and buoyancy aid included in your ticket price. If you prefer to use your own equipment, that's fine too. If you are using you own board then you need to have your own insurance, and your kit will need to be washed down.
• Clothes suitable to wear on the water, e.g. a wetsuit or sports leggings/shorts and a T shirt. Although the weather may be warm, the water can be cold at certain times of year.
• A pair of trainers, beach shoes or pumps that can get wet.
• A towel
• A change of clothes in case you get wet
Getting to Cheddar Watersports
Our location is
Bristol Corinthian Yacht Club
12 Cheddar Road
Axbridge
BS26 2DL
Access is via the Axbridge side. The gate at the bottom of the access road should be closed but unlocked. Please enter and close the gate behind you, then drive slowly along to the clubhouse. If the gate is locked, please park in the public parking spaces near the gate and walk along to the clubhouse - allow 10 minutes to walk from here.
Bristol Water occasionally close public access to the reservoir, but access for courses/Watersports is still allowed. If this is the case, you will need to move the barrier at the entrance to the approach road and show any security personnel your course confirmation email. You may need to park and walk along the path to the club.