999 EMS Research Forum 2020 - Quality and risk in 999 healthcare: A balanci...
Description
999 EMS Research Forum Conference 2020

Quality and risk in 999 healthcare: A balancing act?
This year our conference theme is 'Quality and risk in 999 healthcare: A balancing act?' and will be hosted by South East Coast Ambulance Service NHS Foundation Trust (SECAMB) in association with the National Ambulance Research Steering Group (NARSG).

After the success of the 2019 event we will again be providing a two day conference which will take place at the Hilton Brighton Metropole on 3-4 March 2020. See details including draft workshop and conference programmes below.

On day one, we are delighted to be running pre-conference workshop sessions aimed at paramedics and researchers. In the evening, there will be a drinks reception followed by a paid dinner, which will provide a great opportunity for delegates to relax and network with others who have an interest in pre-hospital and emergency care research.

Day two will include four exciting keynote presentations, six peer reviewed oral presentations, a moderated poster session, an international presentation from the 2019 Paramedics Australasia International Conference best research prize winner and a debate on social media in pre-hospital research and finish with prize awards to conclude the conference.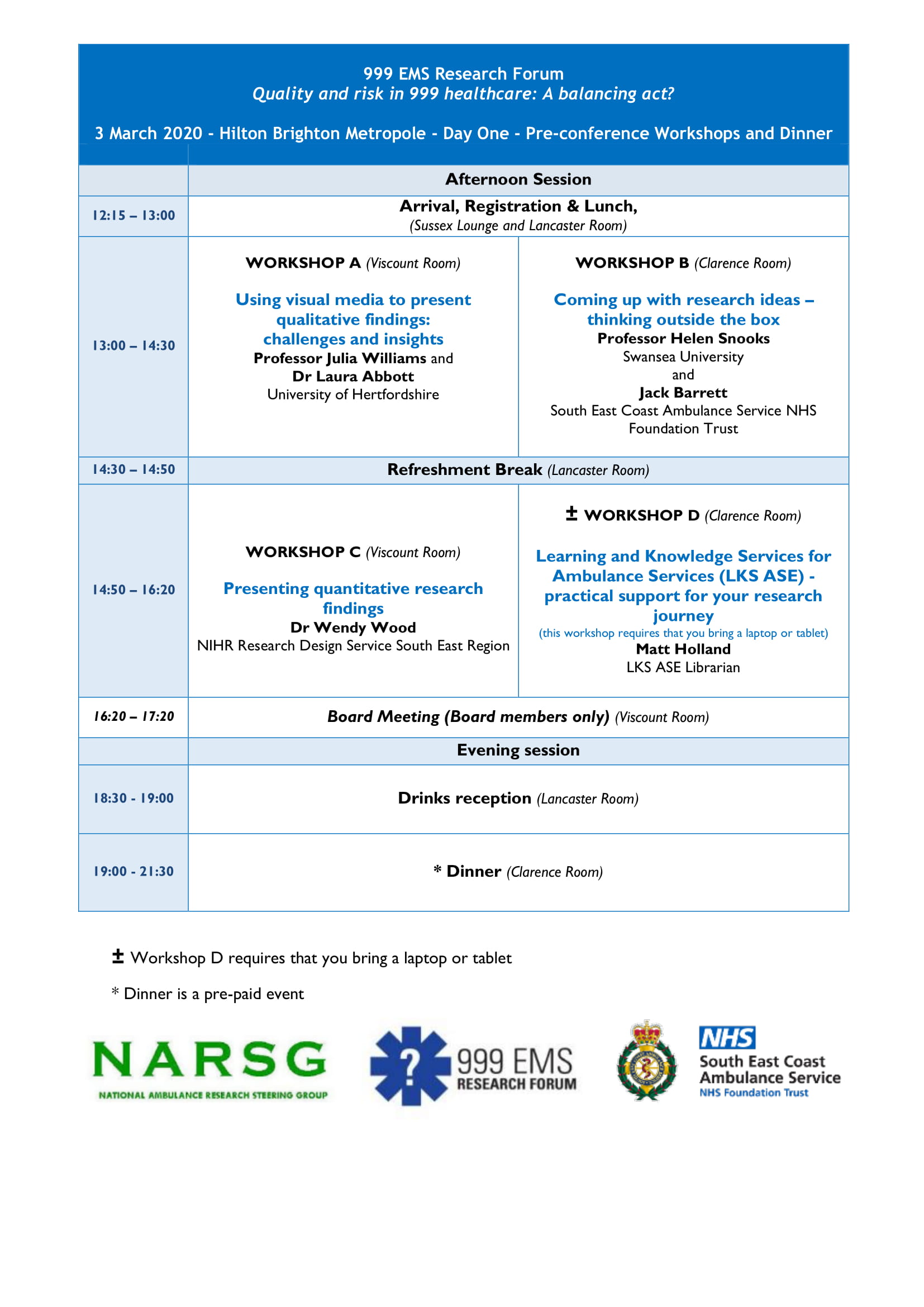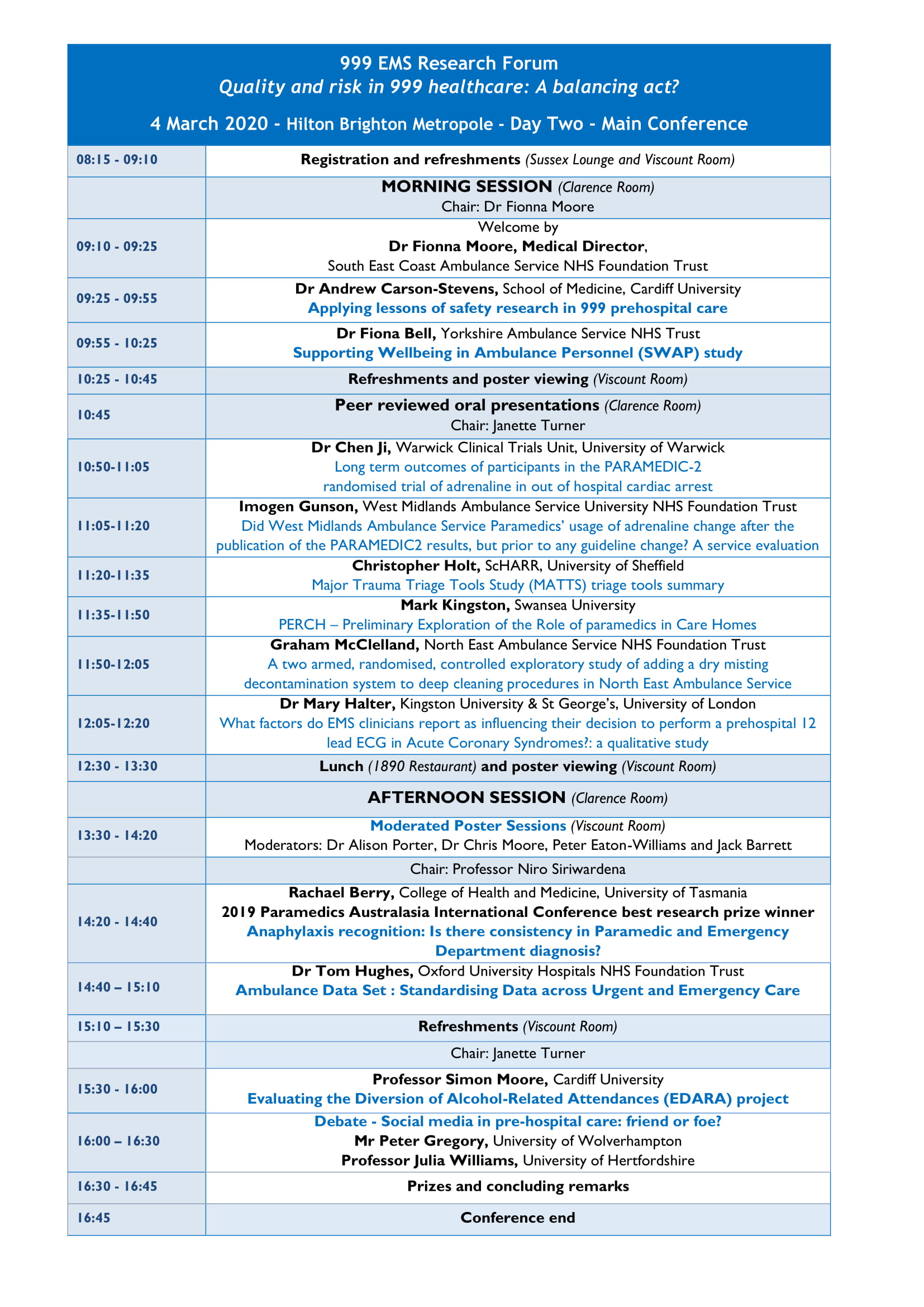 ---
*Ticket information below includes early-bird rates. Please note that early-bird rates have been extended until Wednesday 26 February 2020 at 23:30hrs. For those of you who don't manage to book your tickets during our early-bird period, tickets will be charged at standard rate.

FREE DRINKS RECEPTION (TUESDAY 3 MARCH 2020)
Join us for a free drinks reception to network and meet other delegates prior to dinner and main conference.
EARLY-BIRD RATE - (A) FULL PACKAGE INCL. WORKSHOP, DINNER, HOTEL ROOM, BREAKFAST AND CONFERENCE (LIMITED AVAILABILITY) - £299.00
This package gives you access to all pre-conference and main conference events including a one night stay at the Hilton Brighton Metropole including breakfast. This package includes access to workshops, networking with a free drinks reception and dinner on 3 March with main conference access on 4 March.
***PLEASE NOTE, ONCE PACKAGE A IS NO LONGER AVAILABLE, YOU CAN STILL BOOK ACCOMMODATION DIRECTLY WITH THE HILTON METROPOLE HOTEL BY VISITING https://www3.hilton.com/en/hotels/united-kingdom/hilton-brighton-metropole-BSHMETW/index.html OR LOOK FOR ALTERNATIVE OPTIONS. YOU WILL STILL BE ABLE TO BOOK FOR THE WORKSHOP, DINNER AND CONFERENCE BY SELECTING THE TICKET B OPTION BELOW***
EARLY-BIRD RATE - (B) WORKSHOP, DINNER AND CONFERENCE ONLY - £199.00
This package gives you access to all pre-conference events including the drinks reception and dinner in addition to the workshops on 3 March and main conference on 4 March.

EARLY-BIRD RATE - (B1) WORKSHOP AND CONFERENCE ONLY - £178.00
This package gives you access to the pre-conference drinks reception in addition to the workshops on 3 March and main conference on 4 March.

EARLY-BIRD RATE - (C) CONFERENCE ONLY - £129.00
Join us for the main conference on 4 March on 'Quality and risk in 999 healthcare: A balancing act?' featuring keynote presentations, peer reviewed presentations, moderated poster and more. There will be refreshments available throughout the day and lunch is included.
EARLY-BIRD RATE - (D) WORKSHOP ONLY - £79.00
This ticket includes access to pre-conference workshops; ideal for Paramedics and early career researchers who are looking to develop theri skills. Lunch and refreshments will be provided.

---
Getting to Hilton Brigton Metropole
By Train
The closest train station to the Hilton Brighton Metropole is Brighton Train Station with trains running regularly from Farringdon, London Bridge and London Victoria as well as coastal towns as well. The train station is a 15 minute walk from the Hotel, or alternatively less than a 5 minute taxi ride.

By Taxi
Taxis can either be pre-booked via Brighton City Cabs, or obtained via the taxi rank they operate directly outside of the station. Taxis can be ordered via the Hotel Concierge to get back to the station or to venture into the bustling city of Brighton.
Brighton City Cabs
01273 204060 | 01273 202020
Park & Ride
If you're driving from outside the city and want to avoid traffic and parking in the city centre, you can park for free at Withdean Sports Complex and buy a bus ticket into the city. More details can be found at here

The park and ride site is at:
Withdean Sports Complex car park, Tongdean Lane, BN1 5JD. Find Withdean Sports Complex on Google Maps
By Plane

The closest airport to Brighton is London Gatwick Airport which is 20 minutes away. Trains run directly from Gatwick to Brighton on a regular basis, or alternatively taxi companies can offer fixed rates for airport transfer. Directions from both London Gatwick Airport and London Heathrow Airport by car can be found below.
---
Background
999 EMS Research Forum

The 999 EMS Research Forum is a UK based partnership that brings together academics and health-care providers with a research interest in emergency care. It has been actively promoting emergency care research since its formation in 1997. Board members come from a range of specialities and backgrounds and include paramedics and academics.

Aims of the Forum:

To encourage, promote and disseminate research and evidence-based policy and practice in 999 health-care

To develop links between emergency health-care practitioners and the research community

To run an annual research conference providing an opportunity to disseminate research and run workshops to build research capacity

To continue developing international collaborations in prehospital care research
Each year the 999 EMS Research forum puts an open call for papers; submissions are peer reviewed and selected papers are presented at our annual conference. Prizes are awarded for Best Poster, Research Most Likely to Affect Practice, Most Innovative Use of Routine Data, and Highest Quality Research.

The UK Forum does not stand alone but in partnership with the emergency care research forum Paramedics Australasia. The winner of the Highest Quality Research prize will be invited, and supported, to present their work internationally at our partners' conference.