999EMS Research Forum 2019 - Advancing patient care: taking research to the...
Description
999EMS Research Forum
Advancing Patient Care: Taking Research to the Front Line
This year our conference theme is 'Advancing Patient Care: Taking Research to the Front Line' and will be hosted by West Midlands Ambulance Service NHS Foundation Trust in association with the National Ambulance Research Steering Group (NARSG).

After the success of the 2018 event we will again be providing a two day conference which will take place at the Hilton Birmingham Metropole on 1-2 April 2019. See details including draft workshop and conference programmes below.

On day one, we are delighted to be running pre-conference workshop sessions aimed at paramedics and researchers. In the evening, there will be a free drinks reception followed by a paid dinner, which will provide a great opportunity for delegates to relax and network with others who have an interest in pre-hospital and emergency care research.

Day two will include five exciting keynote presentations plus four peer reviewed oral presentations and a moderated poster session with a prize awards to conclude the conference.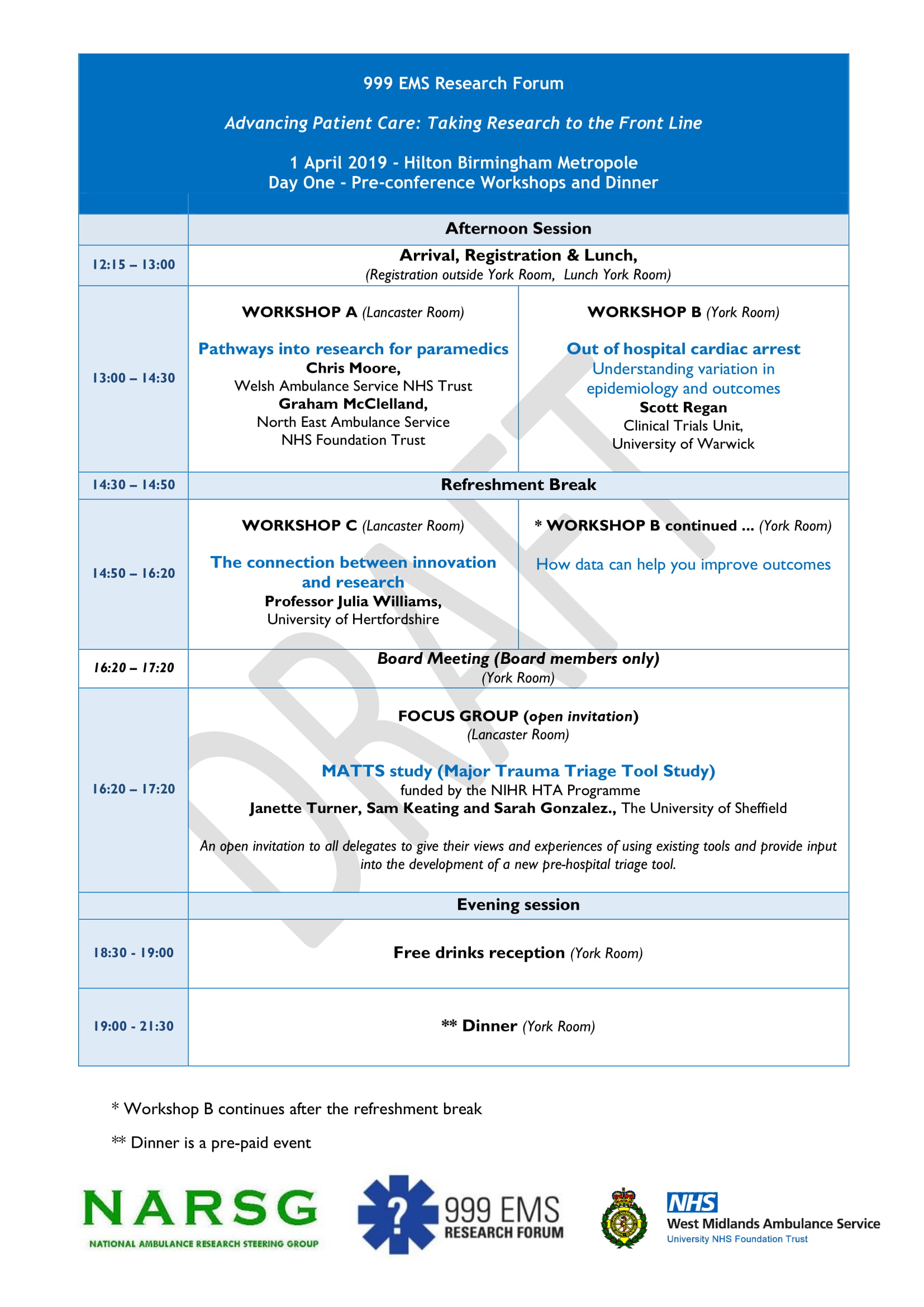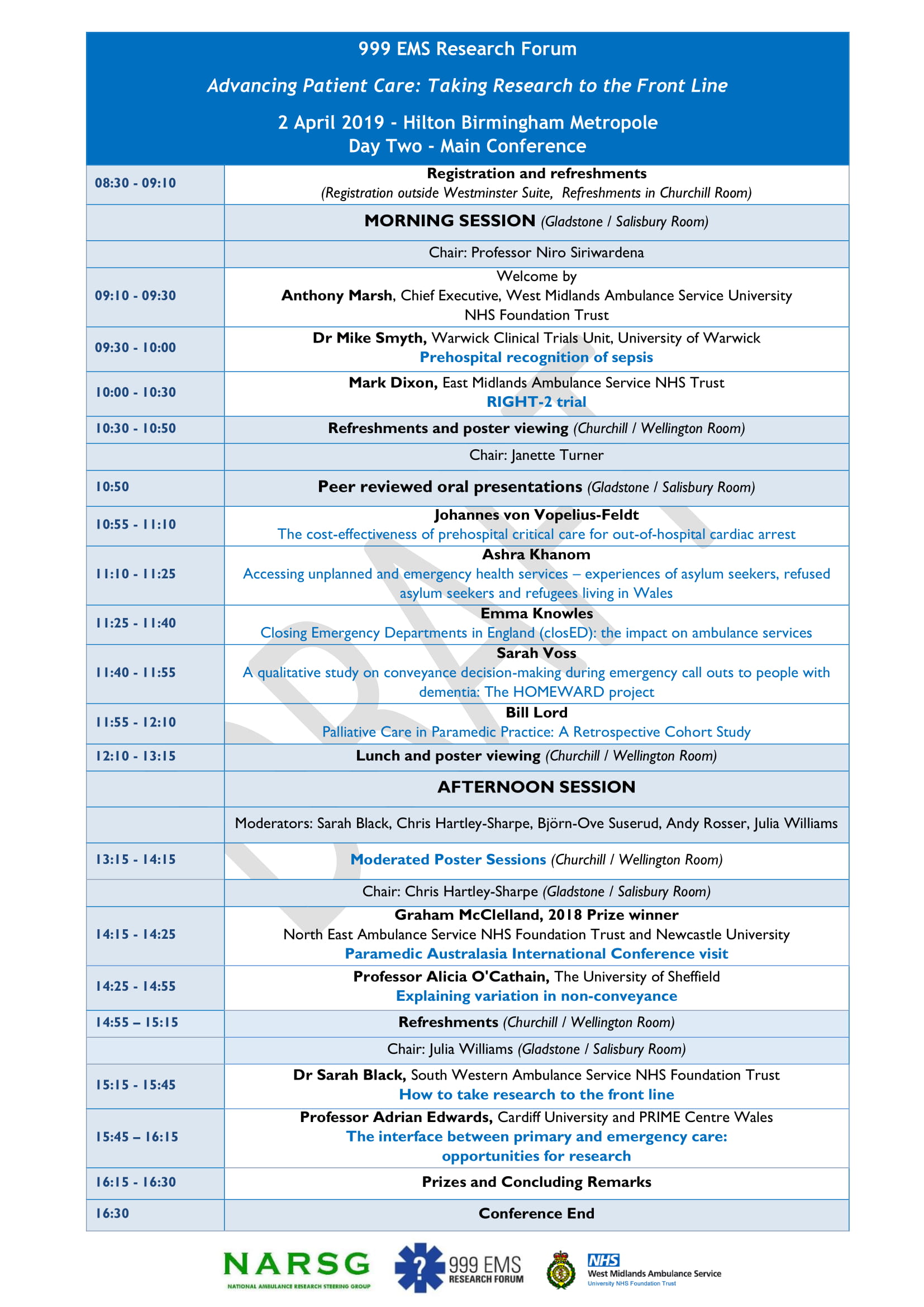 ---
*Ticket information below includes early-bird rates. Please note that early-bird rates close on 1 March 2019. For those of you who don't manage to book your tickets during our early-bird period, tickets will be charged at standard rate.

FOCUS GROUP - MATTS STUDY (OPEN INVITATION - MON 1 APRIL 2019, 16:20-17:20)
An open invite to all delegates to give their views and experiences of using existing tools and provide input into the development of a new pre-hospital triage tool.
FREE DRINKS RECEPTION (MONDAY 1 APRIL 2019)
Join us for a free drinks reception to network and meet other delegates prior to dinner and main conference.
FULL RATE - (E) FULL PACKAGE INCL. WORKSHOP, DINNER, HOTEL ROOM, BREAKFAST AND CONFERENCE (LIMITED AVAILABILITY) - £280.00
This package gives you access to all pre-conference and main conference events including a one night stay at the Hilton Birmingham Metropole including breakfast (room usually £109 alone!) This package includes access to workshops, networking with a free drinks reception and dinner on 1 April with main conference access on 2 April.

FULL RATE - (F) WORKSHOP AND CONFERENCE ONLY - £200.00
For those who do not wish to benefit from the discounted overnight stay rate, this package offers access to pre-conference workshops and networking with a free drinks reception. This package also includes access to the main conference on 2 April.
FULL RATE - (G) CONFERENCE ONLY - £145.00
Join us for the main conference on 2 April to disseminate research in line with 'Advancing Patient Care: Taking Research to the Front Line'. There will be refreshments available throughout the day and lunch is included.
FULL RATE - (H) WORKSHOP ONLY - £90.00
This ticket includes access to pre-conference workshops; ideal for Paramedics and early career researchers who are looking to develop theri skills.
*an additional service fee will be added by Eventbrite for your booking.

---
Getting to Hilton Birmingham Metropole
By Courtesy Bus
From Birmingham International railway station, guests may use the free telephone to arrange a collection to the hotel, by courtesy bus. The bus stop is Bus Stop C and located next to the taxi rank in the bus depot. The journey to the Hilton Birmingham Metropole hotel takes approximately 5 minutes. The 24-hour service runs at 30-minute intervals.
Traveling from Birmingham New Street train station
From Birmingham New Street Station, take the train to Birmingham International Station. The journey normally takes around 10-15 minutes depending on the time of day. At Birmingham International Station, use the courtesy telephone (adjacent to Subway) to ask for the hotel bus to pick you up. The journey from Birmingham International Station to Hilton Birmingham Metropole hotel takes 5 minutes by courtesy bus. The 24-hour service runs every 30 minutes.

From Birmingham International Airport
Bear right onto Concorde Road, turn right onto Vanguard Road and then bear left onto Airport Way. At the roundabout take the 3rd exit then merge onto Coventry Road A45 (sign posted M42, M6, M1, M40, M5, Coventry). Branch left (sign posted M42, M6, M1, M40, M5, NEC), then at the roundabout take the first exit onto Pendigo Way (sign posted NEC). At the roundabout take the first exit into the car park of the Hilton Birmingham Metropole.

Due to security measures in force at Birmingham Airport, we are no longer permitted to use our courtesy bus service direct to or from the airport. All hotel guests travelling from Birmingham Airport should take the mono rail to Birmingham International rail station, where you should use the free telephone (signposted with the Hilton logo, adjacent to Subway), the shuttle bus will be able to then collect passengers.

The journey takes approximately five minutes and our courtesy bus runs every 30 minutes, 24 hours per day
---
Background
999 EMS Research Forum

The 999 EMS Research Forum is a UK based partnership that brings together academics and health-care providers with a research interest in emergency care. It has been actively promoting emergency care research since its formation in 1997. Board members come from a range of specialities and backgrounds and include paramedics, consultants in A&E and anaesthetics and academics.

Aims of the Forum:

To encourage, promote and disseminate research and evidence-based policy and practice in 999 health-care

To develop links between emergency health-care practitioners and the research community

To run an annual research conference providing an opportunity to disseminate research and run workshops to build research capacity

To continue developing international collaborations in prehospital care research
Each year the 999 EMS Research forum puts an open call for papers; submissions are peer reviewed and selected papers are presented at our annual conference. Prizes are awarded for Best Poster, Research Most Likely to Affect Practice, Most Innovative Use of Routine Data, and Highest Quality Research.

The UK Forum does not stand alone but in partnership with an emergency care research forum in Australia. The winner of the Highest Quality Research prize will be invited, and supported, to present their work internationally at our partners' conference.