9th European CME Forum and 3rd UEMS-EACCME® Conference on CME-CPD in Europe
Description
Dates
Wednesday 9– Saturday 12 November 2016
Venue
NH Collection Barbizon Palace Hotel
Amsterdam, the Netherlands
European CME Forum and UEMS-EACCME
We are pleased to present the collaboration between European CME Forum and UEMS-EACCME who will co-locate their meetings in 2016. The 9th European CME Forum (#9ECF) will take place 9–11 November, this will be followed by the 3rd UEMS-EACCME Conference on CME-CPD in Europe on Saturday 12 November. Both meetings will take place at the NH Barbizon Palace Hotel in Amsterdam.
Full details about the 9th European CME Forum are kept up-to-date at: http://www.europeancmeforum.eu
Information about 3rd UEMS-EACCME Conference on CME-CPD in Europe can be found here: http://www.uems.eu or http://www.eaccme.eu/
Please go to the websites if you have any questions or you can send an email to the Secretariat for both meetings at meetings@adevez.com.
Registration Fees
You can register for either, or both meetings at a discounted rate, through this website. Because the meeting is taking place in Amsterdam, we will have to charge you in Euro and with Dutch VAT. Please select the appropriate option, taking advantage of any reductions as you see below.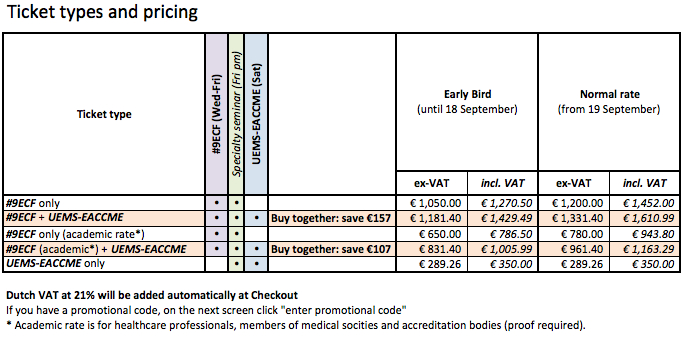 Note refund policy: full refund available if cancellation made more than 28 days before event, name of delegate can change anytime
Accommodation
The meeting hotel is the NH Barbizon Palace and we have secured a limited number of rooms for participants of both meetings. A group rate has been negotiated however we recommend you always check online internet rates as well, since it is not guaranteed the lowest rate available.
The group rates secured are 199 EUR per night for Tuesday 8 through Thursday 10 November and 228.90 EUR for Friday 11 November 2016. These rates include breakfast and 6% VAT. The rates do not include 5% city tax. Double use of the room will be an extra charge for breakfast of 20 EUR per day.
Cancellation conditions: you can still cancel your room free of charge until 24 hours before arrival. After this a one night cancellation fee will be charged.
Rooms can be booked until the extended cut off date of 14 October 2016. After this date the rooms and rates are depending on availability. Please contact the hotel direct for this information.
If you wish to book a room into the reserved block at the meeting hotel kindly use the following booking link to do so: http://www.nh-hotels.com/event/european-cme-forum-and-uems
Information on nearby 3 and 4 star hotels, can be found on the European CME Forum and UEMS and EACCME websites.