Description
A 1-Day 'Wassail Pilgrimage' – Wickham to Southwick Priory (6.5 miles)
This is a British Pilgrimage Trust event; we make pilgrimages that encounter Britain in new (and very old) ways...
On 6th January — the Twelfth Day of Christmas — Will and Guy of the BPT will be guiding pilgrims between Wickham and Southwick Priory, a route that makes up the third day stage of the Old Way to Canterbury.
We are singing the tradition of Wassailing back into the Hampshire pilgrimage landscape.
Pilgrims attending this event will learn a traditional 'Feast of Fools' / Epiphany song called the 'Gower Wassail' (recording here) — recreating it, in the land, by singing to strangers' homes and to apple trees.
We will drink deeply (non-alcoholic options available), sing sweetly, tread consciously upon ancient pathways, welcoming in the New Year in a very old (and new) way.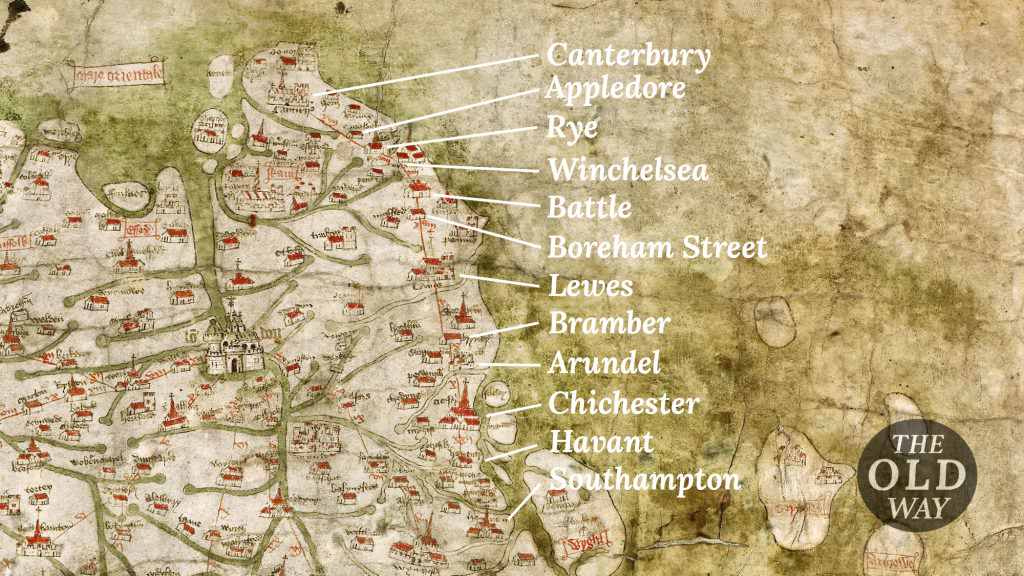 Bring your own beliefs (BYOB). Open to All.
'Wassail'
Etymology: From the Anglo-Saxon greeting, Wæs þu hæl, meaning "be thou hale" — "be in good health".
Definition:
1. To toast, to drink to the health of another.
2. To drink wassail.
3. To go from house to house in deep winter, singing songs.
History:
Wassailing is traditionally celebrated on Twelfth Night (variously 5th & 6th January). It was initiated in the middle ages as a form of recipient-initiated charitable giving, in which peasants would sing at the doors of their feudal lords, and were rewarded with seasonal gifts.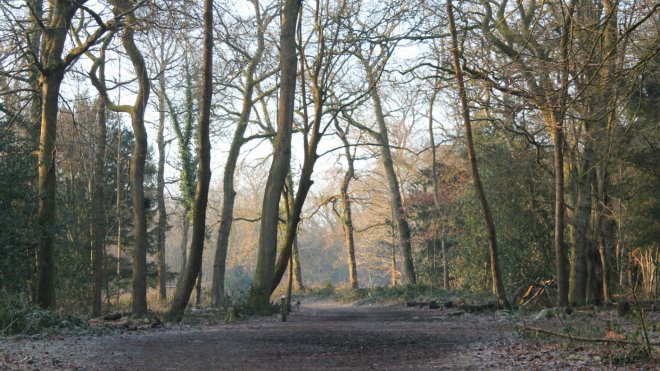 "We know by the moon
That we are not too soon,
And we know by the sky
That we are not too high.
We know by the stars
That we are not too far,
And we know by the ground
That we are within sound"

— Gower Wassail —

The route:
Wickham – A perfect village with an idyllic square, once a Roman fording point between Chichester and Winchester. It may be one of the few British sites marked as 'Onna' on the great Roman map known as the Antonine Itinerary. It is also the site of the biggest and oldest horse fair in England, which takes place every year on 20th May.
St Nicholas Church, Wickham – Wickham's church is built on a large pre-Christian circular mound, and the first church on this site was built here pre-670.
Wickham Common – This is ancient common land, and hidden among the trees is the original Old Way, a Roman Road running through the common.
St Nicholas Church, Boarhunt – A hidden from view, 950-year-old small Saxon Church that is "probably one of the best and most complete Saxon churches in the country". In its sacred grove there is a 2000 year old Yew Tree in which a family once lived during the winter.
Southwick Priory – A renowned and popular pilgrimage destination in the late Middle Ages, originally founded for Augustinian canons by Henry I in 1133. A destination so important that Henry VIII made a pilgrimage here at the beginning of his reign in 1510.
The Golden Lion Pub, Southwick – This is the historic pub where Generals Eisenhower and Montgomery met to plan the Normandy D-Day landings in the back bar in 1944.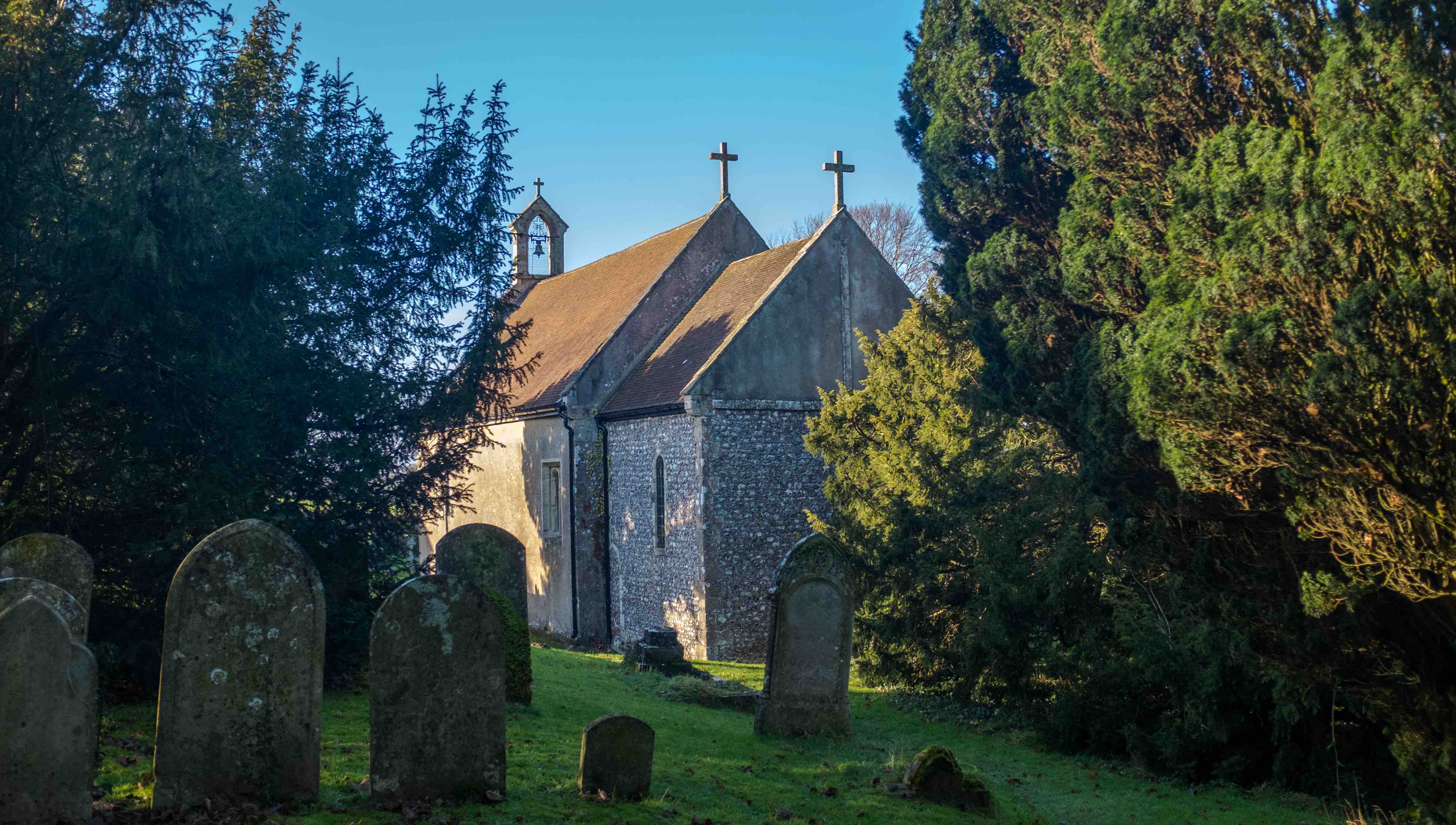 St Nicholas' Church, Boarhunt
The Pilgrimage includes:
- New ways to meet holy/wholesome/healing places.
- Foraging pilgrim tea from hedgerows.
- Drink wassail from a traditional elder bowl
- Times of silence and reflection in nature.
- A pilgrim staff and piece of pure silver for every pilgrim.
- A day journeying deep in winter nature, moving slowly as your ancestors would have done.
- Meeting and walking with diverse fellow pilgrims.

- Guidance from Will and Guy, pilgrims with many thousand miles of experience.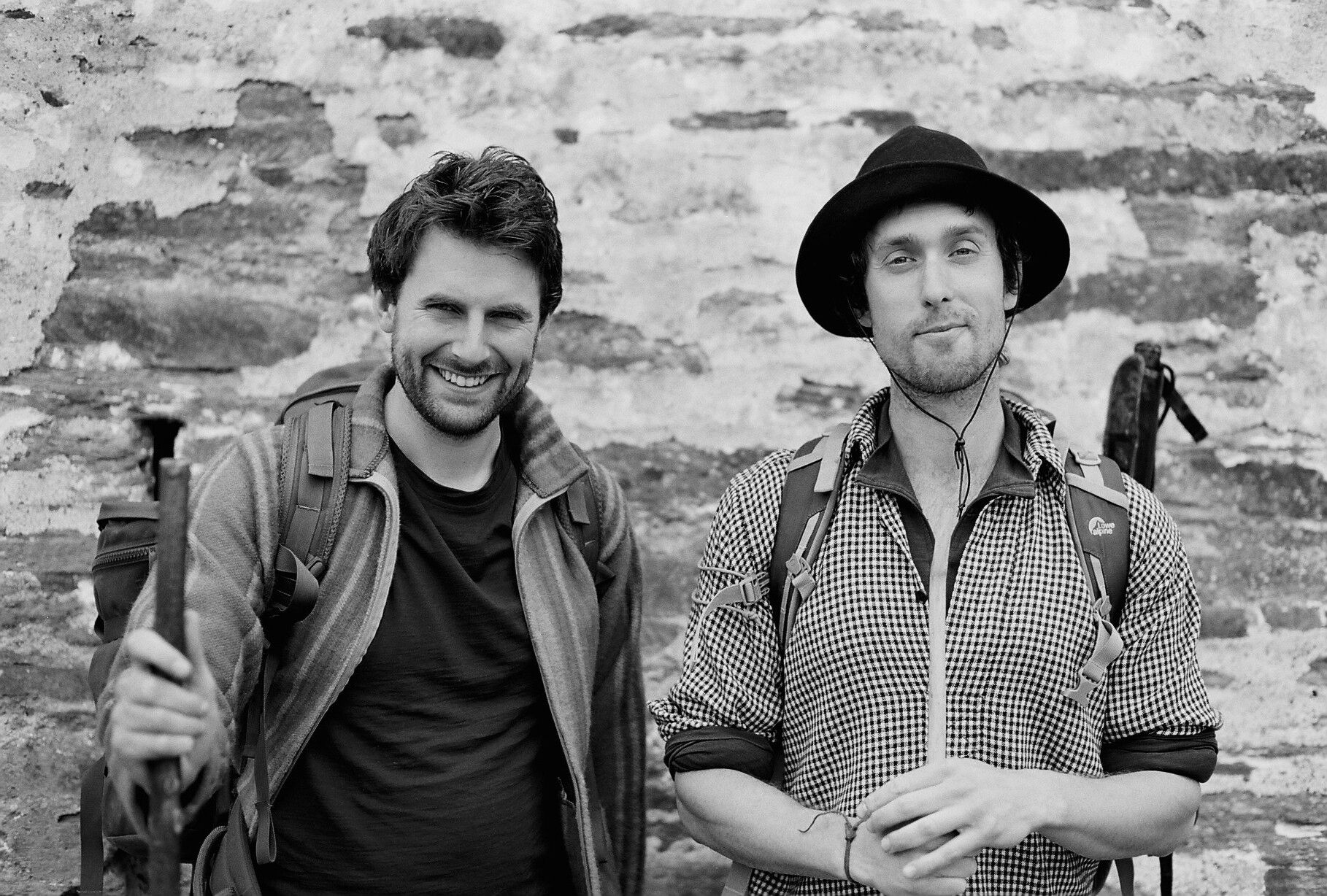 Logistics and Travel

We gather at St Nicholas' Church, Wickham on Saturday morning at 10:15. Travel: Train to Botley, then Taxi to Wickham (10 mins). For Londoners, there is a train from Waterloo to Botley at 08:09 (arriving 09:38). Train is the best way to travel to and from a pilgrimage, which starts and ends in different places, but driving is also an option if you return to the start point via train or taxi.
The pilgrimage will end at The Golden Lion Pub, Southwick, at 19:00, where will spend Twelfth Night mulling the day fireside in the local, or you may wish to buzz back promptly earlier than that. Trains run every 30/60 minutes back from Portchester to London (same line as Botley) until 22:17.
What to bring
A packed lunch; snacks; trusty walking boots for a potentially muddy path; waterproofs; a waterbottle; the right clothes; and a small backpack.
Fundraising
All ticket money funds the work of the British Pilgrimage Trust, a charitable incorporated organisation which seeks to open up Britain's pilgrimage tradition in newly inclusive and exciting ways.
Our goal is to re-open British pilgrimage to everyone. This means promoting the 'Open to All' concept, and also renewing lost pilgrimage routes so that they actually work!
To raise the funds to achieve these goals, we run guided pilgrimages. We're not a business and we currently receive no funding from taxpayers' money. We are a small operation with a big dream.
So come along, and help us make it all happen.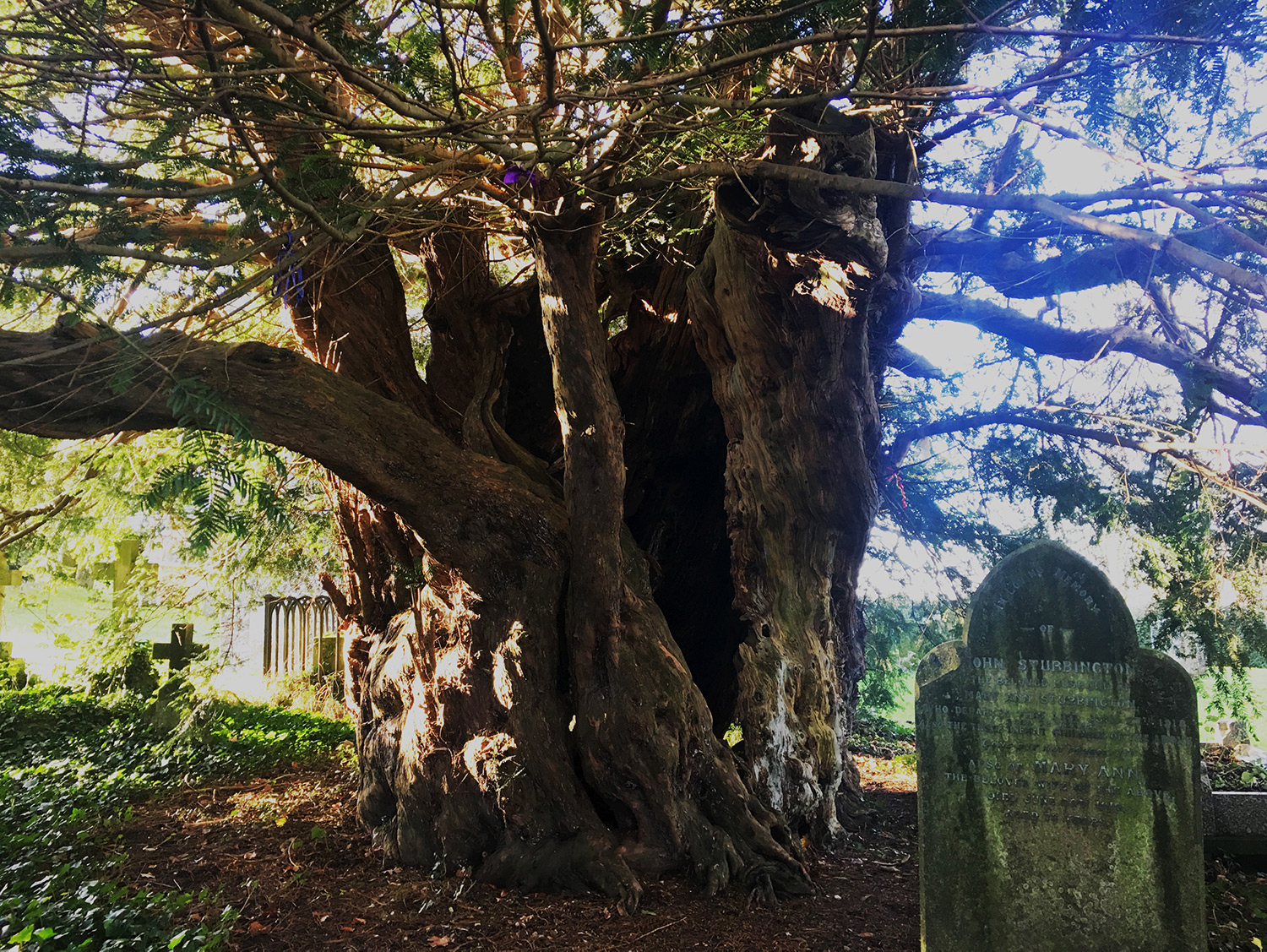 The Ancient Yew, Boarhunt
FAQ's
Who can come?
Anyone over 18 (or over 16 with an accompanying responsible adult).
Is this religious?
All and no-faiths are equally welcome. We operate a 'Bring Your Own Beliefs' policy. We require that all participating pilgrims tolerate one another's faiths/non-faiths.
Are there fitness limitations?
Pilgrimage is moderately intense. If you struggle to walk all day, it may be an unsuitable activity for you right now. There are always escape points en route where you can summon a taxi. But we walk slowly, and believe this is a very manageable distance for the majority of people. Due to stiles and off-road walking, unfortunately this pilgrimage is not suited for mobility-impaired people or those requiring wheelchair access. Sorry. We're working on good alternatives...
Do you have a concessionary rate?
If you are unable to pay our full rate, please get in touch with us and we'll see what we can do. We hope to make British pilgrimage accessible to everyone. Talk to us.
Can I bring my dog?
Sadly not – we can't accommodate dogs on our guided pilgrimages. However, if you have a registered assistance dog, they are of course welcome.
If you're interested, book a ticket and come along.
If you're unsure, book two tickets and bring a friend.
We look forward to meeting you on the path.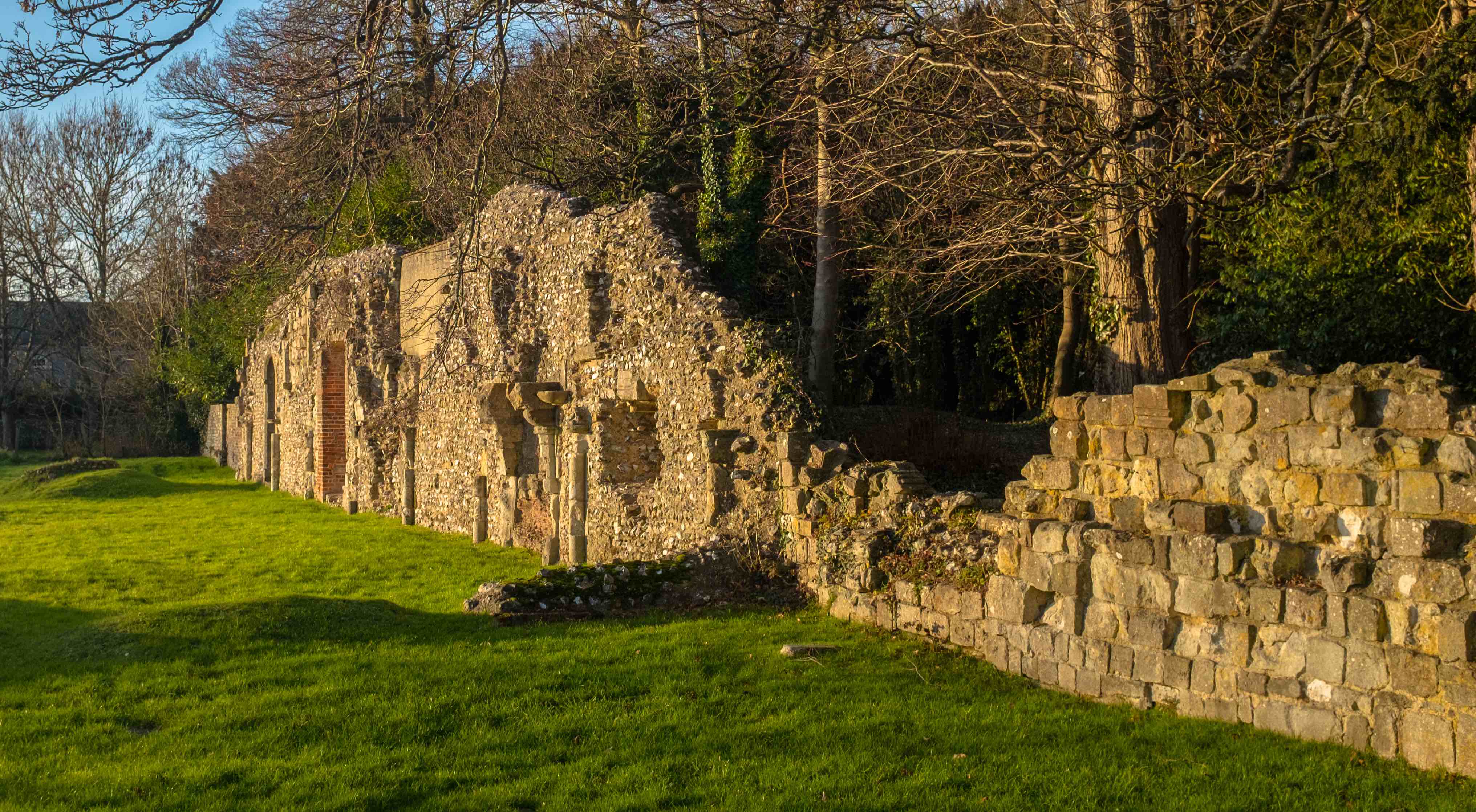 Southwick Priory