Event Information
Location
Battle Abbey
Battle
TN33 0AD
United Kingdom
Description
History Battle is where the Normans conquered the Saxons in 1066, so walking through the surrounding landscape we revisit this moment.
The Walk Expect relatively easy walking on public footpaths through woodland and marshland, along a brook and a river – a wild wealth of flora and fauna - and heritage Saxon and medieval holy sites galore – culminating at the bell tower of Rye Church.
Sleeping in relative luxury there are different ticket options for glamping yurt, tipi, shepherd's hut and house options (see here for further details). No bedding required, unless you are in the Tipi or camping.

Holy/Wholesome/Special Places – Battle Abbey and Crypt - Great Wood - St John the Baptist Church, Westfield (Saxon) - St Laurence Church, Guestling Green (11th century) - River Brede - St Thomas the Martyr, Winchelsea (13th century) - Winchelsea New Gate (13th century- in the middle of nowhere) - Camber Castle - St Mary's, Rye (12th century – French raids, bell thefts, retaliation. Cathedral-like. Same clockmaker as Big Ben.)
Distance
Day 1 - Battle to Guestling - 13 miles
Day 2 - Guestling to Rye - 11 miles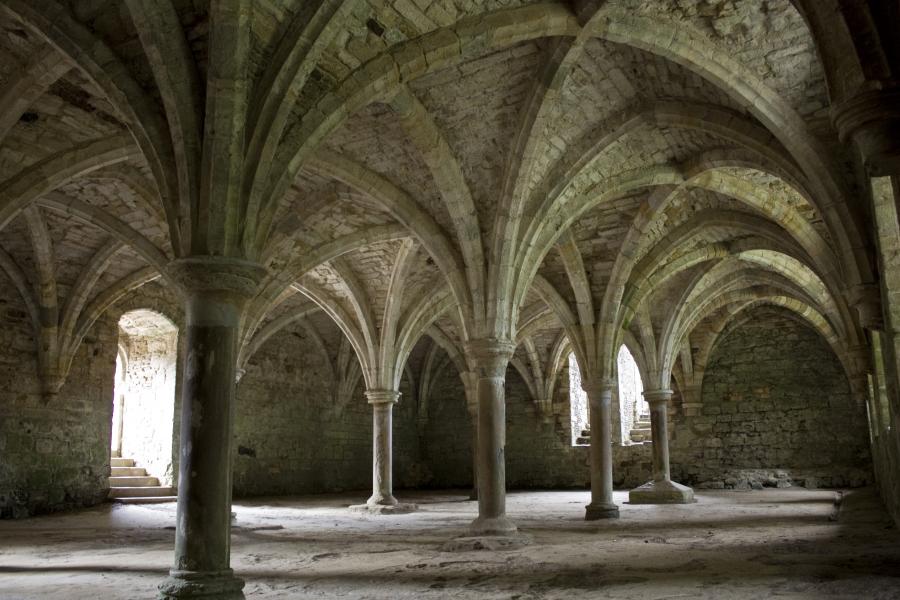 Battle Abbey Crypt
This pilgrimage is open to all. Bring your own beliefs. All are welcome.
Guided by Will and Guy - singing pilgrims with many miles experience, and co-founders of the British Pilgrimage Trust. They offer traditions to help your pilgrimage come to life. Including traditional songs, drinking wild water (filtered), and foraged teas.
Will and Guy offer full navigation, unique accommodation and great breakfasts, as well as luggage transfer for people with heavy bags or bad backs.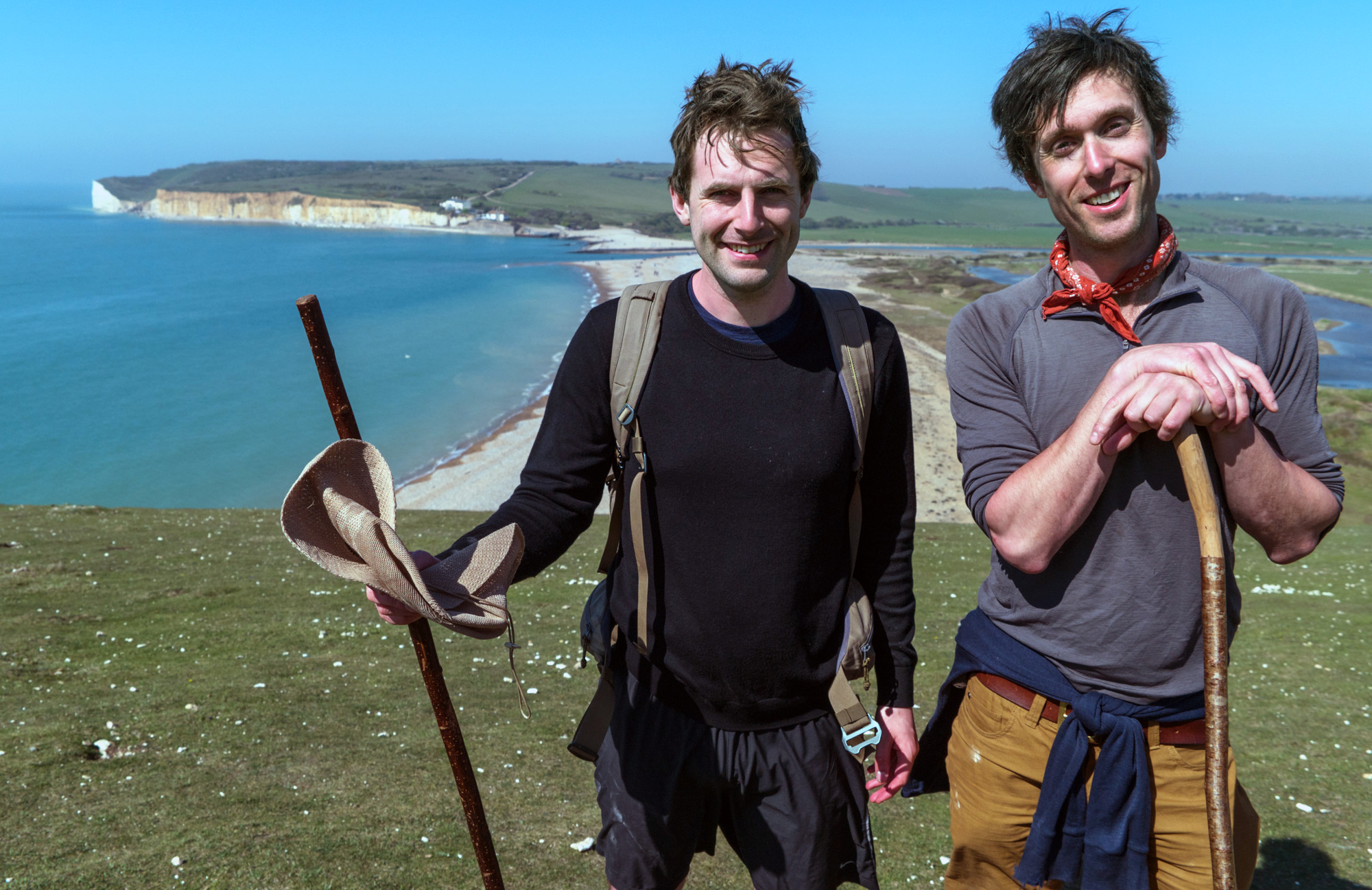 A journey guaranteed to make you re-encounter Britain in new (and very old) ways. As featured on BBC1, Channel 4, Radio 4, The Times, Guardian, Independent and Spectator etc.
Visit www.britishpilgrimage.org to learn more about the movement of British pilgrimage.
What you get for your ticket...
One night's accommodation and breakfast on Sunday is included, but not lunch and dinner. If you would like to not carry your backpack, luggage transfer is available at no extra cost (one bag per person).
All donations go straight into the British Pilgrimage Trust (HMRC Reg: EW38990), a charitable trust which seeks to open up Britain's pilgrimage tradition in newly inclusive and exciting ways.
Guy and Will provide full guidance, navigation, and support - as well as the fruit of their extensive pilgrimage experience, including the teaching of pilgrim songs, foraging tips and ways of engaging with holy places. On our thousands of miles of British pilgrimage, we've made many mistakes, which hopefully means you don't have to.
Our goal is to build routes that are open to everyone. But to raise the funds to achieve this, we run these fundraising weekend group events. We're not a business, we make no profit, we do not pay ourselves to run these weekend events, and we receive no central government funding. With the money we pay people to do things for the charity, like a web designer and a digital map-maker, and a videographer, and meetings with venues for low-cost pilgrim accommodation. Overall, organising these fundraisers serves multiple purposes, combining route research, fundraising, PR, and establishment of low-cost accommodation, all through a single weekend event.
This pilgrimage route will be published online soon, so if you can't make these weekends it will available for self-guided pilgrims anytime you want.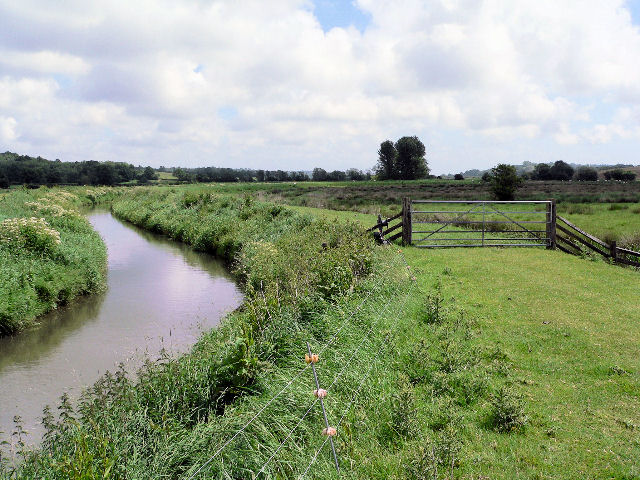 River Brede
Making a pilgrimage
We move quite slowly with lots of stops. Your fellow pilgrim companions are usually a mixed bunch - albeit with a certain shared questing glint in their eye. Pilgrims tend to have very little, and almost everything, in common. You'll see what we mean.
You'll make friends, learn songs, meet plants and animals. You'll feel good about yourself and other people, and you'll feel closer to the land and story of Britain. You'll change your relationship with holy places, and feel more freedom to meet them in your own way.
Of course, you'll also be challenged, in significant ways. Your legs might get tired. Someone might say something that's difficult for you - or vice versa. It could rain and be windy. It could be too hot. And you'll sleep on a stone floor in ancient cloisters. And it may open up vistas of possibility that you had not encountered for a while. Your well-set notions might get all shook up, in the best possible way.
This is pilgrimage, in a British tradition, modern but also very old indeed. We hope you'll find something wonderful to take home...
If you are interested, book a ticket and come along. If you're unsure, book two tickets and bring a friend.
See you on the path. We look forward.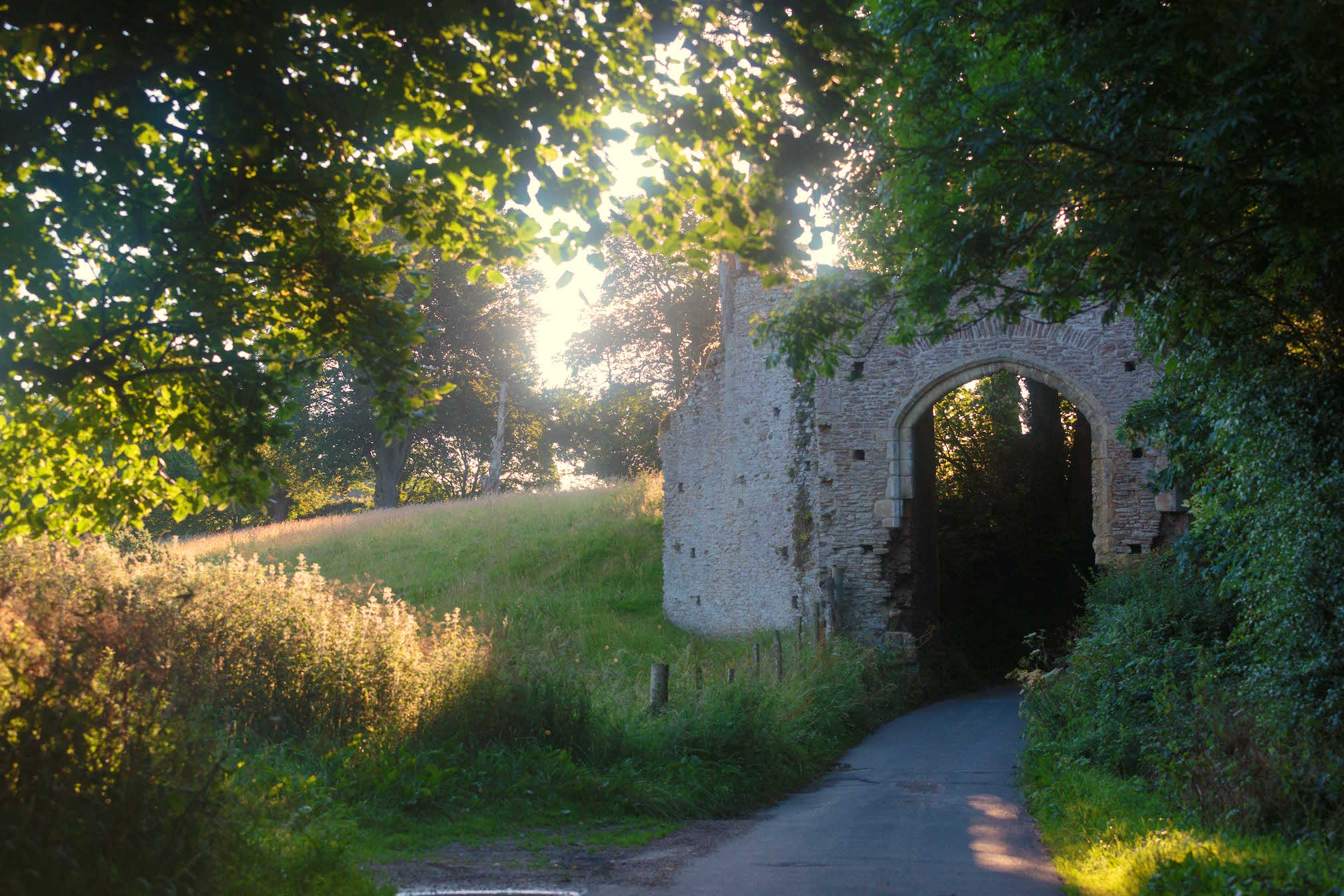 Winchelsea New Gate
Testimonials:
"What Guy and Will are doing through The British Pilgrimage Trust is truly epic and incredibly inspiring. Everything was organised and made so easy...What I thought was so amazing was how they guided us and clearly have a philosophy behind their passion yet there was no expectation for the walk to be anything to anyone or for a site to have any particular meaning...Everything about our trip was perfect and I feel unbelieveably nourished, refocused and uplifted. I also feel so connected to this amazing and under-appreciated land in which live, and its history and spirituality which we never hear about."
Christabel Reed, Founder of the Advaya Initiative, and BPT pilgrim
"We started off the walk not knowing anything about each other, yet at the end of the trip, it felt like I've known these people for so long. It's amazing how you open up to people under such calm and natural circumstances... I will definitely do another pilgrimage in the near future:)"
Cathrine, BPT pilgrim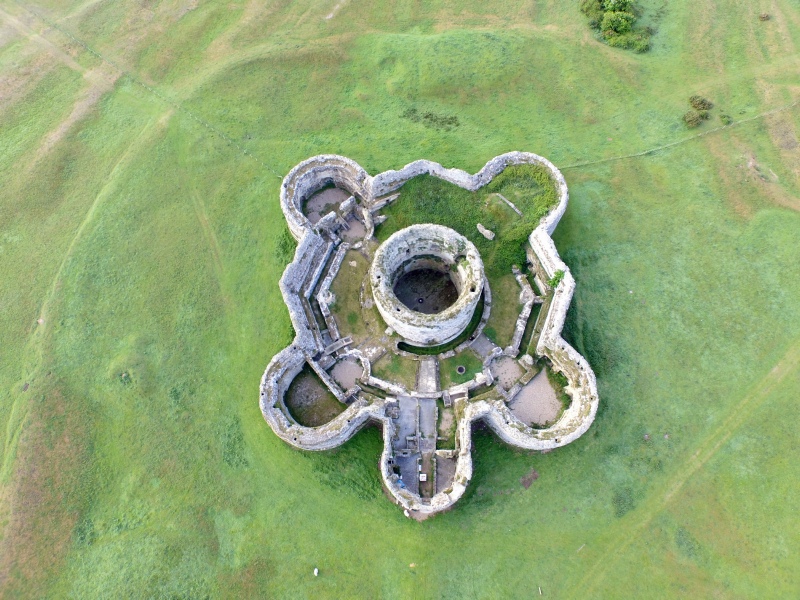 Camber Castle
FAQs
Who can come?
Anyone over 18 (or over 16 with parental guidance).
Is this religious?
All and no-faiths are equally welcome. We operate a "Bring Your Own Beliefs" policy. We ask that all participating pilgrims tolerate one another's spiritual choices.
Why are tickets different prices?
So people can pay what they can afford.
Are there fitness limitations?
Pilgrimage is moderately intense. If you struggle to walk all day, this type of pilgrimage may be an unsuitable activity for you right now. If you are unsure whether you can walk 25 miles in two days, there are plenty of escape points en route where you can jump on a bus. But we will walk slowly, and start early, so we believe this is a very manageable distance for the majority of people.
Due to the stiles and off-road access along much of this route, unfortunately this pilgrimage is not suited for mobilty-impaired people or those requiring wheelchair access. Sorry. We're working on good alternatives...
Can I bring my dog?
Sadly not. Dogs are of course wonderful, but they are unknown quantities for the accommodation providers, who have asked we don't bring them. And a group pilgrimage is already complex enough, so the simplicity of making it human-only is also very welcome.
What should I bring?
You will need to bring your own sleeping kit – an inflatable roll-mat and sleeping bag. You will also need adequate warm and waterproof clothing, in case of inclement weather - but we suggest you pack for the weather report a little ahead of time. You will need spare clothing sufficient for 2 days' walking. And you'll need shoes that fit. And some money to buy your lunches and supper – though breakfast will be provided. More detail on what to bring will be sent to you in your order confirmation email.
What are my transport/parking options getting to the event?
We ask all participants to meet at Battle train station, between 9:30-9:45am on Saturday 24th June. We aim to leave at 10am.
How far is it? Is the terrain difficult?
Each day is about 12 miles walking. This is not especially far, but nor is it entirely easy. You'll feel it, but not too badly. Most of the walking is lowland and flat, along mud and grass tracks. There are a few mild ascents and descents, but nothing really beyond very moderate. For the distances, we require all attendees to have minimum walking fitness and confidence that such distances are unlikely to prove excessive.
Is luggage transfer available?
Because we won't be carrying sleeping kit, and so you only need to carry a change of clothes, we really recommend you carry your own backpack, for a fuller sense of self-sustainablity. If this a problem, please get in touch.
Where can I contact the organiser with any questions?
You can email the organisers, Will (07415 223552) - or Guy (07841 518110).
Or email us on: info (at) britishpilgrimage.org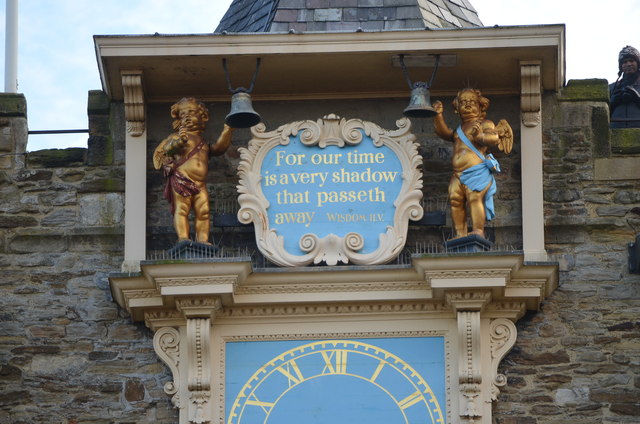 Church Clock, Rye
Date and Time
Location
Battle Abbey
Battle
TN33 0AD
United Kingdom