Description
A Beginner's Guide to Content Marketing
Content marketing - generating interest in your organisation through regularly published content (blogs, images, videos, articles etc) - plays an essential role in charity communication. When done well, content marketing can help charities build awareness and increase funding.
The idea of producing regular content as a small team may seem daunting, but it needn't be, and with the right planning and tools it can be a useful addition to every small charity's marketing.
Through this introductory session, we will provide a brief overview of what content marketing is, how it can help charities grow and how to develop a successful content marketing strategy.
Attendees will leave with tools and techniques to make the most of their content and learn to produce content quickly across multiple platforms.

Content:
We will look at:
An introduction to content marketing

Developing a content strategy

Content types and when to use them

Practical tips for content production
Level: This session will include training for people new to content marketing as well as techniques useful for intermediate level content marketers.
Notes: Please bring notebooks, pens and a smartphone. There will be practical elements to this event.

---
Trainer Bio: Joel Buckland from We Do Stories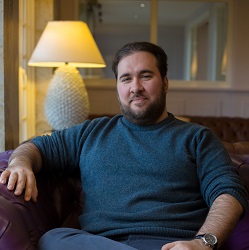 We Do Stories is a digital marketing and PR agency powered by engaging stories. We work with charities and businesses, helping our clients create engaging brands, content and campaigns that get them noticed and lead to increased revenue.

Joel founded We Do Stories with the goal to make a difference with digital media and compelling storytelling. He has developed custom tools, resources and methodologies to connect with people on an emotional as well as logical level. He thrives on making a difference and is keen to support small charities make the most of digital in an ever-changing landscape. Joel runs the agency with his wife Anne and their team of experienced content marketers.

About The Fore:
The Fore is an open-access funder in the UK offering development funding and strategic support to early-stage charities and social enterprises. They make grants of up to £30,000 over one to three years and provide access to business expertise to help our grantees achieve their goals.
The aim of this collaborative funding initiative is to make transformational grants to the organisations we support – grants that enable charities to take a step forward in their development and do something they were not able to do before.
Arrival:
This workshop will be held in the event space at Two Temple Place. We ask that all attendees arrive 15 minutes before the workshop starts to allow for registration and ensure a timely start and the smooth running of the workshop.
Booking:
You must be a member of Small Charities Coalition in order to attend this workshop. If you aren't already you can register for free here.
Accessibility:
We want to make sure all of our workshops meet your needs, so if you have any questions about accessibility please email: events@smallcharities.org.uk.
Waitlist:
If the places have all been filled please do add your details to the waitlist and we will let you know as soon as a place becomes available.
Cancellations and Refunds:
If you cancel your place at least 3 full working days before the event takes place then you are entitled to a full refund by request. Refunds for cancellations after this point are given at the discretion of Small Charities Coalition.
If you cannot make a workshop please advise us as soon as possible. Workshops normally have a waitlist and if you notify us early enough then there's a good chance another charity can attend in your place.