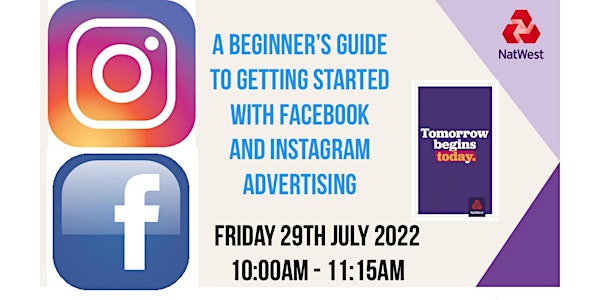 A beginner's guide to getting started with Facebook/Instagram advertising
This will give you the tools to get your first Facebook/Instagram advert off to a flying start with nuances and advice from a specialist
About this event
Please note once you have registered for this event you will receive an email with your access code 48 hours before the event
---------------------------------------------------------------------------------------------
About this event
Join NatWest and Untapped Digital's Marketing Executive Dominic Reece for a webinar highlighting how to get started with Facebook/Instagram ads, with details on how to create an ad account, budget a campaign, how to work towards an objective, and how to effectively target the audience.
This will give you the tools to get your first Facebook/Instagram advert off to a flying start with nuances and advice from a specialist. Dominic will answer all your burning questions about creating an effective advertising strategy.
• Why use Facebook/Instagram advertising?
• How to get started?
• What is the objective of this advert?
• Best practices while targeting the audience
• What is a google pixel and how this can be used to target a warm audience
• How to allocate the budget
• What is the advertising timeline?
• How to optimise adverts.
• How to ensure the budget is used effectively
Dominic Reece
Dominic has been working in social media marketing for 3 years, specialising in advert creation and data analysis. Working for Untapped Digital has given him the opportunity to expand his knowledge and pick up best practices while creating advertisements, and optimising and analysing the results.
All information used in this presentation you are registering for is produced for information purposes only and is for the sole use of the attendees at the presentation.
Whilst we feel this topic is beneficial to business owners, the views expressed are not intended to be and should not be viewed as individual advice or as a recommendation by RBS, NatWest or any third party. You should seek independent advice in respect of issues that are of concern to you.
To the maximum extent permitted by law we expressly disclaim all representations, warranties, or assurance of any kind, expressed or implied, that are made to the accuracy or completeness of the information contained in this presentation and do not accept any obligation to update or correct any information contained herein.
During the event photographs may be taken on behalf of the host with a view to posting on social media to promote services offered to customers. If you do not wish to be included in the photographs please notify us.
For the avoidance of doubt RBS/NatWest does not produce the materials for all presentations. This disclaimer applies equally to any materials or presentations produced by a third party.
By registering for this event you agree that you have read and expressly agree to the use of your personal data submitted as part of your event registration by Eventbrite in accordance with their:
• Terms of Service:(https://www.eventbrite.co.uk/support/articles/en_US/Troubleshooting/eventbrite-terms-of-service?lg=en_GB),
• Data Processing Addendum for Organisers (https://www.eventbrite.co.uk/support/articles/en_US/Troubleshooting/data-processing-addendum-for-organizers?lg=en_GB_); and
• Privacy Policy (https://www.eventbrite.co.uk/support/articles/en_US/Troubleshooting/eventbrite-privacy-policy?lg=en_GB), which Eventbrite may update from time to time.