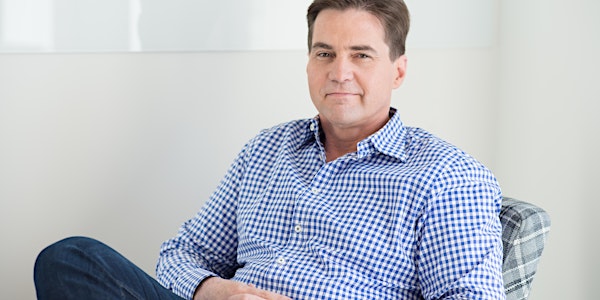 A Bitcoin World: How Bitcoin Will Transform the World with Dr Craig Wright
Location
The Albany
240 Great Portland Street
London
W1W 5QU
United Kingdom
Refund policy
Refunds up to 30 days before event
Description
Doors open 7pm and the Talk begins at 730pm. Once the Talk begins there will be no entry until the break so please do arrive on time.
This event is part of the "We Are Fascinating Project" season of Talks from entertaining experts and insightful individuals. The Talks will each be capped off with a Q&A between the speaker and the audience. It's a social, it's a learning opportunity, it's a little like an interactive book....where the reader gets to ask direct questions to the author.
Our speaker Dr. Craig Wright is an Australian computer scientist, businessman and inventor who challenges the world with visionary ideas. Currently, he is Chief Scientist for nChain – the global leader in research and development of blockchain technologies. Dr. Wright has been involved with Bitcoin since 2009, and is one of the earliest minds behind Bitcoin.
Since emerging in 2009, Bitcoin has generated much interest as a cryptocurrency and the future of money. But what if bitcoin is far more?
Learn from visionary scientist Dr. Craig Wright, one of the earliest minds behind bitcoin, about his vision of a world with wide-scale adoption of both the Bitcoin cryptocurrency and the Bitcoin network as a transformative technology platform.
Dr. Wright will explain why you should invest in bitcoin because its technology power rather than riding speculation, and why the newer Bitcoin Cash presents the better path to bitcoin's true potential.
Bitcoin's underlying technology platform is the blockchain, a distributed decentralised ledger that chronologically transactions in an immutable way. The bitcoin network can do more than just record transactions; it has the power to transform how commerce and transactions work around the world, and even power a futuristic world of artificial intelligence and intelligent bots.
If Bitcoin is scaled to its true potential, its cryptocurrency value will grow exponentially and its technology contributions to the world will be immeasurable.
Before his early and extensive work with Bitcoin, Dr. Wright had over 20 years of experience in the fields of information technology and security, and is one of the most highly qualified digital forensics practitioners in the world. He has personally conducted in excess of 1,200 IT security related engagements for more than 120 Australian and international organizations in the private and government sectors.
A prolific researcher, Dr. Wright has been a lecturer and researcher in computer science at Charles Sturt University. He has also authored many articles, academic papers and books on IT, security, bitcoin and other cryptocurrency issues. Dr. Wright is now a sought-after public speaker internationally on security, Bitcoin and cryptocurrencytopics, while also presenting his research findings at academic and business conferences.
Tickets are £10 in advance or £15 on the door.