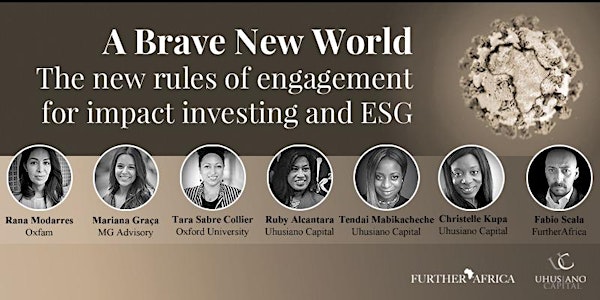 A Brave New World: The new rules of engagement for impact investing and ESG
Description
We are bracing for a brave new world. As we continue to live through an unprecedented situation in our lifetimes, how do we navigate through the uncertainty of the impact that COVID-19 has created in our lives? Emerging is a set of "new rules", where the principles of impact investing are going to be more important than ever.
To navigate through this economic uncertainty, Uhusiano Capital is bringing together a panel of experts in Impact Investing and Entrepreneurship to uncover how impact investors, private sector and governments are viewing this crisis in Africa. We will provide useful and practical Impact Investing and ESG tools for entrepreneurs and fund managers that are relevant now more than ever during the COVID-19 pandemic.
On the 16th of April 2020, the United Nations Economic Commission for Africa highlighted that anywhere between 300,000 and 3.3 million African lives could be lost. Commodity prices plummeted for more than 67% of Africa's exports, during the severity of the pandemic. Petroleum oils, which account for 40% of Africa's export and about 7.4% of the continent's GDP, crashed by more than 50% to its lowest levels since 2003. UN ECA estimates that in the best-case scenario Africa's average GDP growth for 2020 will fall 1.4% from 3.2% to 1.8%. In the worst case, Africa's economy can contract up to 2.6%. Up to 19 million jobs can be lost, while 29 million people can be pushed into the extreme poverty line of USD 1.90 per day.
Some key questions that we'll be discussing with our panel include:
How do we navigate? How do we mitigate our risks?
What are the perspectives of impact investors during this period of time?
How have certain African countries managed to handle this period successfully?
Often during some of the greatest challenges, emerges the greatest opportunities - what could these be?
Impact Investment principles will be more important than ever before. How do I, as an entrepreneur, ensure my business is in-line with this principles during this time? As a fund manager, is this something that I should be further exploring?
The Panel & Agenda:
Perspectives from the Impact Investors on Africa
Christelle Kupa, CEO & Founder of Uhusiano Capital
Rana Modarres, Impact Investment Director, Oxfam
Tara Sabre Collier, Social Entrepreneur in Residence, Oxford University
Mariana Graça, Impact Investment Expert, MG Advisory
Tools to Naviage through the "new rules of engagement": Impact Investing & ESG - Opting into the Rules for both Fund Managers, Business Leaders and Entrepreurs.
Tendai Mabikacheche, Head of Impact & ESG, Uhusiano Capital
Rubelyn (Ruby) Alcantara, Advisor & Head of Entrepreneurship, Uhusiano Capital
Moderated by: Fabio Scala, Founder, Further Africa
The Speakers:
Christelle Kupa, CEO of Uhusiano Capital
Christelle Kupa is a sustainable finance expert and global impact investor with experience spanning international finance & banking, sustainable investing and cross-border innovation scale-up. Christelle is the Founder and Chief Executive of Uhusiano Capital. She founded the company in 2016 as a catalyst to facilitate better business in the African impact investing sector, with a particular interest in agriculture and women economic empowerment. Christelle has convened a team of experts and specialists with whom she has developed service propositions that solve complex problems and add value for communities, stakeholders and shareholders in Africa.
Christelle spent 13 years as a investment banker and hedge fund manager at JP Morgan before becoming a development expert at Symbiotics. In her non-for-profit activities, Christelle is a practitioner, advocate and lecturer on sustainable impact capitalism and community bridging through business and bottom-up leadership. She sits as a Trustee on Medical aid film. Christelle is Belgian-Congolese, based in London, with extensive travel on the African continent. She holds an BA in business and finance and speaks French, Flemish, English, with some basics in Swahili and Lingala
Rana Modarres, Impact Investment Director, Oxfam
Rana Modarres has fifteen years of experience working between international NGOs and the private sector. Rana leads the Small Enterprise Impact Investing Fund at Oxfam GB, which is an investment fund supporting small and medium-sized enterprises in low income economies. At Oxfam, she chairs a global inter-affiliate working group on innovative financing programs, largely focused on supporting small enterprises. Prior to Oxfam, Rana worked in capital markets and investment management, initially selling government bonds and eventually in private banking. She worked most recently for Barclays Wealth and has worked for other investment banks, including Lehman Brothers, Jefferies and Dresdner Kleinwort Wasserstein. She also conducted research for the United Nations Department of Economic and Social Affairs.
Rana has an MSc in Political Economy from the London School of Economics and a B.A. in Economics from the University of Massachusetts, Amherst.
Tara Sabre Collier, Social Entrepreneur in Residence at Oxford University
Tara Sabre Collier is a social entrepreneur in residence at Said Business School, Oxford University, as well as Interim Gender Lead at Shell Foundation. She is a global strategist advising impact investors and social enterprises, with a focus on emerging markets. She has over a decade of international experience across impact investment, international development and management consulting industries. She has designed and executed globally in Europe, Africa, Middle East and the Americas. She has worked for and with the World Bank, the International Finance Corporation, the United Nations, Ernst & Young and GroFin Capital, among others.
She earned her MBA at Oxford University. as a Skoll Scholar. She earned her MPA in International Public/ Non-Profit Management & Policy from New York University and a BA in Spanish and International Affairs from Spelman College.
Mariana Graça, Impact Investment Professional, MG Advisory Ltd.
Mariana Graça is an investment professional with experience in commercial deal negotiation, structuring and execution (debt and equity), business development and portfolio management in a Sub-Saharan African context, in both East and West Africa.
In her 7 years at AgDevCo, an impact fund investing solely in agriculture in Africa, she helped to build the company into a leading pan-African agri-investor with USD 250m AUM and oversaw a number of investments across multiple value chains including oil palm, fruit crops, maize, wheat and rice. Mariana has experience in management and implementation of deal execution from due diligence to operational management in Mozambique, Zambia, Rwanda, Sierra Leone, Ghana and Ivory Coast.
Rubelyn (Ruby) Alcantara, Advisor & Head of Entrepreneurship, Uhusiano Capital
Ruby Alcantara is seasoned entrepreneur and executive business consultant focused on Africa's growth across a variety of sectors including renewable energy, agriculture, fin-tech, and media/publishing. She's held roles as Managing Director, CEO, COO and CMO, living and working across the continent including Tanzania, Nigeria, Madagascar, South Africa, Cameroon, Uganda, Egypt, and Kenya.
As Advisor and Head of Entrepreneurship for Uhusiano Capital, she works with entrepreneurs to get them investor ready. She recently founded Supivaa Advisory Group, a boutique consultancy firm, rooted in women's inclusiveness and gender-lens perspectives, to support entrepreneurs and business leaders through their key stages of development. Ruby is part of the executive team of the Commonwealth Businesswomen's Network, an Activator of SheEO UK, and a member of the Canadian Federation of Impact Investment and Development (CAFIID)
She holds an MBA from IE Business School and a BA in Communications and Political Science from Simon Fraser University.
Tendai Mabikacheche, Head of ESG and Impact, Uhusiano Capital
Tendai Mabikacheche is Uhusiano Capital's head of Impact and ESG, and the Founder and Managing Director of iSustain Global, an impact investing and ESG positioning company focused on developing impact investing and sustainability strategies for African companies to access global finance. She has supported both African Fund managers, Asset owners and businesses in shaping and redefining their impact and ESG strategies in order to fully position and measure their sustainable finance approaches.
Tendai's experience spans African countries including South Africa, Zambia, Zimbabwe, Kenya, Malawi and Nigeria with clients supported including Fund managers; Victus Global and Spear Capital. Tendai worked for Deloitte for 10 years across the London, Johannesburg and Harare offices where she assisted clients meet global sustainability requirements, including addressing investor requirements to open up to markets for accessing financing from different investor types. Tendai is a former Chairperson of the Sustainability Reporting Committee for the Business Council for Sustainable Development of Zimbabwe from 2016 to 2018.
Tendai holds a BSc Honours Degree in Applied Environmental Science (UZ) and Masters in Biodiversity and Conservation from Roehampton University London.
Moderated by Fabio Scala, Founder, Further Africa
Fabio Scala is the founder of Further Markets, a UK consultancy firm advising investors in their Southern Africa market entry and market strategies as well as Governments looking to attract Foreign Investment.
Over the last decade, he has been involved with development and finance in Southern Africa. He served two terms as the Managing Director of Mozambique's Development Bank, an institution he helped to create and led into the participation of transactions totaling over £1B in key infrastructure projects and natural resources development.
He later served as the head of an UK family office expanding a portfolio of circa £40M in equity investments from Mozambique into Zimbabwe, Zambia and South Africa.
Prior to his Africa involvement, Fabio acted as a Senior Manager at Portugal's national Private Equity Fund and as a Board member of many of its portfolio companies. He has also held senior positions in the US after starting his career at Caixa Economica Federal - Brazil's state-owned bank.