A BREXIT CONVERSATION: Uta Kögelsberger, Tereza Cervenová and Natalia González Acosta in Conversation with Emma Mowat.
About this Event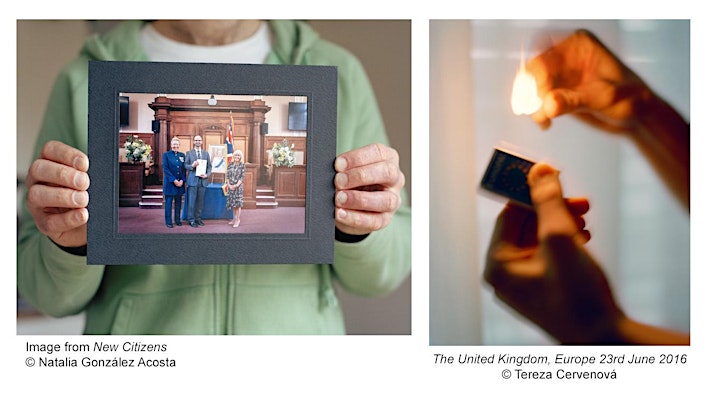 London Independent Photography's online exhibition LIP Chronicles: Life Under Lockdown will run for the month of November 2020. The exhibition includes a programme of weekly Zoom talks.
We begin our series of talks on 6 November with A Brexit Conversation.
Emma Mowat to host the evening with artists: Uta Kögelsberger, Tereza Cervenová and Natalia González Acosta. The presentation will be followed by Q&A from the viewing audience.
2020 has been a year focused on the pandemic that has upended our way of life. In June 2016 a vote upended how the UK will do business with Europe by voting to leave the EU. Much like the response to the pandemic, the vote to leave and its aftermath is still unresolved. As we near the end of 2020 and await the final "Brexit Deal" we look at 3 unique projects that visually and textually explore the artist's and residents of the UK responses to Brexit .
Zoom details will be sent closer to the date fo the event.
Bios
Uta Kögelsberger is an artist, born in Belgium to German parents and is based in London. Her work articulates and engages with social and political concerns through photography, video, sculpture and sound. Kögelsberger's work has been exhibited as part of the Brighton Photo Biennial, as part of Art Night, London, at Bluecoat,  Liverpool,  Spacex,  Exter,  CGP,  London, the Architectural Association, London, the Barbican, London, and Laurence Miller Gallery, NYC, and the Glassell Project Space MFAH, Houston amongst others. She has been awarded the Stanley Picker Fellowship, the Berwick Gymnasium Fellowship, the EAA Award for Art in Architecture and the SPD silver medal for editorial photography. Her photographic essays have been published in Wired, Esquire, GQ and American Photography. Her work is held in public and private collections including the Museum of Modern Art Houston and the Los Angeles County Museum. Kögelsberger is Professor of Cross Disciplinary Practice at Newcastle University.
Tereza Cervenová is a visual artist born in Slovakia who lives and works in London since 2011. She is a graduate from the Royal College of Art (MA Photography 2018). Cervenová's work focuses on geo-poetics (geopolitics with a poetic stance), in particular the vantage point of younger generations and the role they play in it. She uses portraiture to capture human experience which is at the heart of her practice, blurring the line between her personal and commissioned work. She regularly collaborates with The FT Weekend and Telegraph Magazine and also contributed her photography and writing to The New Yorker, Der Spiegel and Apollo Magazine amongst others. Over the years, her work has been acknowledged with numerous awards and nominations, including the John Kobal New Work Award in 2015, Bloomberg New Contemporaries in 2017, and Foam Paul Huf Nomination in 2019. She has collaborated with the National Portrait Gallery in London and Eton College in Windsor on the creation of new photographic portraits for their respective collections.
Natalia González Acosta is a Mexican photographer based in London. She is a recent BA Photography graduate from the Cambridge School of Art and in September began a Photography & Urban Cultures MA at Goldsmiths. Natalia's practice is rooted in social-documentary photography, where she explores the concepts of home and cultural identity by focusing on the relationship between people and their environments. Natalia's work has been exhibited with Shutter Hub in Hotel d'Lion, Haarlem, Netherlands; Photo North Festival in Harrogate; the Centre of African Studies at Cambridge University, amongst other places. Natalia has a keen interest in curation; she is currently the exhibition assistant of London Independent Photography's LIP Chronicles: Life Under Lockdown. She was a gallery assistant at the Heong Gallery in Cambridge; and has also assisted Gabriella Daris, the curator of Yoko Ono Looking For…, a multi-site exhibition throughout Cambridge in 2019.
Emma Mowat has a background in Social Research, Social Enterprise and Psychology. Most recently, she has been involved in a variety of social documentary photography projects, working with marginalised communities in London. Within her personal practice, photography enables her to gain an insight into the dynamics of her own personal relationships, and find the poetic in her everyday life.
Top image from Uncertain Subjects Action Photographs/ Billboard Performances. ©Uta Kögelsberger