A Brush with the Broads 2019 - John Patchett;Pastelist - Evening Demonstra...
Location
Hall Farm Cottages
Horning
Norwich
NR12 8NJ
United Kingdom
Sales Have Ended
Ticket sales have ended
Sorry sales have ended. The dates for A Brush with te Broads 2020 are 24-28 September 2020. See you then
Description
If yuo have registed for the whole weekend this demonstration is included in your fee
A pastelist at A Brush with the Broads™️ 2019 is something new and exciting. John is a consummate demonstrator, describing his thoughts and methods as he is working. His pastels mainly painted on site en plein air have vibrancy that excites the viewer.
He can often be seen painting around Norwich Market and his home in the southern broads at Beccles.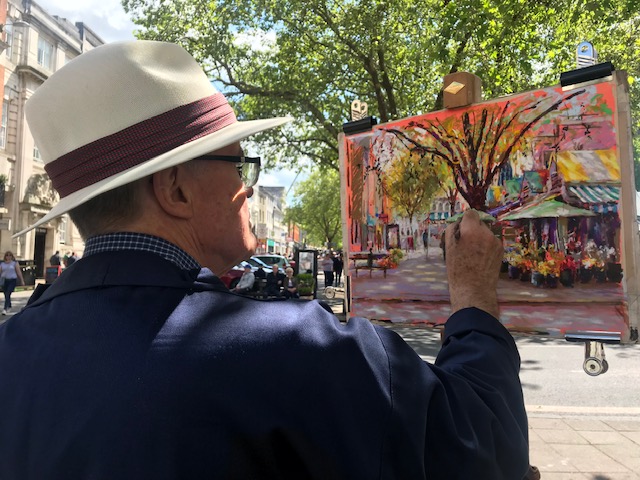 A full member of the East Anglian Institute of Artists (IEA) and recognised by the International Pastel Artist Magazine, America, as a 'Master Pastelist' reiterating the impact of his artwork on a global scale.
See more of John's work at www.johnpatchett.co.uk
Biography
Professional artist, John Patchett IEA is regarded as one of the country's leading exponents in the art of pastel painting. He has held over 45 successful solo shows in Australia and England and his work has been exhibited in Japan, New Zealand, with the 'Pastel Society', 'The Royal Society of Marine Artists' and as a prizewinner at the 'Laing Exhibition', at the Mall Galleries, in London.
Over the years, John Patchett's pastel paintings have become a regular feature in articles he writes for the 'Leisure Painter' and 'The Artist' magazines.
He believes it is necessary to paint as much as possible on location, which has resulted in his work having immediacy and a strong sense of light and warmth.
John feels that the hand can never achieve anything higher than the heart can command, therefore he chooses inspirational locations, where he can be enthusiastic about his subject and situation.