Description
If you have registered for the whole weekend of A Brush with the Broads™️ 2019 you do not need to book a ticket for the Quick Draw, but you do need to register at ST Benet's between 10-11am on the day.

It is a great pleasure that A Brush with the Broads can recognise the celebrations the millenium of the iconic St Benet's Abbey an inspiration to artists for centuries.
The Quick Draw will take place at St Benet's on Sunday 29 September
A Quick Draw is not necessarily about drawing but the artist being quick on the draw with their brush.
Registration is at St. Benet's from 10am
The artist's painting time will be between 11am and 1pm.
The paintings will then be on display until 3pm for the public to vote for their favourite.
Winner gets £250 of Art Materials

( If weather inclement the painting will be on display in the function room at Hall Farm Cottages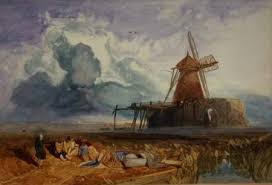 St Benet's Abbey John Sell Cotman

As well as being of great historical interest, St Benet's is also very atmospheric. Standing in the depths of Broadland, away from roads and other settlements, it is a wonderful place to spend time surrounded by the wide open skies and away from the modern world. For over 200 years it has been a favourite spot for artists and photographers." ©Norfolk Archaelogical Society