A Business with a Spiritual Consciousness

Wednesday, September 17, 2014 from 6:45 PM to 8:30 PM (BST)
Event Details

 A Business with a Spiritual Consciousness
Date: Wednesday, 17th September 2014
Aravind Eye Hospital
-- a Harvard case study
-- an award-winning social enterprise
-- a life saving business
ConsciousLab is delighted to announce a special guest speaker – Dr Venkatesh, the Chief Medical Officer from the Aravind Eye Hospital in India.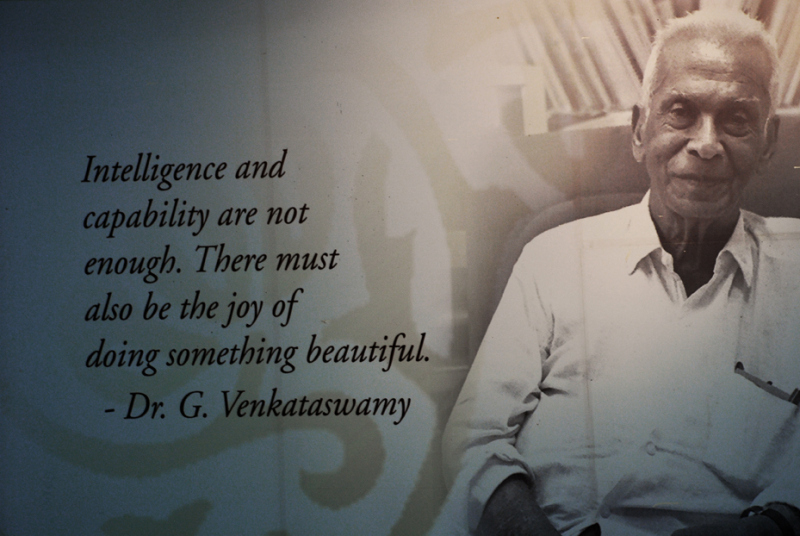 Created by Dr Venkataswamy 37 years ago, the Aravind Eye Hospital operates on a simple mission; to provide compassion and charity to healthcare whilst being financially a self-sufficient organisation.
"It's not just business acumen that drives the mission, but also a firm spiritual basis, inspired by the teachings of Sri Aurobindo, a mid-20th century spiritual leader. He believed that good work and good ideas are a manifestation of the divine."
The hospital is now run by Dr Venkatesh (our guest speaker) and continues to be a beacon of innovative healthcare worldwide, accounting for 5% of the eye surgeries performed nationwide.
The hospital began with a simple idea in a sparse 11-bed hospital with four doctors, three from Dr Venkatswamy's own family. It would serve patients who could pay, but the profits would allow free care and hospital transportation to the many more people who couldn't even afford the bus fare.
Named among the world's top 100 NGOs by The Global Journal, the Aravind Eye Care System (AECS) has been a subject of many international case studies, including the Harvard Business School. Recognised globally for social entrepreneurship, public health, humanitarian business and academic excellence, the Aravind Eye Hospital does extraordinary work to alleviate human suffering.
"The surgical error rate is as low here as any place in America. The big difference at Aravind is that its patients are among the world's poorest people." 
The hospital's mission and vision was driven by the dream to create tangible services and a self-sustaining health-care model in ophthalmology. Dr Venkatswamy's beliefs and sincere aspirations for love, compassion, joy and charity are woven throughout the Aravind Eye Care system and come alive in each of the organisation's activities.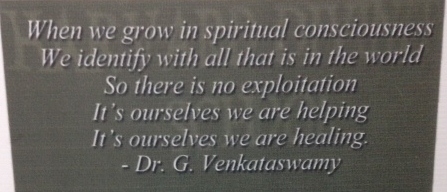 Embracing business principles in lean management, adopting innovation, constant process optimisation and professional excellence, Aravind Eye Hospital strives for a congruence of vision and values, with unfaltering guidance from Dr Venkatesh.
ConsciousLab invites you to share this wonderful evening with us to understand Aravind's genesis and growth, its development, values and of course, how we can emulate them in our own lives and in our business.
Date:                  Wednesday, 17th September 2014
Time:                  Registration & networking: 6.30pm
                           Talk: 6.45pm until 8.30pm
Venue:               The HUB Westminster, New Zealand House, 80 Haymarket   
                           London SW1Y
                           (http://westminster.the-hub.net/)
Nearest tube:    Piccadilly Circus or Charing Cross 
Contribution:    £15
Please note that we are unable to offer refunds or transfers less than 7 days before the event.
About Dr Venkatesh:
Dr. Rengaraj Venkatesh is at present the Chief Medical Officer of Aravind Eye Hospital, Pondicherry. He joined the organization in 1994 as a resident Ophthalmologist and progressed working closely with the founder Dr. V, been playing an active role in the growth of the organization. In addition to clinical knowledge Dr. Venkatesh also spreads the values and culture of AECS to other organizations, to bring the highest value of compassion and charity to the world of eye-care
What defines AECS' unique strategy?
In addition to a sense of employee compassion and commitment, factory like efficiency, constant process optimisation, lean management practices and complete forward and backward integration of all processes and resources are Aravind Eye Hospital's hallmark, and allows them to handle high patient volumes with minimum waiting time.
The organisation imparts in house training to mid-level ophthalmic personnel, mostly rural women, in a two-year course. These personnel who have never had the chance to go to college, have the opportunity to enter the work stream as mid-tier technicians. AECS recruits without commercial advertisements. Currently, 350 medical officers and consultants, 1,500 mid-level ophthalmic personnel and 500 administrative staff are on AECS's rolls.
To read an article in The New York Time click here.
*** 
The team at ConsciousLab looks forward to meeting like minded, forward thinking business leaders for an interactive evening!
If you wish to be kept informed of future events, please sign up to our e-newsletter on www.consciouslab.org or send email to info@consciouslab.org.

When & Where

The HUB Westminster, 1st Floor New Zealand House
80 Haymarket
SW1Y 4TE London
United Kingdom


Wednesday, September 17, 2014 from 6:45 PM to 8:30 PM (BST)
Add to my calendar
Organizer
ConsciousLab - Raising Consciousness in Business
Copyright © ConsciousLab was created to facilitate a shift in consciousness in the business world. Its purpose is to challenge the transactional nature of the workplace, setting a new paradigm for business practice, which is more about collaboration, awareness and humanity. ConsciousLab does not prescribe or subscribe to any one school of management thought or belief. It is a platform that is open to all. In fact, we believe that the diversity of thinking will help us to evolve and grow together. ConsciousLab is a social enterprise and a not-for-profit organisation (UK charity no 279403). For more information: http://www.consciouslab.org
A Business with a Spiritual Consciousness