Join us for an inspirational day exploring A CABINET OF CARE : VISUAL JOURNALING with Jill Carter, Multi-Media Artist.
About this event
Journaling is a highly creative open-ended storytelling process, which can allow us to develop our ideas, insight and imagination!
Who is it for //
This artists' professional development workshop offers space and time for any artists who wishes to mindfully explore thoughts in relation to the wellbeing of Self, people, place and life happenings. Who and what is important to you? What would you place in your own imagined cabinet of care?
What to expect //
Unlock your intuitive way of visual journaling, transforming diverse graphic material into collage, writing into drawing using badly behaved inks, pens and markers. Have fun exploring playful yet poetic ways of working, reflecting on this and that, perhaps to colourfully visualise hopes, dreams, projects and endless creative possibilities.
The process of journaling can be private or public, or developed as a means of social engagement. Be inspired by creative exchange, making quirky unique pages which tell a story.
Workshop materials provided may include //
Indian black ink, marker pens, highlighters, glue, scissors and stacks of graphic stuff. Perhaps a sewing machine too!
What to bring //
A journal, your own favourite art materials - pens, inks, highlighters, watercolours if you like, brushes, scissors, etc. Plus portrait image of yourself or someone you care about, if to hand, and a bag of old drawings and/or paintings, ephemera, magazines, wallpaper, odd papers, etc. Bring your lunch too.
When: 30th November 2021
Where: TBC.........The Studio, 10 Palace Yard Mews, Bath, BA1 2NH
Time: Arrive to set up 9.30am (start prompt at 10.00 am) close down at 4.00 pm
Cost: £50 / £25 / PWYC
This workshop forms part of the Creativity Works co|Create Artists Training Programme.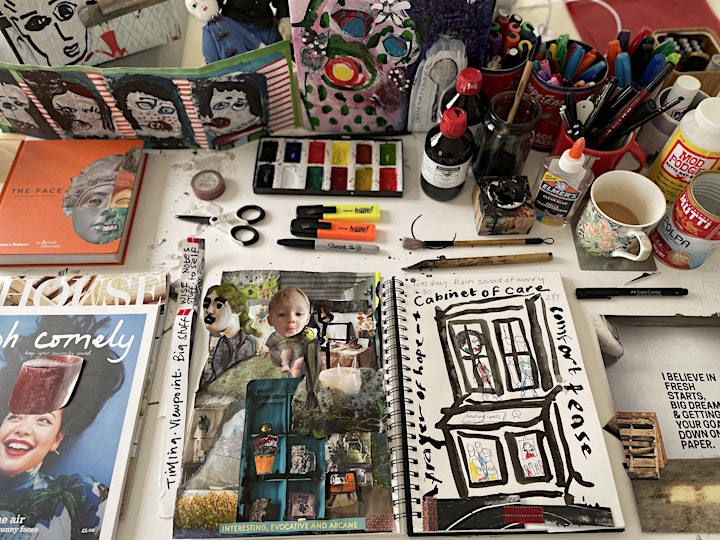 My Desk Tuesday by Jill Carter
Close up shot of Cabinet of Care by Jill Carter
Should you have any questions please get in contact with Stacey via stacey@creativityworks.org.uk or 07736469671.
Cancellation Policy //
Creativity Works requires the fee for co|Create training and events to be paid in advance of the event. Bookings may be cancelled up to 7 days prior to the event. Cancellation can be completed through Eventbrite itself or notification of cancellation sent via email to stacey@creativityworks.org.uk. The person cancelling within this timeframe will then receive an email confirmation of the cancellation, and a refund [minus Eventbrite fees] will be given.
Creativity Works reserves the right to cancel or change the time or date of the event or change its venue, content, artists and the speakers at any time at our discretion. If we exercise that right of cancellation we will refund any fees which you have paid in advance. If we change the time, date, venue, content or speakers, we will give you an opportunity to cancel your booking. If you take that opportunity we will refund any fees you have paid in advance.
Refund Policy //
Any cancellations later than the 7 day advance period will be refunded at the discretion of Creativity Works and will be considered in exceptional circumstances. This will usually take the form of a 50% refund if cancelled between 7 and 5 days prior to the event. Cancellations of 5 days or less before the event cannot be refunded except in exceptional circumstances. Refunds are paid through Eventbrite and are subject to Eventbrite terms and conditions.
Data Protection //
Any personal data collected through us will be treated as confidential in line with the Data Protection Act 2018. Your personal data will not be disclosed or shared except if required by law or other regulation.
Organiser of A Cabinet of Care: Visual Journaling