Location
International Anthony Burgess Foundation
Chorlton Mill
3 Cambridge Street
Manchester
M1 5BY
United Kingdom
Description
The Saif Ghobash Banipal Prize for Arabic Literary Translation invites you to spend a celebratory evening with the translator and the author of this year's winning novel The Bamboo Stalk.
Jonathan Wright, who wins the prize a second time with his translation of The Bamboo Stalk, is joined by the novel's young Kuwaiti author, Saud Alsanousi, in conversation with journalist Ben East.
The evening is introduced by Carnegie Medal-winning children's writer Melvin Burgess.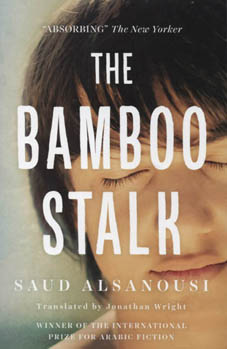 "Ambitious, cultivated and brave." Financial Times review of The Bamboo Stalk
"A 'page-turner' translation with a universal appeal." Saif Ghobash Banipal Prize judges
The novel examines problems of race, religion and identity through the life of a half-Filipino, half-Kuwaiti young man, who moves from an impoverished life in the Philippines to return to his father's Kuwait – a 'paradise', as his Filipina mother has described it to him since he was a child.
Alsanousi's gift for storytelling illuminates his intricate, satisfying saga of three generations of two very different families: the poor Mendozas in Manila and the high-status al-Taroufs in Kuwait. He gets inside his youthful narrator's poetic sensibility, and his writing is fresh and immediate. Jonathan Wright's seamless English rendering does full justice to the original, exhibiting a sureness of touch that fully captures the spirit of the Arabic version.
This event is free, but booking is essential.
• Doors open 6.30pm • All welcome • Plus Reception • Copies of The Bamboo Stalk will be on sale
Jonathan Wright studied Arabic, Turkish and Islamic History at St. John's College, Oxford University. Between 1980 and 2009 he worked for Reuters news agency in Egypt, Lebanon, Sudan, Oman, Kenya, Tunisia, Cyprus, London and Washington DC. His first literary translation – from colloquial Egyptian – was Taxi by Khaled al-Khamissi. His latest literary translations include The Longing of the Dervish by Sudanese author Hamour Ziada, The Televangelist by Ibrahim Essa, and Amjad Nasser's Land of No Rain (commended for the 2015 Saif Ghobash Banipal Prize). He was joint winner of the 2013 Saif Ghobash Banipal Prize for his translation of the novel Azazeel by Youssef Ziedan. In 2014 he won the Independent Foreign Fiction Prize for his translation The Iraqi Christ by Hassan Blasim. He was a judge of the 2014 Saif Ghobash Banipal Prize.
Saud Alsanousi is a Kuwaiti novelist and journalist, born in 1981. His first novel came out in 2010 and won the country's Leila Othman fiction prize for young writers. The Bamboo Stalk is his second novel. Its Arabic original won the 2012 Kuwait State Prize for Letters and the 2013 International Prize for Arabic Fiction. Now its English translation has won the Saif Ghobash Banipal Prize. His third novel, Mama Hissa's Mice, is longlisted for the Sheikh Zayed Book Award.
Ben East is an award-winning freelance journalist based in Manchester, well known for his book reviews in The Observer and Metro, and author interviews.
Melvin Burgess is often described as the 'godfather' of Young Adult fiction in Britain. He has won various prestigious awards, including the Carnegie Medal for his novel Junk. He writes empathetically in his novels on diverse subjects including heroin addiction, teenage sex, Alzheimer's and cosmetic surgery, and occasionally fantasy. He also wrote the novelisation of the film Billy Elliot.

The Saif Ghobash Banipal Prize for Arabic Literary Translation is an annual award of £3,000, made to the translator(s) of a published translation in English of a full-length imaginative and creative Arabic work of literary merit published after, or during, the year 1967 and first published in English translation in the year prior to the award. It was the first prize in the world for published Arabic literature in English translation when it was established in 2005 by Banipal magazine and the Banipal Trust for Arab Literature. It is administered by the Society of Authors along with other translation prizes for European languages.