Sales Have Ended
Ticket sales have ended
Thank you for your booking
Sales Have Ended
Ticket sales have ended
Thank you for your booking
Celebrating the Centenary of Women in Engineering
About this Event
This event is brought to you by Scottish Engineering and Heriot-Watt University in collaboration with the International Network of Women in Engineering and Science (INWES), the Women in Technology Initiative at the University of California, Berkley and Equate Scotland in celebration of 100 years of Women in Engineering and their international networks.
Friday, 11th of October:
13.00 Welcome and registration, Networking , Panel Talks on Artificial Intelligence and Blockchain: Benefits, Ethical and Privacy Considerations
Tours of the Robotarium, Museum, Innovation centre (GRID) and Lyell Centre until 17.00
Dinner: 18.30
Saturday, 12th of October:
8.30 welcome and registration
9.00 -14.30 Speeches, discussions, parallel sessions and networking.
15.00-17.00 INWES Meeting / in parallel Wikithon/Mentoring sessions
evening tour : Whisky tasting
Hotel bookings at preferred rate at Marriot Courtyard Edinburgh West Here, link works only until 17th of September 5 pm: https://www.marriott.co.uk/event-reservations/reservation-link.mi?id=1562758694921&key=GRP&app=resvlink
Presentations and speakers include:
Carol Monaghan, MP for Glasgow North West, formerly been a physics teacher and head of science at Hyndland Secondary School
Prof. Stephen McLaughlin, Head of School of Engineering and Physical Sciences at Heriot-Watt University
Dr. Raffaella Ocone, Professor of Chemical Engineering at Heriot-Watt University
Paul Sheerin, Chief Executive of Scottish Engineering
Gail G. Mattson, President of INWES, Associate Laboratory Director for Environment, Safety & Health
Prof. Dr. Claudine Hermann, founding member and President of the European Platform of Women Scientists EPWS
Jill Finlayson, Director of the Women in Technology Initiative at the University of California
Dr. Liliane Dorveaux, Deputy Director at EPF School of Engineering, Vice President Enterprises and Industry INWES , Regional Head of "Elles Bougent" French organisation
Dr. Carol Marsh, Electronics Technical Manager at Leonardo, Vice Chair of IET Scotland, Chair of IET Scotland South East and Past President of WES
Talat Yaqoob, Director of Equate Scotland
Dr. Nina Baker, women in engineering historian
Sylvia Kegel, Treasurer of INWES and Chairperson of INWES Europe
Betty Bonnardel-Azzarelli, member of the WES Trustee, CEO and Founder of AB5 Consulting
Lorna Bennet, IET Young Woman Engineer of the Year 2018 WES Prize winner
Evangelos is the Founder and Director of Ocyan. A tech Entrepreneur and a Technologists with long experience in advising and leading startups' product growth.
Dr Ifeyinwa Rita Kanu is the Founder and Director of IntelliDigest Ltd a biotechnology start-up company from Heriot-Watt University and a member of WES Council .
Alex Mcintosh is the Chief Operating Officer of Trade in Space Alex has spent a career specialising in relationship management and business development.
Professor Katherine Kirk- Professor of Physics at the University of the West of Scotland (UWS) 2000-2018. Just completed Royal Academy of Engineering "Ingenious" public engagement project "A Car for Women and Other Stories"
INWES is a global network of organisations of women in Science, Technology, Engineering and Mathematics (STEM), reaching over 60 countries worldwide. It is a not-for-profit corporation governed by a board of directors, composed by representatives of organisations, universities or institutions, and individual memberships.

The European Platform of Women Scientists EPWS is an international non-profit umbrella organisation bringing together networks of women scientists and organisations committed to gender equality. Established in 2005, EPWS works towards the integration of the gender dimension in science and research in the European Union and the countries associated with the EU Framework Programmes for Research and Technological Development

Established in 2006, Equate Scotland is the national expert in gender equality throughout the STEM sectors. We make a tangible and sustainable change, enabling women studying and working in these keys sectors to develop, by supporting their recruitment, retention and progression. Our vision is of a progressive Scotland where women can contribute equally to advancements in science, engineering and technology and have fair access to the jobs of the future.

The Women in Technology Initiative at the University of California, Berkley is a trusted resource that integrates research and action to address the technology industry's diversity challenge. WITI@UC brings together faculty, staff, and students from a range of disciplines and multiple campuses to work in partnership with executives, board members, investors, entrepreneurs, and career technologists in the technology industry — all committed to promoting an inclusive and equitable environment for women in technical fields.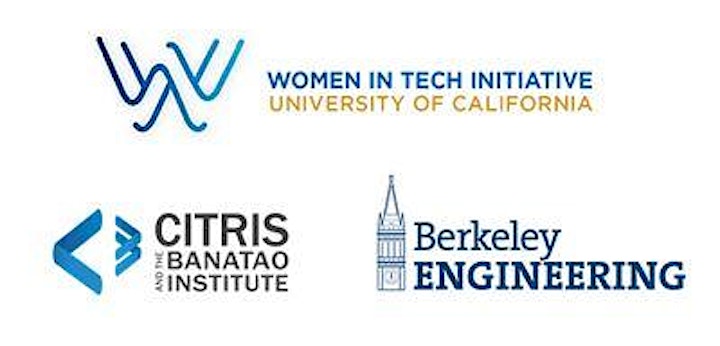 Our Sponsors include: Scottish Engineering, Heriot-Watt University, Leonardo (Aerospace company), IntelliDigest and AB5 Consulting

This link works until Tuesday the 17th September. At 5pm on this day, the link will stop working and reservation will need to be booked at the best available hotel rate.
Date: Friday, October 11 to Sunday, October 13.
Courtyard Edinburgh West for 90 GBP per night Single Occupancy
Courtyard Edinburgh West for 100 GBP per night Double Occupancy
https://www.marriott.co.uk/event-reservations/reservation-link.mi?id=1562758694921&key=GRP&app=resvlink
Cancellation policy:
24 hours prior arrival, after this time 100% cancellation fee will apply