A Century of Women's Rights: Baroness Brenda Hale gives Alice Bacon Lecture...
Description
The country's most senior female lawyer, the Rt Hon Baroness Brenda Hale, gives the 2019 Alice Bacon public lecture at the University of Leeds.
The lecture is held to honour the achievements of Yorkshire's first woman MP, Alice Bacon.
In January 2018, the inaugural lecture was given by senior MP Harriet Harman in a packed Great Hall at the University of Leeds.
The 2019 lecture will be delivered by Baroness Brenda Hale, the UK's first woman law lord and the first female president of the Supreme Court.
Lady Hale will talk on A Century of Women's Rights – 2019 marks the centenary of women being able to join the legal profession and hold public office.
A drinks reception will follow the lecture, which takes place on Thursday 10th January, at 6pm in the Great Hall. Doors will open at 5.30pm.
Entry is free – please register for a ticket.
---
Your privacy
The information you provide will be held by the School of Politics and International Studies, University of Leeds in accordance with the University's Data Protection Policy and will be held and processed by Eventbrite in line with its EU Data Protection statement. We will use this information to provide you with updates relating to the event you have registered to attend and may contact you following the event to request feedback (feedback is optional). Information will be retained until the event has passed, unless you request to be kept informed about future events from us. We will ask you more about this during the registration process.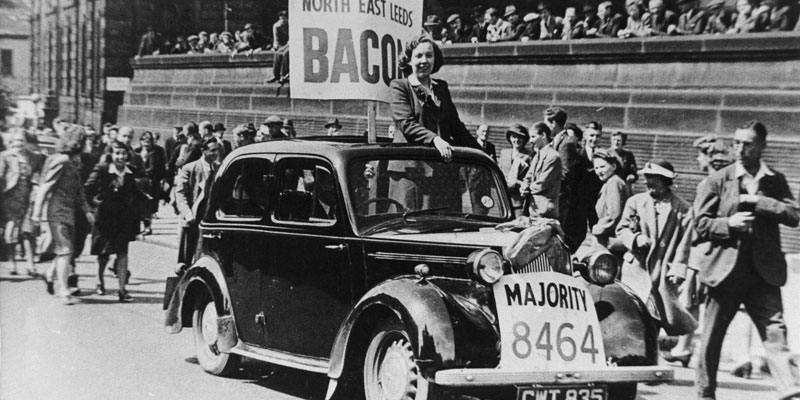 Alice Bacon after her election in 1945. Image: The Yorkshire Post
Organiser of A Century of Women's Rights: Baroness Brenda Hale gives Alice Bacon Lecture